By Ellen Brown
Question:
How do I keep animals from eating my garden?
Gary

Answer:
Gary,
Erecting a fence is the most effective strategy for keeping the widest variety of animals out of your vegetable garden. If you are trying to keep out deer, you will need a fence that is at least 7 feet high to prevent them from jumping over it. A 2-foot high fence should be sufficient to keep rabbits out. Regardless of the height, fences should be dug 12 to 15 inches underground to deter groundhogs and keep other "diggers" out.
If you have a large garden, surrounding it with a fence can be a bit costly, but it is well worth the one-time investment if you can afford it. Once erected, you will free yourself of the frustration of losing a large portion of your hard work to animal thieves. Make sure you check local building codes and use materials that are durable and long lasting.

If birds are the main problem, vulnerable plants can be covered with a lightweight netting for protection.

Ellen

About The Author: Ellen Brown is an environmental writer and photographer and the owner of Sustainable Media, an environmental media company that specializes in helping businesses and organizations promote eco-friendly products and services. Contact her on the web at http://www.sustainable-media.com
Answers:
Keeping Animals Out of Your Vegetable Garden
We live in the country mountains so there are lots of bunnies, deer and other little critters always wanting in our veggie garden. My husband has put up a very high fence with chicken wire, but he also had to put it on the ground along the fence too. He took one foot of fence and attached it to the fence going up, then bent it forward when it hit the ground and made it smooth all the way around the fence. This left 3 feet setting on the ground. Then he attached metal spikes made from coat hangers to hold it down. We found out that without this chicken wire going out from the fence at least 3 feet the bunnies were able to dig into the garden. This seems to have deterred them.

By RoseMary B. (06/20/2005)

By ThriftyFun
Keeping Animals Out of Your Vegetable Garden
We do not (yet) have a problem with rabbits. But, we did put up an 8 foot fence around the garden so that the deer could not get into the garden anymore. (06/20/2005)
Keeping Animals Out of Your Vegetable Garden
I live out in the sagebrush in a desert area and the jackrabbits generally eat most plants down to the nubbin the first night you put them out. I cut the bottom out of the plastic kitty litter buckets and placed them over my vegetable garden plants. I have also done this with the plastic containers that the plants are potted in when you buy them. Apparently if they can't eat the base of the plant it is enough to deter them. (06/23/2005)

By adoxa8
Keeping Peacocks Out of Your Vegetable Garden
The peacocks that have adopted our neighborhood have also discovered our garden. As Jamie says they try everything and leave holes in lettuce, bite into squashes and peppers, etc. just to make you mad. We enjoy having them but in today's economy we need to grow some of our food. Any ideas are welcome. The fence won't work, they can fly over, I don't like using chemicals and I don't know if the electron ic/ultrasound gadgets work. (01/09/2008)
By Deborah
Keeping Animals Out of Your Vegetable Garden
Does anyone have any knowledge about sprinkling cayenne pepper around plants to deter animals? I know it works for deer around flowers but I was wondering about the pepper soaking in to the roots of edible veggies, if this would be safe to do. (06/09/2008)

By valerie everly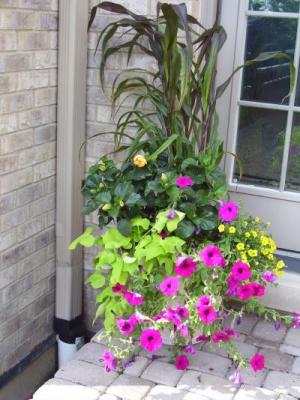 Keeping Animals Out of Your Vegetable Garden
Go online and do a search, with Google or Ask - for plants/flowers that repel animals. Some aren't very tasty, so the animals won't snack on them. I know that human hair (from your barber/beauty shop) repel deer. Scatter it around the boundaries of your garden/yard. (06/16/2008)
By KJ
Keeping Animals Out of Your Vegetable Garden
I read somewhere that it is unsafe for the animals if you use cayenne pepper. There have been instances of the cats getting it in their eyes and scratching the eyes so badly they are blinded. It may have been on this site. (06/17/2008)

By Toolgirl
Keeping Animals Out of Your Vegetable Garden
We used to have problems with rabbits, coons, and armadillos getting to our garden and container tomatoes. We were told about laying bird or deer netting down all around our garden. The critters don't like to walk on the netting and it doesn't harm them other than to scare them away. We just leave the netting down and cut holes through to plant our garden. Lowe's has a 7'x100' roll for about 13 bucks. Good luck! (06/17/2008)
By EJRIOS2006
Keeping Animals Out of Your Vegetable Garden
Jerry Baker's Garden Tonics book. I bought it years ago and it has a lot of natural tonics for various pest controls which have been reliable for me. He has a website and several books still available. Good luck and god bless and help you. :) (06/18/2008)

By LYNDA
Keeping Animals Out of Your Vegetable Garden
To Valerie,

Cayenne pepper is edible. I wouldn't worry about it soaking into the roots of the vegetables it is put on unless you don't like things a little spicy. :) I doubt it would do anything to the veggie. I use it to keep squirrels out of the garden. They like my tomatoes, but not so hot!
(08/26/2008)
Keeping Animals Out of Your Vegetable Garden
For deer, just put fence pieces on the ground. They hate their feet to get tangled in it. You might have to re-flatten it out a few times. They get it on their feet once or twice, they will not be back. (11/26/2008)

By hummm