I'm wondering what other owners of cats do to keep them out of the Christmas trees? I have a 1 year old cat that I got this year. I just know she will end up batting at the ornaments and maybe climb up the trunk. Any suggestions?
Judy from OH
Answers:
Keeping Cats Out Of The Christmas Tree
You can do what my mom did for us kids, took us out of the playpen and put the tree IN it! You may want to forgo the dangling ornaments and just do lights and garland, less temptation for a kitty :) (11/11/2007)

By TracyInNH
Keeping Cats Out Of The Christmas Tree
Put your tree up as early as you can but with no lights and no ornaments. Keep it up this way for a week or more. Play with your kitty, discourage her when she goes to climb it, reward her when she comes to you and ignores the tree. When she gets more comfortable with the tree, add lights and ornaments. Do not use any precious ornaments or breakable glass ornaments just yet. Keep up the training to make her ignore the tree. Use a spray bottle of water on her, only if needed.
If she is not destructive to the tree, but still wants to climb it, attach an eye hook to the ceiling and anchor your tree top with fishing line. Better than the tree coming down on you and kitty. Do not use tinsel (the type that comes in fine strands like Easter grass). It is too tempting for your cat to eat and can cause anything from intestinal distress to death. After all that you can try pepper sauce on the trunk - although I had a cat who loved it! (11/11/2007)
By samaree
Keeping Cats Out Of The Christmas Tree
My girlfriend has 5 cats. She ties jingle bells to the bottom of the tree. Another uses Ben-Gay at the base of the tree. Happy Holidays. Keeper in NC. (11/12/2007)

By Keeper
Keeping Cats Out Of The Christmas Tree
My way of keeping my two cats out of the Christmas tree is not to put one up this year. It is a nightmare for me and I am tired of constantly spraying them with my water bottle, so no tree. Bad kitties..lol (11/12/2007)
By Donna
Keeping Cats Out Of The Christmas Tree
I put my tree up in front of the window. I put small eye hooks underneath each corner of the window sill and run a cord from one hook, around the trunk twice and then attach to the other hook. If I don't tether it to the wall, it will come down when someone decides to climb it! (11/12/2007)

By Beth
Keeping Cats Out Of The Christmas Tree
The ONLY thing that worked for me was to spray around the trunk of the tree every night with a spray that is meant to keep animals off furniture. It has an odor that is not pleasant, but doesn't last long. It worked for my cats.
Mine didn't seem to bother the tree during the day, but really had fun at night with it after I went to bed. Good luck. By the way, forget the playpen. Cats just jump over it. (11/12/2007)
By Sue
Keeping Cats Out Of The Christmas Tree
No experience with Christmas cats but much experience with a big, clumsy dog. In honor of his first holiday season, I bought a fake tree. If we'd put up our usual cut one, he'd have been quite pleased about the new water bowl and the big stick we'd conveniently put up in the living room for him.
I bought a 6 ft tree and used its short stature as an excuse to buy a good one with a high tip count and enough lights to land aircraft by. I elevate it a foot off the floor, giving it enough height with the stand and trunk to slow him down. I use one of those cheap, 2 drawer stacking Formica units from Target for the base. I take the handles off and lay it on the floor, drawer side down. It's a foot deep and big enough to hold the stand with room to spare. I cover it with a cloth, put the tree on that, and then a tree skirt. Leaves me short 2 small drawers in my closet for a while but it works better than anything else we tried. The drawers give it extra stability.
That same December, I found bead garlands covered with bells on an early 1/2 price sale. I bought 4 of them and they go up every year. If Leo (the dog) gets too close when he's leaping around, I hear the bells and yell loud enough to rattle the windows.
We can't put paper wrapped packages under the tree or Leo will open them as soon as we turn our backs. He's got a thing for paper. Every year I buy more cheap holiday fabric for wrapping and use it over and over. I've also made up some bags with fabric glue, I'm sewing challenged, and they seem to be indestructible. No tall cut trees or paper wrap, but one fine black lab/basset mix. (11/12/2007)
By Lou
Keeping Cats Out Of The Christmas Tree
Good luck. We've always had cats and they just love Christmas trees! It's usually the young cats who take on the tree, but sometimes the older ones like to become part of the decorations too. Don't put fragile ornaments, tinsel, or strung popcorn on the tree. The ornaments will be broken and get into paws and fur; they'll swallow the tinsel and end up in the vets and they'll play with and eat the popcorn, and I hate to tell you what that'll do with their insides.
I like the idea of Ben Gay and the playpen. Wish I'd thought of it long ago. (11/12/2007)
Keeping Cats Out Of The Christmas Tree
Don't use breakable ornaments! (11/12/2007)

By Jennifer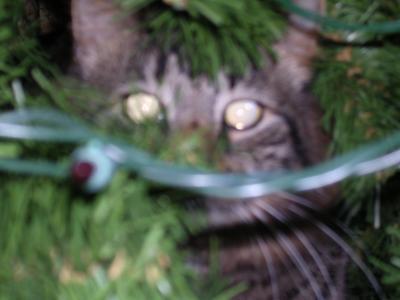 Keeping Cats Out Of The Christmas Tree
I use a squirt gun (11/12/2007)

By CharlieRS
Keeping Cats Out Of The Christmas Tree
Get some tangerines, peel them then put them and the peels on plates. Put the plates under the tree. Cats hate the smell of tangerines and will usually stay away. You can also rub vinegar on the doorstep to the room that the tree is in, that's another smell cats don't like. Here's another idea you can try: a friend cut a branch off her tree and put it in a pot. She put the pot as far away from the tree as she could. She put some of the cat's toys in the pot too. The cat quickly stood guard over "her tree" and left the other one alone. (11/12/2007)

By joan pecsek
Keeping Cats Out Of The Christmas Tree
I use a water spray bottle...not that Stewie seems to care as you can see from this picture! He just waits for me to walk away. It is a really long season! I concede and hang the breakable ornaments higher on the tree! (11/13/2007)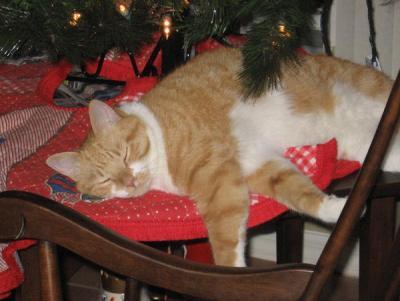 Keeping Cats Out Of The Christmas Tree
Get one of those noisy toys that start up with motion. Someone lent me one once with my kitten, it was a dog. I put it under the tree and when the kitten went near, the dog would bark. It only took 4 times and the kitten would stay right away from tree. Sometimes he would go lay across the room and look at the dog. It was comical. (11/19/2007)

By Mary