Put a small tree up for your cat, maybe 3 feet. It's really dependent on the room you have, but remember cats want something to climb. Hang some low hanging cat safe ornaments from the bottom with a few filled with catnip.
You may want to anchor the cat's tree to the wall or ceiling.
Read More...
Is there any product either homemade or store bought, that will keep pets away from the Christmas tree?
Answers
By (Guest Post)
December 9, 2006
0

found this helpful
Best Answer
When my daughter was a baby we put our Christmas tree in a playpen to keep her from pulling it down on herself. It also kept our cats out of it.
By caitlin from MI (Guest Post)
December 9, 2006
0

found this helpful
Best Answer
My kitten is having her first Christmas and she has decided to try and attack the tree. My mom got a small squirt gun and if she starts to attack it, she gets a friendly squirt.
This also works to train cats to stay off of countertops. Just don't let them see you squirt them.
December 9, 2006
0

found this helpful
Best Answer
I usually put the unbreakable and safe ornaments for kids and pets on the bottom and put the breakable or more hazardous ones on the top.
Susan from ThriftyFun
By katvn (Guest Post)
December 12, 2006
0

found this helpful
Best Answer
One thing I use to "punish" my cat, is a shaker. I have a small tin filled with little pebbles, if he scratches the couch I shake the tin and he stops. They don't like the noise and he hardly does it now! I'd assume the same thing will work for your tree. If the tree is in the lounge, and you are generally around, shake the tin and the cat will stop.
You are one up one me though, I can't even find my christmas decorations this year, so I can't put my tree up (we have moved)..
Have a great Christmas!
By Eric (Guest Post)
December 22, 2006
0

found this helpful
Best Answer
I sprayed a little of my wife's perfume on the lower branches and our cats absolutely hate it! We had tried about everything (foil, dryer sheets etc)and almost did not put up the tree this year because of the cats wreaking havoc on it every year. Thanks to whomever suggested that tip!
December 7, 2012
0

found this helpful
Best Answer
I still favor putting a few ballons in the tree. The kitten or cat pops just one ballon and he's guaranteed to stay away from the tree :)
December 15, 2014
0

found this helpful
Best Answer
My cat doesn't like the smell of citrus. I bought the car Christmas tree shaped air fresheners, orange scented, and hung them on the lower branches where you can't see them.
They kept her from bothering the tree of nesting in it.
Answer

this Question

...
We have a 2 year old cat we adopted on April of this year. This will be her first Christmas with us. How can we keep her from getting into the tree? I tried one suggestion where you put bells on the branches and the noise is suppose to scare her away. But this didn't work. Are there any other methods I can use to keep her off the tree?
By Linda Delcamp from Brighton, MI
Answers
December 7, 2010
0

found this helpful
Best Answer
My cats like bells. They're fun to knock down. :-) We just have to keep an eye on them, use unbreakable ornaments, and we unplug the lights unless we're right there. Two of our cats are just interested in the ornaments, but the youngest might try to climb it. And we keep a water spray bottle nearby (but don't use it if the lights are plugged in!).
I'm curious to see what advice others might offer.
December 8, 2010
0

found this helpful
Best Answer
I have 3 cats. Two of them just sniff the tree, chew on the branches a little and end up sleeping under it. The 3rd one, however, is a totally different story. Lizzie is 3 years old and climbs the tree every chance she gets! Sometimes she flattens out a spot about 2/3 of the way up and sleeps there! I have no choice but to anchor the tree to the wall.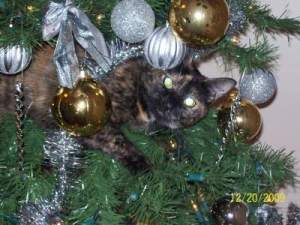 December 9, 2010
1

found this helpful
Best Answer
They always get into the tree, don't they? My first little tuxedo girl was eager to bat at the fragile shiny balls and broke 3 right away. My big old tuxedo tomcat would sleep in the lower branches as a kitten. My old grey tomcat would tug the strings of beads all out of place. I gave up and put a smaller tree atop the big screen tv. Then I put a 5 foot tree in the window of a room they are disallowed from entering full of holiday and craft supplies. Then I tried a half a tree in the hall way. This works the best although it could use more branches on it! My need for a Christmas tree is fulfilled and the cats never can reach it on the door or wall.
Half trees seem like an odd idea, like an upside down tree, but it turns out nice, although I can't seem to get enough ornaments on it. Us humans are satisfied. Another idea is to make the cats their own tree with shiny plastic ornaments that looks like the real thing and no tinsel or icicles, bead strings ok! Also decorate with bright and colorful cat toys.
I will never give up on Christmas and cats will never give up going for the ornaments.
December 9, 2010
0

found this helpful
Best Answer
Our cats like to sleep on the skirt that surrounds the bottom of the tree. In the past though I did have a couple of cats that caused a little damage, but the little damage was a keepsake ornament from
a much loved Grandmother. I put slightly crumpled aluminum foil around the bottom of the tree and it looked like a beautiful pond that was frozen. The cats hated to step on it because of the noise.
December 9, 2016
0

found this helpful
Best Answer
I have 2 cans of Ssscat spray (bought at amazon.com). They're motion activated cans of air. I put them in various places around the house I don't want Miss Tootsie to go (such as behind the fish tank). At the moment, they are on either side of the tree so if she gets near it, they "hiss" at her. She basically tries investigating the tree on other protected area once or twice, then stops. I love the Ssscat cans because they don't hurt her at all and they work even when I'm away!
Answer

this Question

...
This is our first year having a cat at Christmas. I left the cat in the room when I was putting up the tree and she had done just fine. Now Butter likes to get under the tree and sit and she will eat the tinsel we have on the tree. I did not put more tinsel on the tree. It has the ones left from last year. How do I get her to not eat the tinsel?
By Jeanei B
Answers
December 7, 2011
0

found this helpful
Best Answer
While changing a cat's behavior can sometimes be achieved, there is a definite health risk to your cat from the tinsel, and other things like ribbon, string, and rubber bands. Unfortunately, kitties can (intentionally or not) ingest these things while playing. Sadly, this can cause intestinal blockage...sometimes requiring life-saving surgery.
I don't wish to scare you, but thought you should be aware this is a serious risk.
December 10, 2011
0

found this helpful
Best Answer
Years ago our cat ate tinsel off the Christmas tree & a few days later, died of lead poisoning. The vet said it was a painful death for our cat. I don't know if they make tinsel with lead in it anymore, but PLEASE don't let your pets eat it! Tinsel is long strings & it could get caught inside your pet, I would think. Get wrapped around things. Please, be cautious!
December 11, 2011
0

found this helpful
Best Answer
You can try spraying some of the "no scratch" spray that they have for cats. It's the smell that they hate. Spray it on your tree. Or at least the bottom. If that doesn't work you're going to have to keep the cat blocked off from the tree. Put the cat in a different area of the house and shut a door until Christmas is over.
Answer

this Question

...
I have a problem. This is my kitty's first Christmas and we're trying to put up the tree but she just won't leave it alone! We can't get her to stay away from the tree no matter what we do. I don't want to "not" have a tree but is there anything we can do? Any advice will be greatly appreciated.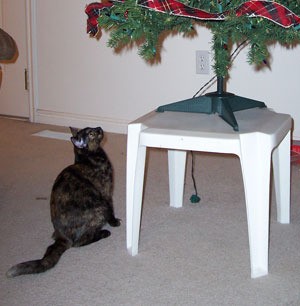 (I do like this picture, I'm glad I was able to capture it.)
Stacey from Orem, UT
Here is my solution. Thanks to everyone for their suggestions.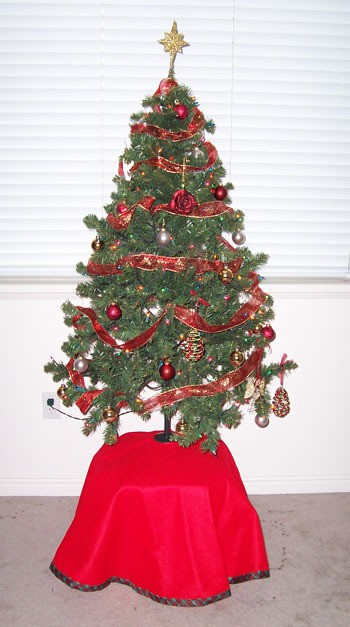 Answers
December 1, 2010
0

found this helpful
Best Answer
Awesome! Thank you all for your suggestions. I sprayed apple cider vinegar around the tree and some of the lower branches. Darla and Toby hate it. Yay! Tree in tact and beautiful!
Thank you!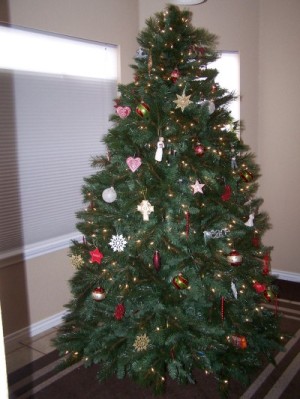 Answer

this Question

...