December 7, 2010
0

found this helpful
Best Answer
My cats like bells. They're fun to knock down. :-) We just have to keep an eye on them, use unbreakable ornaments, and we unplug the lights unless we're right there. Two of our cats are just interested in the ornaments, but the youngest might try to climb it. And we keep a water spray bottle nearby (but don't use it if the lights are plugged in!).
I'm curious to see what advice others might offer.
December 8, 2010
0

found this helpful
Best Answer
I have 3 cats. Two of them just sniff the tree, chew on the branches a little and end up sleeping under it. The 3rd one, however, is a totally different story.
Lizzie is 3 years old and climbs the tree every chance she gets! Sometimes she flattens out a spot about 2/3 of the way up and sleeps there! I have no choice but to anchor the tree to the wall.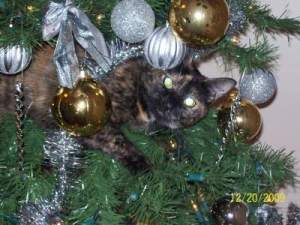 December 9, 2010
1

found this helpful
Best Answer
They always get into the tree, don't they? My first little tuxedo girl was eager to bat at the fragile shiny balls and broke 3 right away. My big old tuxedo tomcat would sleep in the lower branches as a kitten. My old grey tomcat would tug the strings of beads all out of place. I gave up and put a smaller tree atop the big screen tv. Then I put a 5 foot tree in the window of a room they are disallowed from entering full of holiday and craft supplies. Then I tried a half a tree in the hall way. This works the best although it could use more branches on it!
My need for a Christmas tree is fulfilled and the cats never can reach it on the door or wall.
Half trees seem like an odd idea, like an upside down tree, but it turns out nice, although I can't seem to get enough ornaments on it. Us humans are satisfied. Another idea is to make the cats their own tree with shiny plastic ornaments that looks like the real thing and no tinsel or icicles, bead strings ok! Also decorate with bright and colorful cat toys.
I will never give up on Christmas and cats will never give up going for the ornaments.
December 9, 2010
0

found this helpful
Best Answer
Our cats like to sleep on the skirt that surrounds the bottom of the tree. In the past though I did have a couple of cats that caused a little damage, but the little damage was a keepsake ornament from
a much loved Grandmother. I put slightly crumpled aluminum foil around the bottom of the tree and it looked like a beautiful pond that was frozen. The cats hated to step on it because of the noise.
December 9, 2016
0

found this helpful
Best Answer
I have 2 cans of Ssscat spray (bought at amazon.com). They're motion activated cans of air. I put them in various places around the house I don't want Miss Tootsie to go (such as behind the fish tank). At the moment, they are on either side of the tree so if she gets near it, they "hiss" at her. She basically tries investigating the tree on other protected area once or twice, then stops. I love the Ssscat cans because they don't hurt her at all and they work even when I'm away!
December 9, 2010
0

found this helpful
Why keep her out? Isn't Christmas for kids and animals? We had a cat named "Kat" and she loved to sleep in our Christmas tree or reach out and touch you when you walked by.
She is no longer with us. Now at Christmas, when I walk by our tree, I have good memories of her enjoying the tree also. I'm glad I took pictures of her.