Leprechaun Trap Cake
Many kids have an opportunity to make a leprechaun trap at school when they are young. After seeing one that my kids brought home, I thought it might be fun to try and make a leprechaun trap cake.
Ingredients:
cake, prepared according to direction in a bundt pan
buttercream icing
stick pretzels
fondant
mini marshmallows
green food coloring
gel icing colors (red, orange, bright yellow, green, blue, purple, black, and golden yellow), for fondant
Supplies:
toothpicks
piping bag
tip #233, for grass
tip #12
tip #24, for coins
Directions:
Bake cake according to package directions in bundt pan.
Make buttercream (or use store bought) and use green food coloring to tint it to your liking.
Prepare piping bag using a coupler and tip #233. Fill bag with icing.
Begin piping grass around very bottom of cake, working all the way around. A turntable makes this much easier.
Next working from bottom to top, pipe grass up the sides in rows until you have covered the sides all the way around the cake.
Starting from in the hole, make grass working from the inside meeting up with the previously piped icing. Continue until the entire cake is covered in grass.
Next, switch your tip to #12. Make two rings of icing dots just inside the hole in the middle of the cake.
Lay stick pretzels side by side to cover the hole. They will rest on the rings of icing dots. Then switch directions and lay another layer of stick pretzels on top of the first layer. Switch back to tip #233, and pipe some grass to conceal the edges of the pretzels. Now you have a trap, ready to be baited!
Using equal parts fondant and gum paste. Twist them together to completely combine. Divide into 8 equal pieces.
Put the pieces of fondant into a ziploc bag and seal whenever you are not working with them. (Because the contain gum paste, they will begin to dry out if left out.)
Using gel icing dye, color each of the fondant pieces as follows: 1 red, 1 orange, 1 yellow, 1 green, 1 blue, 1 purple, 1 black, and 1 gold.
Using 3/4 of your piece of black, roll it into a ball and set it on the table. Using your finger, create a depression in the middle, for the top of your pot.
Use two small pieces of the remaining black and create the pot handles by rolling each piece into a "snake" and looping it together. Use a tiny bit of water to adhere them to the sides of your pot. Use the remaining black to form another "snake" and lay it around the top edge of the pot to create the rim. Adhere it with a little bit of water as you lay it down.
Pull off a piece of gold fondant and roll it into a small ball, then flatten it between your fingers. Place this into the top of your pot (inside the rim). Roll out the remaining gold fondant and use the end of tip #24 to cut out the coins.
Place some of the coins into the pot. Place the pot onto the cake and place the remaining coins on the cake leading to the trap.
Roll each of the rainbow colors into "snakes", then lay them against each other on the table. Gently press them together into a curved rainbow. Cut off the ends. Allow the rainbow to lay flat for at least an hour so that it can harden.
Push two toothpicks into each end of the rainbow and use them to hold the rainbow onto the cake behind the pot of gold.
Place mini marshmallows around the bottom of the rainbow to make a cloud.
Now place it out on your table and see if you can lure a leprechaun!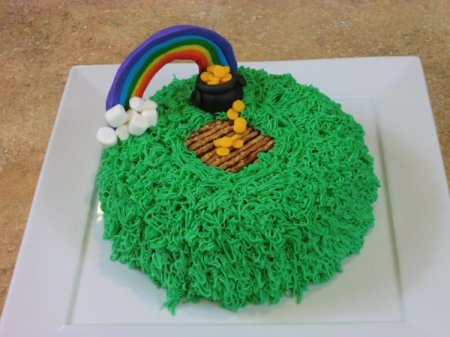 Add your voice! Click below to comment. ThriftyFun is powered by your wisdom!
March 17, 2012
0

found this helpful
Awesome!
March 18, 2012
0

found this helpful
Hi, I don't recall Leprechaun Traps when I was in school (grad 1962) and its a bit strange as our community was big on St. Pat's day, dad grew and dyed his beard green every year. Your idea is just too cute to pass up. I have been net searching for the perfect St. Pat's day recipe for a cake and now I have a perfect way to use it when found. Also, I've not worked with molding fondant but have been wanting to so another reason to try your fun cake idea. Thank you, RSBlain
March 18, 2012
0

found this helpful
This is a great cake (Leprechaun Trap Cake) and easy to do too. I shared it on FaceBook because I have a lot of cake decorator friends and I know they will love it too! Thanks!
Charlotte
February 28, 2018
0

found this helpful
I looove this!
February 19, 2020
0

found this helpful
very cute!
Add your voice! Click below to comment. ThriftyFun is powered by your wisdom!
Advertisement
Published by ThriftyFun.
© 1997-2021 by Cumuli, Inc. All Rights Reserved.
https://www.thriftyfun.com/Leprechaun-Trap-Cake.html