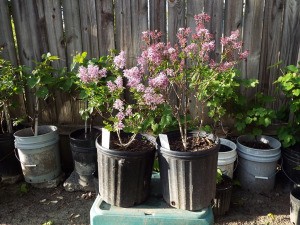 I noticed a few years back that a new nursery trend had started. Many growers began to put two shrub plants per pot, rather than the usual, one. These plants are positioned so close together, on casual observation they appear as one. I haven't bothered to research this practice. Maybe it's insurance to guarantee a living plant, should one die.
I see this 'two per pot' as a buy one, get one for free, opportunity. I've no doubt that each plant would thrive more so, were it not in such close proximity to the other. I have separated many such plants over time and lost only one. If I have the occasion to buy another 'two fer', I will take pictures showing my surgical skills using a keyhole saw, and add them to this post. Often, when thoroughly wetted, these plants can be gently teased apart, eliminating the need for the more drastic, cutting.
The lilac, syringa pubescens, subsp. patula, has the common name, 'Korean lilac'. It is of more compact habit than its cousin, making it ideal for smaller gardens and landscapes. The 2.25 gallon size is available at Lowe's for the regular price of $26.98.
Last fall, I spotted one that had been marked down to $5.00. It happened to be a two fer. I bought and brought home the pot, separated the plants with my keyhole saw and repotted them.
Pictured are two, still small, but lovely Korean lilacs with a retail value of $54.00. My cost: $5.00!
The rose, Dark Desire, hybrid tea, is a dark red rose with a tenancy to produce flowers with a red/violet hue. It is much desired due to it's heavy perfume, and is often offered as part of a 'Perfume Collection'.
I spotted one at Lowe's mark down area. It, too, was a two fer. I don't remember the original price. Considering the size of the container, I'm guessing $25.00. I brought it home and separated it. The picture shows the separated plants, along with a piece I accidentally broke off and rooted, and a smaller stem I rooted, just to see if I could.
These roses are fast growers, so along with the division, resulting in a $50.00 value, add in the two rootings, and there is a potential value of $100.00. My cost: $5.00!
It is possible that severing through a mass of entangled roots would result in the loss of both plants. This is unlikely. If you should lose one, you still have what you paid for. If you think you can tease the plants apart, try that first. If not, start sawing, aiming for the area where you will not cut any of the above soil trunk. If you can salvage both crowns uncut, you more than likely will have both plants to survive.
Doug MD