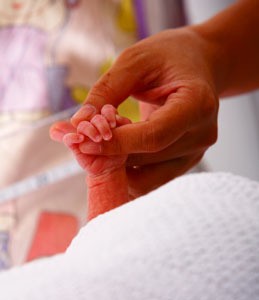 Any suggestions for making clothes for premature babies? I'm thinking doll clothes (12"-15"-18") Does that sound right? If I measure the baby and use the appropriate pattern? Nothing fancy, diaper shirts, sleepers (she kicks the covers off), that sort of thing.
Susan
Here are tips from our ThriftyFun community. Do you have any experience with preemie clothing. Post your advice here!
Doll Clothes Aren't Proportioned Right
From what I understand, most doll clothes are not quite the right proportions for preemies.
I have never made any of these, but here is a good source for some free patterns specifically designed for preemies: http://www.bevscountrycottage.com/preemies.html#sewing
Good luck -and hopefully she will be in full size clothes soon!
Water Baby Patterns
I've heard that the patterns for making clothes for the water baby dolls are good for preemie clothes. I've never tried it to verify it, though.
By Judy
Vintage Cabbage Patch Patterns
Have you tried cabbage patch doll patterns? There is a vintage pattern site which will have them if they aren't in the stores.
http://www.sewfunpatterns.com
You might also try some of the pattern sites; Simplicity, etc and see if they have preemie patterns. It seems to me that they should since we have more and more preemies coming home and living long healthy lives. I hope your teeny one grows into regular sizes very soon.
By Marty Dick
My Preemie Patterns
I just went a-googling and found something. My Preemie Patterns. Free patterns and an email addy if you need to contact them.
By Marty Dick
Link: Loving Hugs Family
There are some useful sizes given in the left hand column on this page:
http://www.lovinghugsfamily.com/Patterns.html
By DIDOUGH
Buy Cabbage Patch Clothing
My son's cousin was born at the same time, but was several months premature. They bought him Cabbage Patch kid clothes. Worked out pretty well.
By Jana
Tips For Using Doll Clothing Patterns
I have used 16" and 18" doll clothes patterns for preemies and they worked out fine. 18" will usually fit a 5 pound baby---rub-a-dub-dolly clothes fit also. I did this for all our tiny foster babies as well as for friends who have had preemies.
By Pat
Check Wal-Mart
Wal-Mart used to carry some basic preemie clothes a few years ago. Not sure if they still do, but it wouldn't hurt to check.
By susan
Make Tiny Sleeping Bags
My daughter had a baby, 5 weeks ago. Even though we are in the summer months, it can still get chilly here in Northern Alberta at night and especially in the early morning. Annie has a few of the "sleeping bags" for her little guy, knowing how babies kick the blankets off during their sleep. These " sleeping bags " are made out of fleece material. They are in the shape of a bunting bag with " cover-all " arm holes. You can either purchase them or make your own.
Good luck with your tiny bundle of love.
By yvonne
Answers

July 16, 2008
0

found this helpful
I just typed in "free sewing patterns for preemies" and got all sorts of results. Give it a try. Usually you can download the patterns. Judy

July 17, 2008
0

found this helpful
I use to knit all my newborn infants socks, hats and mittens, use to give to the hospitals around here too, Everyone with a new born use to get to take a set home free, Had people call and want me to make more, Stopped making them yrs ago, not really sure why I did
Answer

this Question