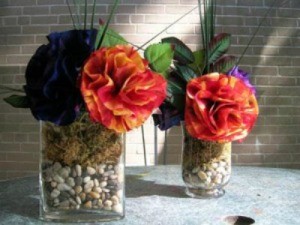 Coffee filter flowers colored with bingo dabblers.
Approximate Time: 15 minutes per flower
Supplies:
assorted bingo dabbers
spray bottle of water
1 pipecleaner or wire
tooth pick or skewer
green type of electrical tape
6 round coffee filters
plastic table cover
Instructions:
Lay out some plastic table cover (drop cloth or old shower curtain). Lay out 6 round coffee filters. Dab filters with a couple of bingo dabber colors. Take spray bottle with water in it and gentle spritz the filters.
Let the colors run into each other, you can always dab more color if you want. Let dry - this dries fast.
Once dry, gather up the 6 filters and pile together. Take a bamboo skewer or toothpick and make a hole in the centre through all the filers. Push a pipecleaner or wire through the hole and try to create a ball so it doesn't slip out.
The bottom of the pipecleaner will be the stem. Now by folding and gathering the filters, make the bottom portion as small as possible so you can wrap the tape around. Do not put the tape too low or it will slip out and not hold secure enough.
Once you have secure the filters on the stem, start separating the filters in different direction creating a flower effect. It is OK to twist the paper to create shape.
This is a very easy craft which also looks beautiful if you leave the filters just white. For leaves, you can make your own or use leaves for other artificial arrangements and add on with green wire. Filler flower are inexpensive, great for a shower party, picnic, even wedding.
By Enza from Toronto, Ontario
Rebecca Lanham
0

found this helpful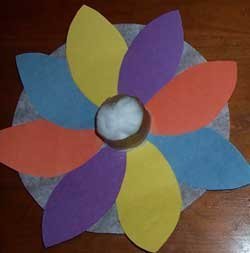 You and children of any age can make these simple flowers with just a coffee filter, construction paper, cotton balls, a small ring from a toilet paper roll, and some glue.
Items Needed:
a coffee filter
construction paper petals
cotton balls
a 1/2 inch ring cut from a toilet paper roll
a glue stick

Instructions:
Flatten coffee filter.
Glue as many petals around the coffee filter as needed.
Put a large circle of glue in the center of the filter still showing.
Stick toilet paper ring filled with cotton balls on the circle of glue.
Children can use as few or as many flower petals as they like. You can make the petals all one color or a rainbow of hues. Put them on your wall or bulletin board for a whole garden!
A very simple craft for even the youngest child.

I have made flowers out of the coffee filters, but now due to me adding color the paper is limp. Does anyone know how I can stiffen the paper again? Thank you in advance for any advise you may have.
Enza from Toronto, Ontario
Answers
May 11, 2007
0

found this helpful
Best Answer
hairspray?
January 14, 2013
0

found this helpful
Best Answer
You don't mention what you used to dye the filters. I have made many, many coffee filter roses and never had a problem. I use powdered drink mix to dye the filters. I have used the mix with sugar and it seems to make the filter a bit stiffer but normally I just use the unsweetened powder since I don't want to attract critters. I have soaked the filters overnight in a particular color and the paper was still o.k. not limp at all. What did you use to dye the papers with?
Answer

this Question

...