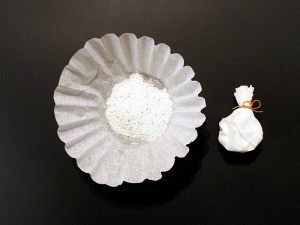 I did a post some time back showing how I soaked the cotton tips of Q-tips in my favorite cologne, put them in a small plastic bag and put the bag in my drawers. Say whut? (giggle). Perhaps I should have said my dresser drawers.
Well, this does work, but to a limited degree. For a short time, my garments, when removed from the drawers, have a very slight scent of my signature fragrance. Too bad it's very, very slight and fleeting.
I wouldn't mind my clothing retaining the scent of fabric softener. The problem here is that no matter which brand you buy, after a short period of time, the nice scent is gone and all that remains is the not so nice scent of the chemicals that do the softening.
So, I resorted to placing bars of my favorite bath soap in the drawers. This has a much nicer effect, but still not the fresh lined dried scent I was looking for. I thought perhaps my detergent would be best, but how to contain it so that none gets out into the drawer, yet so that the scent is released easily.
I found it. I use Gain laundry detergent. Its scent is nice and fresh and it lasts for a very long time. A tablespoon of the powder placed in a coffee filter, secured with a twist tie and the nice fragrance will permeate the contents of the drawer. I think this is about as close as I will come to removing a garment from a drawer and having it smell as though it was just taken from the clothes line. Not overpowering, just nice.
If you use a liquid detergent, I'm sure a used dryer sheet soaked in the detergent, then dried, would accomplish the same thing.
What would you say is the most appropriately named perfume? I would say Elizabeth Taylor's 'Poison'. (To me), It is so vile, it smells as if it actually is poison.
Long gone are the days of Nettie Rosenstein's beautiful and sophisticated 'Tianne' (1948) and Chanel's Russia Leather (1924) and Evyan's 'White Shoulders' (1932).
Have I lived too long?