Julia
Bronze Post Medal for All Time! 146 Posts
Sweet and long-lasting sachets for anywhere you want them. They'll last forever, and they're quick and easy to make. They can be made as simple or as fancy as you like and they make great house-warming gifts, Christmas or birthday remembrances, and are nice for nursing home tray gifts. They make excellent shower gifts or favors for female guests. I don't know any lady who wouldn't enjoy these small and dainty craft items.
Approximate Time: 1 Hour
Supplies:
store bought dishwashing cloths
bars of favorite soap
beads (optional)
scissors
ribbons
silk flowers (optional)
needle and thread or crochet hook and crochet thread
any other trim you like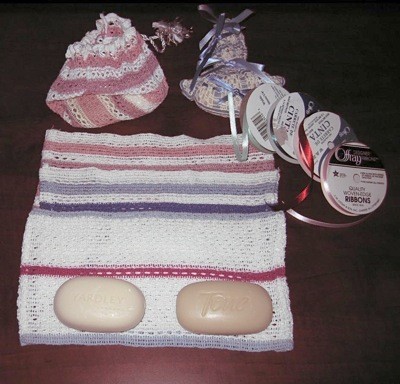 Instructions:
This is an easy craft on the scale of beginner intermediate-advanced grading, so are easy enough for young people (8 years and up) to complete with little supervision.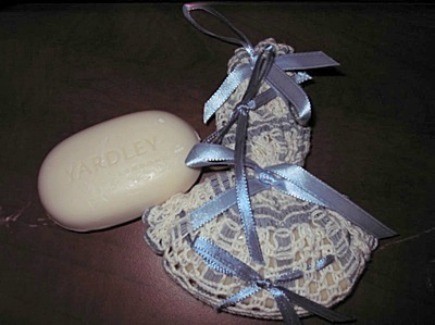 You begin by purchasing a bundle of the open-weave dishwashing cloths, then folding them in half so that the large openings of the woven pattern in the cloths run parallel to the folded edge.
Sew or crochet the short sides of the doubled cloth, and turn so that the sewn edges are inside the "pocket".
Then measure the width of the soap so that you know how far up you need to run the first ribbon. (Place the soap in the "pocket" and note how much room you need to leave. Then start inserting the first ribbon.
Now run the second (and third if you want more) ribbon(s) through the open weave so that you are able to draw those up later, too.
Now, gather up and tie the first ribbon into a pretty bow with the soap in place, and so the same with the second (and third) ribbons.
Finish by creating a tunnel at the top of the "bag" and running a ribbon through it to made a drawstring for closing off the top. You don't have to make a tunnel, as you can just run the top ribbon through the open weave, gather tightly and tie into a pretty bow.
Decorate your soap sachet with more ribbon bows, small silk flowers, or beads of your choice.
Tuck these sachets into every clothing drawer, linen closet, and all stored clothing (especially blankets and winter clothing). Make a ribbon loop at the top and the sachets can be hung over a clothes hanger or hook in every closet.
I use Tone or Yardley's English Lavender soap for my sachets, but choose the soap that you like best to add a nice fragrance to all your fabric items. My mom always kept one in her sewing basket and all the stored yarns.
By Julia from Boca Raton, FL
Read More

Comments