If you are looking for a fun and easy to make Easter treat, try making these adorable Rice Krispy bunnies. There are so many ways to decorate them... be creative!
First prepare the Rice Krispies as follows:
Using a large pan, heat butter over low heat. Add marshmallows and stir until completely melted. Remove from heat. Add Rice Krispies a cup at a time and stir until well coated.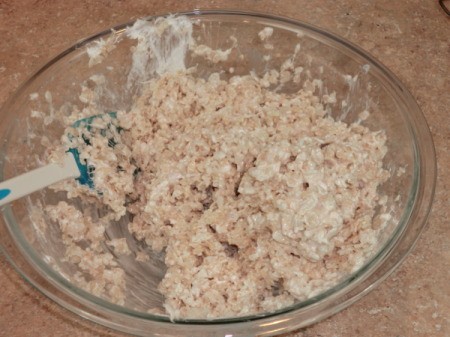 To make the bunnies:
Lay out a piece of wax paper and scoop your prepared rice krispies onto it. Spray your hands and the cookie cutter with some non-stick spray. Using your hands, gently press the rice krispies into a layer about 1/2 inch thick. Let the rice krispies cool for a few minutes so that they are not quite as sticky.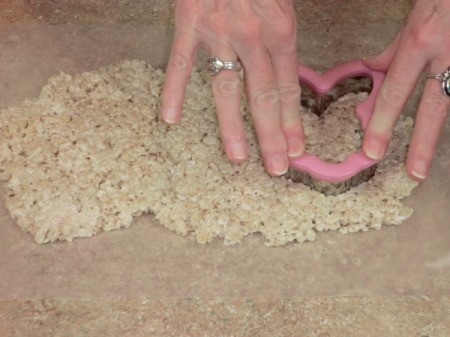 Then using the cookie cutter, cut out some bunnies. I found that it is easiest to gently pull the excess away from the outside of the cookie cutter, and then gently push the cut shape out of it. Once you have cut out as many shapes as you can from the layer, you can gently press the remaining rice krispies together and again flatten them out with your hand into a 1/2 inch thick layer. Repeat the cutting process until you have used up your rice krispies.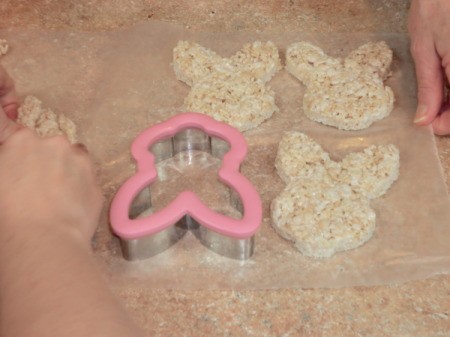 You can either use chocolate chips and jellybeans (cut in half) for the eyes. Use a pink jellybean cut in half for the nose. Use 2 mini marshmallows for the cheeks, and use either candy grass or licorice string for the whiskers. You could also use cookie frosting and piping gel to add additional features to your bunnies.