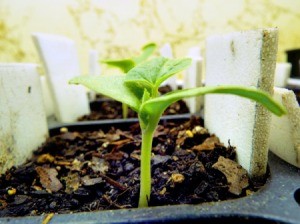 Maybe one day I'll have an honest to goodness greenhouse. Til that day, I'll continue to 'make do' with what I have.
Along a strip of counter top reserved just for this purpose, I laid down a couple layers of heavy gauge black plastic. Atop that, I laid a twin electric blanket, folded once. Atop the blanket, I laid a couple more layers plastic. This setup serves as my indoor hot house.
I have several drink crates filled with seedlings on this heated surface. Over the seedlings and under the upper cabinet, I've hung three 48 inch 2 light fluorescent fixtures.
This arrangement may seem crude or primitive, but it works rather well. It permits me to get a 6 weeks head start on my outdoor gardening. I've been doing this for several years now with good results.
Pictured is a cantaloupe seedling. The variety is Sierra Gold. By the time the last frost has come and gone, this little baby and its 20 or so roomies will be much larger and ready to go into the ground.
I've started watermelon, cucumber, tomato, squash, Moonflower vine, and a host of other plants in this manner. Except for hanging the fluorescent lamps, most any child could put together this little 'make do' affair.
A note for the unlearned: Should you decide to fashion your own makeshift seedling nursery, do know that average room temperature is ideal for starting most seedlings. While they do benefit from additional heat, the source of that heat makes a huge difference. Gentle bottom heat will do more to get the seedlings germinated and then growing on, than any overhead heat ever could. I keep the blanket adjusted to provide a soil temperature ranging near 75 degrees.
And too, note the texture of the homemade medium the seedling is growing in. It is coarse and rough. It will permit excellent air transfer and excellent drainage. It is rather loose, not compacted at all. These features will insure a good root system, better uptake of nutrients, and far less chance of damping off.
So far, I haven't seen evidence of any mold or fungus. If I should, I will place a small fan near the plants to insure good air circulation. This is probably the best way to keep mold and fungus at bay.
If you have an established issue with mold, the seedlings can be safely and effectively treated with Daconil. Be sure to read and follow label instructions.