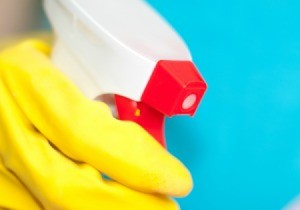 What is the best way to clean mold in the shower and around other areas, that is non-toxic. I don't want to use chlorine bleach. Thanks.
By Joanne from Fayetteville, AR

Answers

June 28, 2009
0

found this helpful
Best Answer
The cheapest most effective way to kill mold is vinegar. Vinegar actually kills the spores and is therefore an effective tool for mold removal. It actually kills the mold without emitting any chemicals into the air so it's a 'friendly' way to do the job. Only white fermented vinegar works on mold. Synthetic acetic acids simply don't work.

June 21, 2009
1

found this helpful
I wished I had saved it but I read recently that bleach isn't as effective of a mold killer as people think. It just bleaches away the color of it to make it look like it is gone or some such thing. Hadn't heard that before.
I have heard of using vinegar to kill mold and mildew:
www.wikihow.com/Kill-Mold-With-Vinegar
www.ehow.com/how_4500086_kill-mold-vinegar.html
Haven't tried it but have also heard that hydrogen peroxide will kill mold. You do need to keep it in the brown bottle is comes from the drug store though when storing to keep the light out.
And I would think either type would work best if allowed to sit on the area for awhile.
And of course never mix any of these things with bleach. It is always a good idea to have good ventilation in the room also even when working with something as safe as vinegar.
I assume this is for small patches of mold and not the "house consuming" kind you see on the news. That would be best left to a professional especially since there are health hazards involved.

June 22, 2009
0

found this helpful
Here is another link with a few 'recipes':

(Guest)
Gold Post Medal for All Time! 846 Posts
June 23, 2009
0

found this helpful
Mix one part hydrogen peroxide (3%) with two parts water in a spray bottle and spray on areas with mold. Wait at least one hour before rinsing or using shower.

June 25, 2009
1

found this helpful
I have been researching "green" cleaning. White vinegar, baking soda, borax, and lemon clean anything. I've been using white vinegar to eliminate mold in my mobile home. I now use it on everything and I have not seen any bugs, my dishes look new, and my ceramic stove top looks like it had been refinished. Lemon cleans anything stainless, baking soda helps with odors, and borax helps all of them work harder.
Goodbye chemical cleaners.
If you will research vinegar you will see that it can be used for everything, and it is non-toxic, and it kills just as many germs as clorox or any of the other cleansers. You will find recipes for bleach, cleaners, spot removers, and any other cleaning type recipes you might use.
Answer

this Question