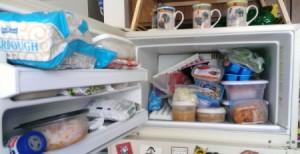 I was sick of things sliding off each other so I spent about 45 minutes doing this.
Using dollar tree or thrift store shoe boxes, you can label and sort your leftovers, meat by kind, veggies, seafood, and more.
I keep an inventory of what and when I put up there but if you label them, that is often good enough.
NOTE: I eat lima beans a lot. They are only available certain times of the year in my stores, so I buy several bags and just open and pour them into a clean shoe box. I can scoop out as much or as little as I want and the new headband keeps the box closed as it's on a precarious tilt.