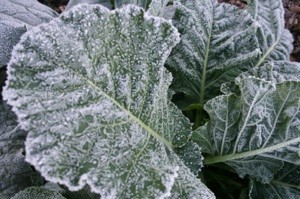 For gardeners in most zones, the end of the growing season is signaled by the onset of the first frost. No matter when it arrives, it always seems painfully early. To avoid damage to your plants, it helps to understand the conditions under which it forms, how it affects different plants, and what actions you need to take when the first frost is in the forecast.
How Frost Damages Plants
Species, age, overall health, and location are all factors that affect frost damage. The primary factor, however, is the internal temperature within the plant's tissues. When internal temperatures become too cold, fluids within the plant's cells freeze and rupture, damaging surrounding tissues. Cool weather before frost (like falling afternoon temperatures) is more likely to result in damage, because the plant's internal tissues are already lower to begin with.
Conditions that Favor Frost
Frost occurs when air temperatures fall below 32F To form, conditions have to be just right.
Clear skies. After sunset, heat absorbed by the earth radiates upward, which causes temperature near the ground to drop. Without clouds to trap heat near the earth's surface, heat radiates freely upward and temperatures near the ground continue to drop. The temperature reaches its coolest point right before the sun rises (sometime between 4-6 am).
Calm air. A lack of wind keeps air layers from mixing and allows cooler air to sink and settle near the ground.
Dry air. When the air is dry, soil moisture evaporates. In the process, heat is taken from the soil and the air temperature around your plants becomes cooler.
Plants Most at Risk
New growth, succulents, non-woody plants, fruits, and flowers.
Plants with large, smooth, or light-colored leaves. Plants with smooth or light-colored leaves absorb less heat so they at greater risk for frost damage.
The same is true for plants with large leaves where heat is lost to a larger surface area.
Plantings where individual plants are spaced far apart. They don't have the protection of each other and are more susceptible to frost.
Garden Locations Most Susceptible
Higher elevations: The temperature drops approximately 3-5 feet for every 1,000 feet you increase in altitude. So if your garden is on a hilltop, the average temperature is likely to be colder and your plants more susceptible to frost.
Low lying areas: Cold air is heavier than warm air and tends to sink to the lowest point. Frost pockets often form in valleys and low-lying areas where cool air becomes trapped.
Areas with poor soil: Light soil (sandy), and nutrient-poor soil release less moisture into the air surrounding plants. The less humid the air is, the lower the dew point will be, and the greater the risk of frost damage.
Effective Means of Protection
If frost is predicted, you can protect your plants in a number of ways.
Cover them. Use sheets, buckets, or cardboard boxes. These will help trap heat and moisture from the surrounding soil, protect them from drying (cooling) winds, and prevent frost from settling directly on the plant. Newspapers, baskets, straw, and tarps also work well, as do ready-made devices like hot caps, "water towers", and row covers.
Relocate them. Pots and container plants can be moved indoors.
Give them water. If frost is predicted, it's a good idea to water your plants (along with covering them). As water freezes, it will release heat and protect your plants, even if their foliage is covered with frost. Sprinkling water on affected plants the next morning can also help minimize damage.
Dealing with Frost Damaged Plants
Wait to prune. It's tempting to prune damaged stems and branches right away. Instead, wait awhile and watch for signs of recovery.
Reduce water and fertilizer. Damage from frost throws a plant's root-to-foliage ratio out of balance, because the same number of roots is suddenly supplying a smaller amount of foliage with nutrients. Excess fertilizer and water only add to the overabundance of nutrients.
Harvest damaged fruit. When fruits are affected, remove them from the tree as soon as possible. This lightens the existing stress load on the tree and gives you a chance to use the fruit before it goes to waste.
Click here to find the average first frost date in your area: http://www.farmersalmanac.com/home_garden/a/average_frost_dates
Comments
Read More

Comments