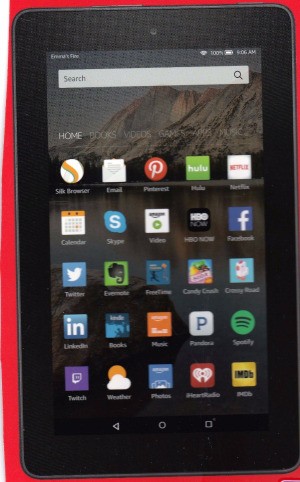 I bought my original Kindle when they first came out and loved it. I used it often on my bus rides to the VA Hospital which was 90 minutes going, 90 minutes returning not to mention the wait to be seen for my appointments.
My trips to Birmingham is always an all day trip and I can't say enough about my Kindle. From playing games, reading, looking at endless pictures of my then growing Great Dane puppy, watching videos and listening to music, the rides there and returning home were enjoyable. As were trips on Greyhound to visit my sister in South Florida, all 23 hours of it one way.
Once at the VA Hospital, it only takes a couple of seconds for my Kindle to pick up the WiFi and I had no problem checking my e-mail, Facebook, the weather not to mention watching movies from Amazon and Netflix.
I also took the time to add all my contacts, their phone numbers and addresses which really was a lifesaver a couple of times not to mention I was able to send Post Cards from Florida too.
At home, I would sit outside at night while my dogs played and watch episodes of The Twilight Zone. So to say the least I really loved my Kindle!
Recently, I started having issues with it and e-mailed a message to the Amazon Kindle Help.
The next day, I received a very nice e-mail apologizing for my problems. It really was a very nice, personal e-mail, not a three sentence auto response. I apparently had some sort of technical issue and it was recommended that it required a 2 way communication so more information could be gathered to rectify my situation.
I don't know about anyone else, but I for one get very nervous calling for any sort of technical help and the technician that helped me was very patient. I didn't feel rushed or that I was some sort of number with 3 callers behind me on hold. I learned that my Kindle was a 1st Generation and mine in particular just had some quirks that were just unique. I was so relieved that it wasn't something I had done.
So to make a long story short I ended up buying the 5th Generation version for $49.99 and a 32 GB micro Memory Card for $11.87. My first Kindle was around $199 or the best I can remember since it was a few years ago and the 5th Generation with card came to $61.86
I received it two days later and I was in total awe in the differences between the 1st and 5th Generation. The layout and all the newer options and apps had me up way into the wee hours of the morning. It now came in colors and even has a front and back facing camera.
I absolutely love it!
I e-mailed my sister and told her about all the differences and how it did practically everything my laptop did at half the size. For the price, it makes an incredible, very affordable gift for anyone.
I learned how to reset my 1st Generation and my husband is now enjoying it. He uses it for books only, so the little quirks it has won't make any sort of difference to him.
I have several upcoming trips down to the VA Hospital and I'm really looking forward to the bus ride now.