My clothes dryer is a green machine; totally bio friendly, emits no pollution and leaves no footprints. It's a rather new model, just about about 4.6 billion years old; unlike some of its contemporaries that have been around longer than we can determine. You're right, my dryer is good ol' Sol, our little star known as the Sun.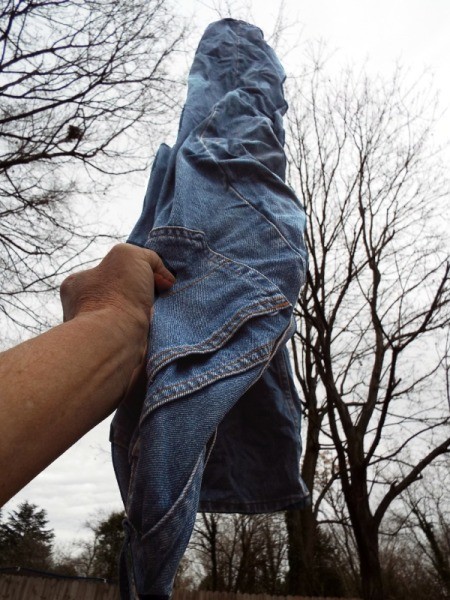 My washer is by far a newer model, actually it's one of a kind. It made its presence fairly recently, circa 1943. No warranties, limited or otherwise, came with this model. Still, with proper care and maintenance, it could be expected to last a good 80 to 90 years. You're right, again. My washer is my body with its two arms and hands.
My preference in britches has always been jeans. LG knows what I mean by 'britches'. To some of you new comers, britches is a right proper word for pants. And to be sure, they don't make 'em like they used to.
Years ago, I could buy all the Lee Riders I wanted from JC Penny for $3.99 a pair. They weighed about twice what jeans do, now. They were so stiff, it could be an ordeal just getting them on and off. They seemed to last forever. After about a year's wear, they softened to a most desirable state. They fit like an old glove. So comfy. The well worn jeans were much more preferred over new.
When new, the weight and stiffness of these older jeans required you do some prepping to get them looking good. For years, I ironed them. Then, in the 60s, someone came up with the idea of 'pant stretchers'. They amounted to no more than metal frames over which you slid your laundered and still wet, jeans. Allowed to dry on a clothesline in this manner, the jeans were just about wrinkle free. They never looked as good as when I ironed them, putting a crease in the legs so sharp, they could almost cut you.
Cotton apparel is much different, these days. Because of the way it's treated and manufactured, it hardly ever needs ironing. This holds true for the jeans I buy, today. After hanging them on the line, I smooth them with my hands, removing most all wrinkles. When dry, they look presentable. I can do without the razor sharp crease. These days it would look rather pretentious, anyway.
I washed a few pair of jeans yesterday. With the ground frozen, I said to myself, 'What the heck. I'll hang them on the line (50 feet away), later'. So, I hung them on hooks just outside the back door.
Going out today to move the jeans from the hooks to the line, I was in for a surprise. At midday, it still was freezing. The jeans had not dried a bit and were frozen as stiff as a poker. There'll will be no hand smoothing of these jeans, not just yet.
I brought them into the house, let them thaw, and smoothed them. I carefully folded them and put them aside. Tomorrow, they will be put on the line, frozen ground or no.
My tip: Why put off tomorrow what you can do, today. Chances are, by putting things off, you just might create twice the work for yourself when you do.
I still have some of those jeans I bought 30 years ago, and they still look good. If I had the waistline I had when I bought them, I would be wearing them, today. Yeah, I know. I'm dreaming.
Jeans that will last 5 times longer than those you buy today, and for just $3.99 a pair?
Those were the days.