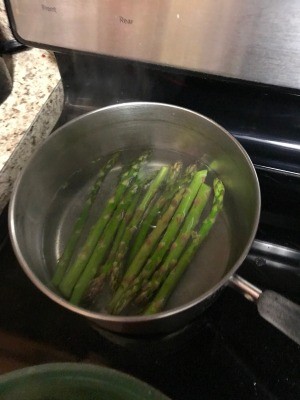 I'm the mother of a family of 21 and so very happy and proud of it! Well, due to COVID-19 and being quarantined, Easter for everyone was different this year. I don't have to tell anyone about that! Right?
Well, I told myself I would not get upset and would try to make a similar but somewhat traditional dinner for one. I bought a ham steak, a baking sweet potato, fresh asparagus and pineapple chunks.
As you will see in the pictures, I baked the potato, topped it with butter, cinnamon and brown sugar. Then I steamed the asparagus with garlic.
In a skillet, I heated a pat of butter, seasoned the ham with cinnamon and brown sugar, and let it sizzle in the skillet with sliced onion. I Turned the steak once, lowered the heat to not brown too much, and added the pineapple on top of the ham and onions. Added a few tablespoons of water to make a little sauce.
I served it on the plate with the sweet potato and ham, topped with onions, pineapple and au jus It was very nice and tasty annd an easy Easter Dinner for one!