Is it possible to reface cabinets by simply flipping the cabinet doors over and re-hinging them? Someone told me that they heard of this, but I can't find any instructions on the internet.
By Browneyedgirl26 from Oklahoma City, OK
Answers:
Refacing Cabinets
I guess, but it depends how they are hinged. If the hinge is the simple two piece type, fixed to the "edge" of the door, then all you need to do is turn the hinge around. Remember, the door on the left will become the right side door. If you only have one door on a cabinet, then you can turn it over, but the hole(s) for the handle would then be at the top.

If the hinges are fixed to the inside of the door, then you will have holes on the outside. It might be easier to repaint the doors instead. Can you take a photo of a cabinet and door? It would be easier to make suggestions if we can see the original door arrangement.
Rob (04/21/2009)

By alloydog
Refacing Cabinets
Here is the cabinet door. The carving looks very dated to me, so I'd like to do more than paint. (04/24/2009)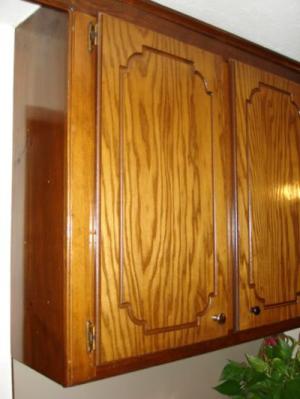 Refacing Cabinets
And this is a picture of the inside hinge. My thought was to re-hang the hinges, fill in the holes (isn't there a wood filler?) and paint. That way I have a smooth surface on the outside of the cabinets. (04/24/2009)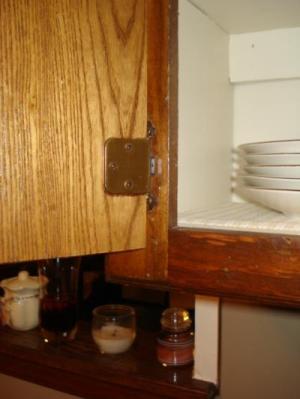 Refacing Cabinets
I would not recommend flipping your cabinets. The first time someone opens one they will be sorely surprised at the lack of effort put into updating your kitchen. What you should do (and this is very inexpensive) is get a sheet of 1/4 inch plywood (about $40 a sheet and you should only need one sheet). Make sure it is a smooth plywood and cut a rectangle large enough to cover the carving details on your current cabinets. Center it and glue it down.
Now, get some trim pieces that have a 1/4 inch bevel already inset, measure your lengths and cut the corners on 45s. Glue and nail the trim around the edges of the 1/4 inch ply that you have already glued to the door. Run a bead of caulk around the inside of the trim where it meets the 1/4 ply and smooth out with your finger. Paint and viola! New cabinet doors. (05/04/2009)
By KFranks