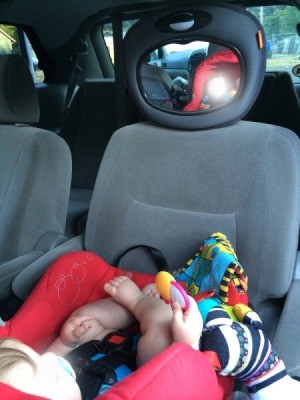 I realize that many people reading this will think "How can someone actually forget their baby in the car?" or assume that everyone that has this happen is a negligent or downright bad parent. Just to be clear this post isn't intended to address those types of parents. This is for the purpose of helping the stressed out, overwhelmed, or distracted parent that may actually find themselves in the situation of forgetting that their baby is in the car.
Numerous times a year, infants and young children are mistakenly left in vehicles by their parent or caregiver. While most people are quick to say "I would never do that!" or "That couldn't happen to me!", it does happen. The lucky parents remember seconds or minutes later or are fortunate enough that the outside temperatures are cool enough to not cause harm to their child. For the unlucky ones, the outcome is far more sad!
We usually only hear about the worst cases on the news, when a child dies or even worse, when it appears the parent did it on purpose. The rest of the untold stories are close calls. If the child is lucky they may only suffer heat exhaustion before the mistake is realized or better yet the person will realize their error within feet of the car.
It is actually quite easy for an infant to be forgotten in a car. Commonly the infant/child is sleeping and they aren't making their presence well known. The parent is overwhelmed and distracted, racing out of the car for an errand or stressed out and not focusing. Or there has been a change in plans regarding who is taking the baby with them at the last minute and the new plan doesn't quite sink in when the parent is likely running on auto pilot.
These are not bad parents, they are generally people lacking a fail-safe routine that would help them avoid having their baby get left behind. With this being said, I wanted to share some simple yet very effective ways to avoid a tragedy.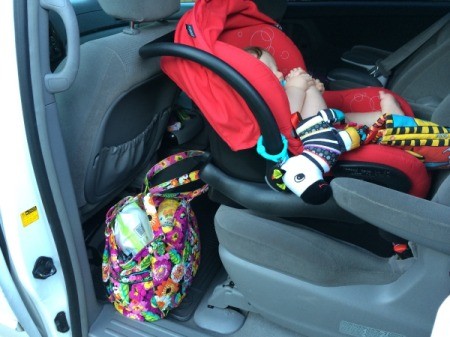 The most effective way to always see your baby in the back seat is to place your purse back there with them, or some item that you will always need to grab. The diaper bag may not be the best choice as you may not take that everywhere you go.

If you don't have one, put a rear-facing car seat mirror in your car. That way you will see their little face every time you glance into your rear view mirror.

Get in the habit of opening the back door just to double check who and what is back there. A quick second glance could save you a lot of heartache!

Slow down and get help if you are feeling disorganized and overwhelmed. Many mistakes can happen if you aren't able to focus on your children and yourself.

If the plan changes and you find yourself dropping your child off at daycare or something when you normally wouldn't, put an alarm in your phone that will remind you just in case.
While most of us will never have this happen, taking these additional steps can help ensure that you don't find out the hard way that it really can happen to you!