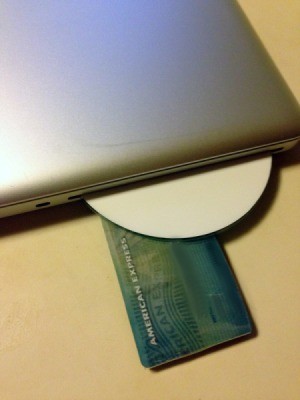 I got a CD stuck in my Macbook and couldn't get it to eject. I tried several methods get it out. Tweezers were too thick to go in the slot and grip around the end of the disc. Restarting it with the mouse button held down didn't work. Neither did typing "drutil eject" or any of the other eject methods I found online. It made noise like it was trying to eject the disc but it never came out.
Finally, I tried wrapping mailing tape around a credit card, sticky side out, to see if I could get it to attach to the disc. It worked great!
The first time I put the taped card in the slot, it didn't stick because it was hitting the top of the disc. So on the next try, I put it in at a downward angle and got it to stick to the bottom side of the disc. I used my American Express card because it was noticeably thinner than my other cards. It probably made it easier to get underneath the offending disc.
Fortunately, it was a blank disc so it didn't matter that there was tape residue left on the disc. A little warm soap and water would clean it fine if it was a disc I cared about keeping. I am sure this method would work well for any laptop or computer that doesn't have an ejectable tray for the disc.