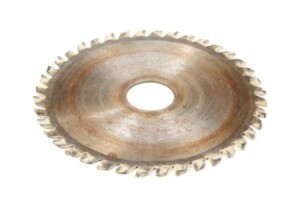 First cut some wood with it, to remove loose rust and dirt. Then scrub it with one of those plastic abrasive kitchen foam pads. Don't use the ones that have uniform small airholes, but the ones that have irregular size holes like a natural sponge and a green or blue abrasive pad on one side.
Instead of water, use CocaCola or Naval Jelly. The phosphoric acid in those will convert the iron oxide into iron phospate. Iron phosphate is a final stage salt. It can't oxidize any further and will always stay the same.
You can use Naval Jelly on anything from key files to aircraft carriers. It also works great on camper tie-down chains, that get beat up by road salt and sand.
Look for Naval Jelly at Ace hardware, not in the jam section in the grocery store. It's NOT something the boys and girls in the navy smear on their toast.
Have FUN!
DearWebby
http://www.webby.com/humor