The warmer weather is here and with that came the fleas! I could use some ideas on how to get them out of the house. I can not use the store bought items due to health reasons. If anyone has any other ways to help, please share them.
Christy from Fulton, MS
Answers:
Ridding a House of Fleas
Give you pet a monthly dose of Frontline or Advantage, as the fleas bite your pet, they'll die off, your pet will thank you also.

If anyone has pets, do them a favor, get a monthly flea and tick medication for them. (03/29/2008)

By Rissa
Ridding a House of Fleas
Seems about every 7 years fleas take over here, everyone has troubles with them, One yr we had them so bad it was like a jumping madhouse here, Nothing seemed to work,

Feed your Dog or cat Vinegar water (add a small amount to their water and slowly increase as they get use to it, its good for them too!)and within a short time they will have no fleas, you can bath them in it too,
being as they are usually the ones to bring them into your house, Rid them you Rid your house,

Common sense told me if it kills them on dogs and cats why not clean my house with it, I have for yrs use soda and Vinegar to clean my entire house, Floors, walls, windows, you name it, I even wash all our cloths in it, We have never had a flea Since! plus your health and the health of your pets will thank you! (03/30/2008)
By Chicklet
Ridding a House of Fleas
Buy a flea light. The fleas hop to the light and get stuck on flypaper. This rid our house of fleas without the use of pesticides. (03/30/2008)

By SusannL
Ridding a House of Fleas
I have one dog that is very sensitive to the anti-flea products and he is allergic to fleas as well.

Garlic is safe if given in the correct amounts for the size of your animal. I give all three of my dogs and my cat Brewer's Yeast with garlic (and use the apple cider in their water and nothing else). I bought it at the pet store (see picture below). You give one tablet for every 10 pounds.

I sprinkle boric acid (Borax-found in the laundry aisle on the top shelf near the laundry soap) on the carpets and furniture in the evening (keeping the animals in my bedroom until morning) and vacuum it in the morning (be sure to empty your vacuum right after you're done vacuuming).
I don't do this every day, I do it about once a month or if i see just 1 flea. We live in Florida on 2 acres of almost all sand, so we have the outside to worry about as well. This is where we use the chemicals. Again, we do it in the evening, after the dogs are in for the night.

All of these methods used together works for us. We have very, very little problems with fleas! (03/30/2008)

By tnrfitz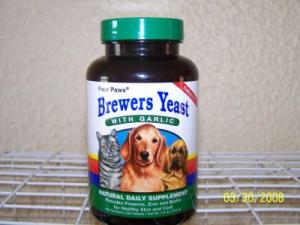 Ridding a House of Fleas
They claim small amounts of garlic is safe, But I have read conflicting evidence concerning just how safe it really is, It builds up in the dogs system and over time, has dangerous effects, even death. So I guess its just each persons choice to decide how safe they think it is,

I won't use it, My dogs are not Guinea Pigs! (so to speak) Dogs will quickly grow to love the taste of apple cider Vinegar as well. Everyone seems so hooked on garlic, But why mess with a potentially dangerous ingredient with any dog?. That's what eludes me, Why people use it anyways, apple cider is safe, effective and good for a wide variety.

DON""T use Garlic Powder, Use APPLE cider Vinegar

Your Dogs life is in your hands, Be informed of all the aspects

To those who do use garlic despite the risks involved, it should be noted, that Garlic will not get rid of already-established fleas, (04/02/2008)
By Chicklet
Ridding a House of Fleas
Get a cake pan and put some screen or mesh on it and then put a light on it and then fill the pan up with water and put a few drops of dawn soap in it and then let it set and the fleas love killing themselves and they just in it, I suggested the screen for people with animals that may drink it that are around! (04/13/2008)

By Megizan hughs
Ridding a House of Fleas
I have bombed my house probably 10 or more times in the last two months, Ortho Raid green thumb, Walmart brand even the super "flea" bomb that 's supposed to get the eggs two in double the recommended concentrations (or triple) that nearly took me out after reoccupying the house the next day within 3 days the fleas are always back, i have vacuumed religiously, every crack and crevice inside the leather furniture etc, all the floors are wooden tile or linoleum i.e. no rugs I do not have drapes (anymore) and do not have pets, I think the only thing they can be eating is me. I have sprayed all of the baseboard areas with flea spray And they keep coming back every 3 days, I am about to start bombing the house every 2 days but this is getting old any recomdendations? (09/14/2008)
By Flea Chow
Ridding a House of Fleas
I have been trying to rid my house for about 3 years when the cats I had kept running outside. I no longer have any pets and I loved our cats. I had Terminix who never accepted or found out what the problem was and I was ignorant to it since never having this problem before.

They didn't try to do their job and subsequently, I heard they got rid of some of their employees who had worked there. By that time, my house was infested. They wanted to continue to charge me after the poor job they did. I couldn't keep paying them.

Now, I'm trying to get rid of them myself. It is terrible. They get on your clothes and get in the wood floor and carpet. I have spent so much money on Raid and the only other insecticide that helps has been Ace Hardware's brand "Flea and Tick" spray. It is getting better, but it is a constant struggle to vacuum 2 or 3 times a day and scrub the floor and furniture.

It's hard to keep up and continue to work. I don't want to invite anyone over for fear that they will get them on their clothing. It is terrible and an ongoing fight. (11/07/2008)

By helpless
Ridding a House of Fleas
I have a tiny 600 sq foot apartment, no animals, but do have trillions of flea "pets". This last summer I sprayed one full can of Black Flag flea killer on the carpet EVERY SINGLE DAY and used the vacuum 8 times a day for 90 days in a row. After 90 days the downstairs neighbors complained to the landlord about all the vacuuming while the toxic chemical build up from the flea spray nearly put me in the hospital. The fleas? Had no effect. Next I tried the salt idea. I literally put forty pounds of salt in the carpet. The fleas added tortilla chips and had a fiesta on my legs. The salt took months to get out of the carpet too..Flea Bombs? Tried that plenty of times. The biting starts within minutes after we get home. We also had a flea night light over a pan of soapy water going for months. Yawn. Next we used an outdoor electric bug zapper INDOORS on the carpet. This provided short term amusement as fleas burned up but after a while they just ignored the zapper and turned attention back to us. WHAT NOW? (12/18/2008)

By Flea Bitten Fred