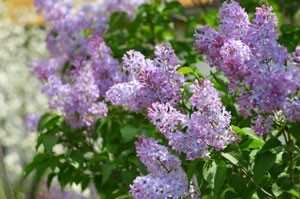 Question:
I saw a show on TV where they spoke about rooting lilac branch cuttings. I didn't catch the whole issue, they claimed you could root from a lilac bush by soaking in water.
Is this possible and how do I do it?

Hardiness Zone: 5b

Sandra from NH

Answer:
Sandra,
Lilacs can be rooted this way. I've never tried it, but the basic premise is simple. Select a few shoots (maybe 12 inches long and the diameter of a pencil), dip the cut ends in some rooting hormone, place them in a pail of water, and wait for roots. It may be a whole lot easier and faster just to transplant some suckers. Use a shovel to dig up and slice the sucker's roots away from the mother plant, trying to preserve as much of the root as possible. Replant in the prepared location of choice, water well, and voila! New lilacs.
A third way is to root cuttings in soil. Take 6-8 inch softwood cuttings from this year's new growth. Remove the lowest leaves (leave 2-3 pairs on top), dip the cut end in some rooting hormone, and plant them in potting soil. Moisten the soil and cover them with plastic to create some humidity. You should expect to see some roots in 6 to 8 weeks.

Good luck!

Ellen

About The Author: Ellen Brown is an environmental writer and photographer and the owner of Sustainable Media, an environmental media company that specializes in helping businesses and organizations promote eco-friendly products and services.
Answers:
Rooting Lilac Bushes
When I rooted lilacs I just took cuttings off my mom's lilac bush. Then I put them in tubs of water until they got roots. They did very well and I planted them and they are beautiful bushes now. (05/29/2008)
By Mythi
Rooting Lilac Bushes
One year, my neighbour decided to cut down a bunch of his lilac trees. He leaned them up against the fence around our yard until such time he was to dispose of them. In less than two weeks, the cut lilac branches had rooted. Today I have a number of beautiful lilac trees that are as high as the house. I also moved some of the "sucker" lilac roots to another location, watered and within two days, they looked like they had been there forever. (05/30/2008)

By Karyn01