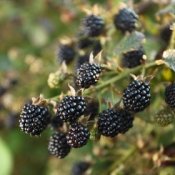 I don't believe in herbicides, they kill far more life than those intended. So, confronted with a backyard threatened to be comsumed, and deciding to limit the destruction. I bought and borrowed some good cutting instruments, both long reaching and shorter, sharp shovel, heavy duty gloves, old tough jeans & high boots. These last items limit the damage to you, as the bushes want a taste of you (defense on the plants part).
Taking a small area at a time, I cut as much as I could starting at the top, then cutting smaller sections, until the bottom. Then using the shovel, digging them up with more cutting as necessary. If reversing (bottom to top) is easier on you, do it. All the cut material can be mulched at the site or in a compost pile. Shred into small bits if possible.
You might contact a local nursery or plant group to see if anyone wants the roots or rooting plants. You might even make money! This is probably not a one weekend project.
The benefits are: You are rid of blackberries. You are being in touch with your yard and nature. You know you are keeping the world clean of poisons (herbicides do some very nasty things to other living beings after it leaves your property). It is excellent exercise and personal stress release.
Cursing in low tones recommended unless alone, though ocassional yells can bring help! Please keep in mind, the Good points about these plants. There are many. Good luck!
Read More

Comments

I'm from Oregon and we have thousands and thousands of blackberry bushes. However the ones that keep coming up year after year are threatening to take over my yard and my sanity...
Does anyone know of a homemade (preferably) or even a store-bought cure for these? I am on a limited income and not in the best of health, so paying a professional is out of the question along with digging them out (which was tried several times over the years). Please help..and thank you in advance!
Anna Moon
Answers

November 22, 2004
0

found this helpful
My understanding is blackberries only grow where they are wanted...it has to do with damp soil and acidity, I think. You can investigate with your local Cooperative Extension Agent usually at the County office. THere are often Master Gardeners also available. These fine people love gardening, take a special class, then volunteer to answer community questions. In addition to the proper preparation of the soil (which can be done slowly and with mulch you make from the food you eat) I have heard of using a syringe and something else...My first stop would be the master gardeners or the BEST nursery in your area.
Be sure and share your limitations. The other opportunity is to bless nature and enjoy the bountiful harvest of berries each year :o)

November 22, 2004
1

found this helpful
Hi Anna,
Living in the Pacific Northwest, I know how invasive those old blackberries can be. Folks that live elsewhere, these things can take over acres and you get shredded trying to clear them. Finger sized vines with big thorns that grow fast. Here's a good .pdf on controlling them.
tncweeds.ucdavis.edu/.../rubdis01.pdf
What I do is just keep cutting them. Of course, wearing leather work gloves helps a lot to keep from getting shredded. Use some long handled loppers and just keep cutting them everytime you see a new shoot coming up. If you keep doing this, they eventually don't have any more energy to put out new shoots.
Susan from ThriftyFun
By lindajean (Guest Post)
November 22, 2004
1

found this helpful
I too am disabled, on a fixed income. I used full strength ROUNDUP (buy the kind that you dilute....only DON'T!) I cut the tips off several of the lower branches and placed a plastic baggie, half full of FULL STRENGTH, UNDILUTED ROUDNUP over the cut end, securing with a rubberband. This was during the summer so the heat encouraged the plant to drink up! Naturally, the more baggies, the dryer the weather, more sun and heat the faster the plant dies. Pulling the root ball was no problem.
The other solution would be to take the waterhose, use one of those brass nozzles that intensifies the stream to 1/4 ". Start blasting at the base of the plant, using leather gloves you can start gently tugging. Blast the mud away from the roots (use pruning shears to cut the root system if you must). I got an entire shrub out this way---fun in the mud, too.
By Barbie (Guest Post)
November 22, 2004
1

found this helpful
You can rid yourself of just about any unwanted plant....cheaply and easily with........Vinegar...........just spray the plant and the roots and surrounding area.....it will also prevent grass and other things from from growing until after a good rain, which will dilute and wash it away....works great on pickers and grass which grow in the cracks of sidewalks and driveways too.......you may have to repeat it a few times to get any missed plants but vinegar is definitely cheap enough so you won't be wasting too much $$ plus it's safer for animals than things like round-up and other chemicals.......

November 22, 2004
0

found this helpful
You can buy a few boxes of rock salt and dissolve them in hot water. Then pour them on the roots of the bushes that you do not want. I inadvertently did this by emptying my ice cream maker salt out on the lawn and it killed weeds, grass and the parts of the salmonberry bushes it came into contact with.
It is inexpensive and worth a try.
By glomax56 (Guest Post)
November 23, 2004
0

found this helpful
I would love to have some of your blackberry plants, do you want to sell any of them? I live in a rental house in the country and want to produce fruit for canning. My husband loves blackberries!

November 28, 2004
0

found this helpful
Hi Anna,
You should find this site most helpful.
www.pesticide.org/blackberries.pdf
Good luck,
Newt

Jo Bodey
Bronze Feedback Medal for All Time! 104 Feedbacks
December 2, 2004
1

found this helpful
In Australia blackberries are not the lovely fruit for eating or jam/wine making they were when I lived in cool climate England. Because of the climate here they are a noxious weed and take over farmland as Susan said. There are major government initiatives to eradicate them.
Here's a link with some information about the best time to spray them.
www.mlrapcb.net/pest_blackberry.htm
If you do a Google search on 'blackberry eradication australia' there are many sites with information on the chemicals to use. Just cutting them down will not work.
After removing the bushes it is most important to plant some other quick growing plants to cover the bare ground as that will help to smother any runners from any surviving roots left in the ground.
I would also check with your local government agricultural department. As this is such a widespread problem in your area you may be entitled to some assistance to remove the plants.
Regards
Jo
By Leeza (Guest Post)
August 18, 2006
0

found this helpful
I actually hate blackberry vines as well - oregon Native and can't get rid of them. I guess the person that wrote about vinegar is probably right,(I know Vinegar kills Ivy....another bothersome vine, but NO THORNS) but a friend said that you can "Rent goats" to eat all the blackberries, weeds, etc....I looked on line but didn't find the right company to do it, but I will have to ask the person that suggested it who/where they found this service.
I know that Oregon Highway dept used goats to clear Blackberry vines near State roads and was on the news....I don't know any specific places to hire goats, but I think they were a couple of dollars a day and ate EVERYTHING !
Good Luck ! I have leftover blackberry thorns stuck in my arms and legs that somehow PROVE my HATE for the vines......I will get them out regardless of how much it hurts......Leeza

August 18, 2006
1

found this helpful
Last year we had a bunch in the back yard growing all over one corner of the backyard. They probably took up 15 feet or so in depth in a section 30-40 feet long, they went over the fence and then another 10-15 feet or so in the neighbors yard. I cut the canes out one by one with some loppers and cut them into 2 or 3 foot sections on a tarp. I just kept piling them up. It took us months to get rid of all the old canes but everytime I see some new sprouts, I chop them off. You just need to be very, very persistent. In the Pacific Northwest, the Himalayan Blackberries can cover acres, the torns are horrible and they grow about an inch or more a day. They taste good but while you are waiting for the berries to ripen they can take over your yard. They also send runners through the ground. It's taken me months of cutting, sending the waste to the yard waste folks but you can now see the laurel, mock orange and vine maple that were covered by them.
Susan from ThriftyFun
By Bella Parola (Guest Post)
May 11, 2008
0

found this helpful
Anyone who suggests blessing the nature that has cursed me as well with a backyard that sprouts the noxious little thorny shoots everywhere you look, ten minutes after you pulled one right next to it, has no idea what a blackberry infestation is like. And to add insult to injury, the berries aren't even good, so the bountiful harvest ends up in bird poop on the deck! I don't think I'll try the rock salt method or the fullstrength Roundup method, so I guess I'll just keep lopping and hope one day the roots that appear to inhabit every square inch of my yard. But thanks anyway!
Read More

Answers
Most of the posts I've read for killing wild blackberry vines were from folks in the NW part of the country. My problem is I live in NW Florida and these things aren't working. I've tried some of the products from DIY stores and some of the ways that were posted on line. I loved the homemade ideas as I have 4 dogs.
And yet, still they grow!
We bought an older home that sat uncared for and then empty for 4 years. Our lot is just over an acre and most of it is covered with the vine. Any advise on how to kill this stuff without killing what bit of grass and plants I do have?
By Keli
Read More

Answers