This is an sea shell wind chime I made when I got bored.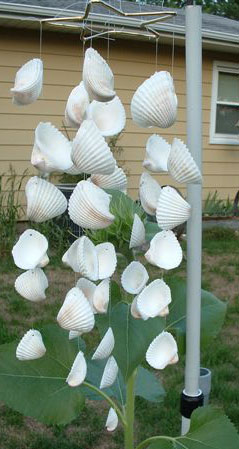 By Joyce wis
Here are instructions for making the wind chimes. If you have any questions, please post them.
6 lbs fishing line
Sea Shells
Small drill bits
A star or circle for the top
I wanted something different so I got a star for the top instead of a circle -- I use 6 lb. fishing string, sea shells of any kind you want and a small drill bit.
Just be careful drilling the hole in the shell, because I did break 6 drill bits doing this. I bought the shells from a craft store so the shells were a little bit harder the regular shells are. I drilled a hole in just one end.
At each of the points of the star I tied the strings to go down. I didn't measure the string I just guessed at it, but it is about 2 ft. long. I put 6 sea shells down each string. Where I tyed the string together on the top, I put a fishing lure. I left it longer to come down for the center one where I have 8 shells coming down. I hot glued each one were i did tied the knots at so they wouldn't come out.
I hope this did helps you a lot. I also just got though making another one with the shells from when I go out too eat at a Chinese place here. Instead of leaving the clam shells there and let them throw them out I brought them home with me -- washed them up and let them dry.
Then the next day I drilled a hole in each end of it. There is 4 strands coming down with another in the middle.