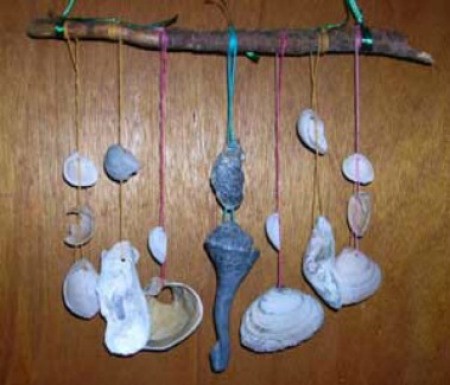 A set of seashell wind chimes is a great reminder of a summer vacation at the shore. Kids and adults love to collect shells, and here's something creative to do with them!
What you need:
seashells, preferably whole shells
Get more than you think you'll need, because a few may break.
clear plastic thread, like fishing line
a Phillips-head screwdriver or any tool with a point
scissors
something to hang your shells from, like a curved branch or a short wooden dowel
Step One: Preparing the Shells
When you get the shells back home, the first thing you'll want to do is wash them! Clean out the sand, the bits of seaweed, whatever debris is stuck to the shell.
After the shells are dry, you are ready to make the holes. Young children may need an adult's help with this part! Take your screwdriver or other pointy implement and grab a shell. Pick the spot you want the hole to be -- mark it with a pen or marker if you need to. Using a twisting motion, bore a hole in the shell. Some shells are thicker than others; don't use too much pressure or the shell can shatter.
Step Two: Hanging the Shells
Measure a length of fishing line and cut it. If you want all your shells to hang at the same length, make all the plastic thread the same length. If you want your shells to hang at different lengths, make the thread different lengths!
Thread the fishing line through the hole and knot it securely. Tie the other end to whatever you are hanging your shells from -- a piece of branch, a wooden dowel, a piece of driftwood, whatever.
Step Three: Special Effects
Be creative! You can hang more than one shell on a piece of plastic thread; just be sure the thread is strong enough for the weight of the shells! Put smaller shells closer to the top and larger ones towards the bottom.
Once all the shells are tied to your branch, you can decorate the top to hide the knots. Wrap yarn around the branch or glue more shells along the top.
And don't forget you'll need a way to hang your seashell wind chimes. Take more fishing line (or a sturdier sort of line if you have it) and tie it to each end of your branch. Hang from a hook and wait for the wind to blow!
Read More

Comments

I'm making my mother a sea shell wind chime for Mother's Day. Does anyone have any ideas on how I could put a small hole in the shells without breaking them?
Thanks to anyone who can help,
Brittany from Florida
Answers
By Joyce (Guest Post)
May 6, 2005
0

found this helpful
You have too use a small drill bit & you have too turn it by hand or the shell will break. Have fun now they are fun too make.
By connie. (Guest Post)
May 28, 2005
0

found this helpful
I found it easy to use a dremel tool, to drill the holes in the shells. It works pretty good
By Lori (Guest Post)
November 30, 2006
0

found this helpful
Use a VERY small drill bit and drill a hole.
By MotherBear (Guest Post)
January 25, 2009
0

found this helpful
I just used a glover. This is a three sectioned pointed needle used with leather. My crab shell did not break due to the sharpness of the needle.
For thicker shells, ie: mussels, etc. use a fine drill bit. These have worked for me. Good luck.
September 21, 2018
0

found this helpful
Drill holes in shell with a dremmel drill. I purchased my at the big box stores Home Depot bc I wanted a lot of shells.
Get a shell that you like.Put hole in shell at the top. Drill hole with your new drill.Make sure you hole drill tight in the same spot and your drilled new hole should be ready to go.Also tip for you ,put something like a piece of old carpet underneath when you are drilling...

July 12, 2021
0

found this helpful
use a dremel tool with diamond bits...shells are very hard and this way works real well for small holes..
Answer

this Question