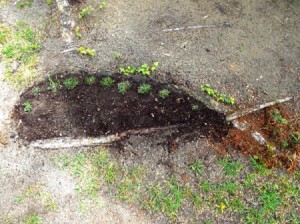 This post was originally meant to be a garden photo with the title 'The Dianthus Whale'. With my 'wealth of information', I went over the character limit and had to put it here. Take this as a garden tip, y'all.
The Dianthus Whale
There is a tree on my property that exposes it's roots pretty much as maples do. It is located on the north side of the house where not much grass will grow. I have started sprigging in ivy there, hoping it will fill in and serve as a ground cover. The ivy is growing fast, but I'm not confident about it just yet, After all, it is spring.
In this area are a couple of exposed roots taking on the shape of a whale or fish. I thought it would be nice if I emphasized this whale shape by planting a very low growing ground cover in it. I tried blue creeper, creeping Jenny, Irish moss, Scotch moss, and others. Nothing would survive and compete with the mass of hairlike tree roots which form as soon as I start watering the area.
Last year, I discovered many plants in my field. They have a tiny pink bloom. I had been mowing over them for years, not realizing that many years ago, someone had planted them there. I brought some home and planted them in a pot, hoping to see what would look like with a little TLC.
Alas, the squirrels dug them all up. I got a picture of the plants before they did. With the help of a fellow TF member, I found that the plant was a dianthus. A little googling, and I learned that the plant is the beautiful 'Dianthus Freynii'.
Here are links to pictures of the plant, one in bloom, one just barely.
http://www.alpinegardensociety.net/shows/reports/North+Midlands+show+/124/
http://www.biopix.com/dianthus-freynii_photo-38770.aspx
Well, the picture I've submitted here is a 'before picture'. I went back to the field and dug up more dianthus. I am finding enough to completely fill in the whale shape, including the tail. I wanted you to see the before picture because if all goes well, by mid summer I hope to submit an after picture showing (I hope), a pink whale made of tree roots and Dianthus Freynii.
I will keep the squirrels away from my little whale even if I have to put hardware cloth over it. I don't think they will bother it after it fills in, it's just that for some strange reason, they like to dig where I've been digging. They dig up my pansies and impatiens, and more. I think they see me as competition.
Wish me luck on this project, y'all!