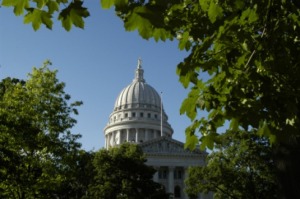 Travel Destination:
South Central Wisconsin
Country:
United States
Free Things to Do:
I grew up in south central Wisconsin and still live here. It is a great part of God's Country, with generally nice weather. There are many fun things to do in this area which I hope you will want to find out about.
Madison
Madison has a wonderful free zoo, Henry Vilas Zoo. You can also tour the state capitol building for free.
On summer Sunday nights, enjoy a free ski show at Law Park. On summer Wednesday nights, there are free concerts on the capitol square, but you need to get there early as this is a very popular event.
Madison has an arboretum which is fun for nature lovers to explore.
This summer you can also see 101 painted, full-sized "cows" for Cow Parade Wisconsin 2006! These costumed and/or painted or otherwise decorated cows are displayed on streets, in parks and near landmarks in downtown Madison, Sun Prairie, and Fitchburg.
Every year, on the first Saturday in July, Madison's Warner Park hosts an amazing fireworks display set to music called Rhythm and Booms.
Madison has a huge, unique Art Fair On and Off The Square the second weekend in July - it's free to look at all the art (not free if you buy something!)
Stoughton
Stoughton has a wonderful walking tour (or driving) of several beautiful Victorian era homes. You may even see a dragon or two.
Stoughton's recently restored Opera House is a thing of beauty to behold.
Every May, on the weekend closest to May 17, Stoughton hosts a celebration of Norwegian Indepenence Day, called Syttende Mai. The two parades are free, the Sunday parade is the best one.
Stoughton has a great, scenic walking or biking trail.
Low Cost Things to Do:
Madison
Madison has one of the finest Farmer's Markets in the country, which goes around the capitol square on summer Saturdays. It is free to go to the Farmer's Market, but you know you will buy something there.
On Labor Day weekend, Madison has a Taste of Madison on the square, the food can get pricey, but you don't have to buy any food to enjoy the live bands.
Madison has beautiful Olbrich Gardens and domes which is not too costly.
Stoughton
During Stoughton's Syttende Mai celebration in May, you may watch the world famous Norwegian Dancers, see a Norwegian style show, enjoy quilting, hardanger, rosemaling exhibits, go to a craft fair, and much more for the price of a $5 button for admission to almost everything there. Of course, it's up to you how much you spend otherwise.
Expensive But Worth It:
I highly recommend taking a trip (about 50 minutes away) to see the House On The Rock--you will be amazed! This place has a very unique home, but that is FAR from all. You end up after about 3 to 4 hours near the world's largest carousel. Wear your walking shoes. Very fun! This attraction is between Dodgeville and Spring Green. If you really want to make an event of it all, you could also see Frank Lloyd Wright's Talliesin house. By then, you will be tired and should have pre-booked a Fanta-Suite at the Don Q Inn, very fun!
Just for Kids:
Baraboo, about an hour drive from Madison, has the Circus World Museum. You will even see a circus there.
If you really have the money to spare, you might want to take the kids to Wisconsin Dells to a water park - I suppose it's not that expensive if you consider that you are spending the whole day there. If you go to the Dells, I do recommend the Indian Ceremonial (at night), or the Tommy Bartlett Ski, Sky, and Stage Show. Riding the "Ducks" are popular, or take a tour of the Upper and Lower Dells (Upper Dells are prettiest).
Madison does have a waterpark, too, in the Holiday Inn on the west side of Madison. Our son won lodging there, so we enjoyed it for two days and nights. On Friday nights, there is free pizza and other foods.
Seasonal Information:
In early July, Stoughton hosts the Stoughton Junior fair. This is a nice, clean fair (except for the demolition derby's).
Inexpensive Lodging:
My husband and I own a campground north of Stoughton called Kamp Kegonsa. Of course, camping is reasonable cost-wise and very fun for all!
Interesting Facts or History:
Stoughton is the city where the coffee break originated. Every August, Stoughton has a Coffee Break Festival.
Years ago, many Norwegian women were hired to work at the Mandt Wagon Works. These women would all take a break during the day to go home, check on their kids, start or stir the evening meal and pause for a cup or two of coffee, then go back to work.
Chamber of Commerce Contact Information:
Contact Stoughton or Madison Chambers of Commerce
Links:
Additional Comments:
There are five fine lakes in this area for fishing or other water activities. On Lake Kegonsa (Lake of Many Fishes), you can rent a row boat (no motor) and enjoy the fishing or the exercise of rowing.
I have just scratched the surface of all the fun things to see and do in south central Wisconsin. Come see and discover for yourselves!