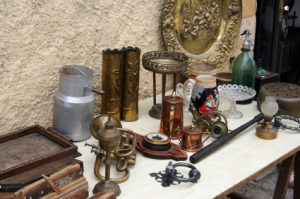 Several of my friends are now making good, extra money re-selling used items and/or antiques and collectibles. Two of them are working an eBay store called Hollywood Junque. The merchandise there is a mix of estate items and items found at thriftshops and yard sales that are antique or collectible.
I myself have been an antique picker on and off and know that there are items available at outlets like thriftshops which are much more valuable than what you pay. The trick is to develop your eye. I just found a bronze statuette by a noted Western artist in a thriftshop for $1.99! I also am known for snagging good vintage clothing and accessories, even jewelry.
You can develop your eye by going to vintage and antique stores and looking at what they are selling. It will familiarize you with the sort of merchandise that is selling and the prices that they can get. Offer to take care of a friend's estate or moving sale. If there are antiques/collectibles, they can make much more money by using you, rather than another estate handler, as the broker, who would probably charge more for their services.
Another friend specializes in boat-related hardware and articles. He also finds small boats and paints them/fixes them up for resale. He sells them at yard sales and at a local boater's swap meet. As rent is the prime expense in any business, try to find free outlets (or very inexpensive), such as the yard sale or the boater's swap meet. (But remember that the prices you can get at a yard sale are not those you could charge at, say, an antique or collectible sale. That is, they would be much lower. But you can also sell little things or things with slight damage for lower prices.)
In the experience of my eBay shop friends, they find that the people out there want perfect items and are willing to pay for them. Take good pictures of them! There is also the matter of shipping, which has to be factored it. Shipping materials themselves can be very expensive, so they try to find re-cycled bubble wrap and so on, as much as possible to hold costs down. You can also use recycled padded bags, and even the brown paper from grocery bags (turned inside out), and clean recycled boxes.
On eBay having a good dependability rating is very important. Also online you can have payments made to a Paypal account. Watch out for bad checks. My friends almost got stung recently. But personal checks for small items at yardsales and swap meets are often the way to go. Bring a lot of change with you to those sales and bring excess bags for the merchandise.
Storage of items is also an issue, especially if you have furniture. My friends have an inexpensive storage unit and use a garage as well. They also fix up items for sale, and glue, and make small repairs on furniture. You can also do this with interesting found items.
In the apartment complex near our marina at the end of the month people are moving out and often leave perfectly good stuff out in the trash. I have found patio furniture, sofa pillows, pictures and picture frames, and all sorts of knickknacks. I go on Sunday, as their garbage pickup is on Monday AM. People back in my home town in N.J. drive around with trucks just before garbage day and pickup items to cleanup and then resell. I often have found furniture out on the street near my L.A. apartment building, some of which is vintage. For example, I once found a 50's chrome dinette table, very collectible. Due to urban cockroach and bed bug problems, though, I don't take in any upholstered furniture anymore. And I check/spray furniture that I do bring in.
The internet is wonderful for research and pricing. That's how I discovered my statuette was by a known Western artist. Watch the antique shows on TV, too, to get an idea of what is saleble. Rusty signs and old 50's appliances can be worth money! I have seen O'Keefe-Merrit vintage stoves out on the street in L.A. They disappear quickly, because cleaned up and restored, they are worth money. The same is true of old tools. People out there collect anything. And remember, 70's stuff is now considered vintage.
Make sure you find out if there are any local ordinances about yard sales and how many you can have per year and so on, before you have more than one sale in a short period of time. Most towns allow you to have one or 2 per year. But you can also get together with friends and have sales at their places. At the end, you can put the items back in storage or donate everything to a charity thriftshop for a tax write-off. (Remember that outlets such as St. Vincent de Paul which pick up large items from you.)
Once you have successfully run an eBay store and/or sold at a swap meet or to retail outlets that buy collectibles, or successfully placed items for sale at a consignment store, you might then want to think about going up to the next level. You might consider either renting a corner of an antique "mall" or a section of a gift shop, or even think about a shop of your own, if you can get one cheap.
This would be particularly good for retirees who live in an area visited by many tourists, who are always on the hunt for interesting items to buy. Perhaps you are in an area where you can just have things out on your porch. Perhaps, you have another business where you can display/sell collectibles on the side, such as a coffee house or restaurant. But remember, it is a business and you are buying things to resell. Too many of us collectors fall in love with what we find and then fail to sell them!
By pam munro from Los Angeles, CA
I collect mid-century antiques. I go to garage sales, estate sales, and thrift stores. I have decided that I want to do this for profit by selling. I looked into ebay but I am pretty sure that I would rather do it through an antique co-op in my area. To do this I need to get a resale number. I don't know anything about how to do that. Do I need to get a small business license? Does anyone have any ideas or alternative ways to start a business by selling collectibles?
Answers
By Beverly (Guest Post)
April 6, 2007
0

found this helpful
Yes, you probably do need a business license, depending on where you live you may need both a city license and a county license. Check with both your City and County Court Clerk offices to see what you need.
As for the "resale #" you mentioned, in our area (Tennessee) you contact the Tennessee Department of Revenue to get a Sales Tax exempt # so you won't have to pay sales tax on what you purchase for resale.
One method you might try is selling at antique auctions. A lot of auctioneers take items on consignment to sell for customers, they charge a percentage of whatever it brings to sell it for you. The advantage of this method is you don't have to invest in a storefront to start your business until you are sure you want to go that route.
Best of luck,
Beverly
April 7, 2007
0

found this helpful
Aren't you in California?
A resale license is for charging and paying your sales tax bill. The initial deposit may be high, so be clear about how much you expect to earn in the beginning.
I would ask at the co-op. They may have license umbrellas for all the members of the co-op.
O.
By merrylwatson (Guest Post)
April 7, 2007
0

found this helpful
Lara each state has different laws so I know in Arizona its not mandatory but most people do it. In CA I would be willing to bet it's mandatory. Check with your Secretary of State. That's where Arizonans get their licenses. Also you might want to check with your local IRS, they might have some information about businesses
Yours,
merrylwatson159
April 7, 2007
0

found this helpful
Wow thanks everybody for the feedback!
May 3, 2018
0

found this helpful
The way you explained each point in detail is excellent, Thanks for sharing
Answer

this Question

...