Stucco Style Reptile Hide/Pool Deck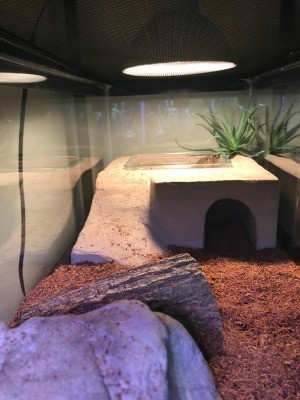 This craft is made to be used in a reptile/amphibian cage. It is made from a brick of Styrofoam melted/molded into shape with a combination of a hot wire and a lighter, and then grouted to make it durable. The top includes a spot for a container of water to be placed into it. A ramp/stairs provides access to the top and a cave is carved into the bottom to provide a place to hide.
Total Time: 24hrs
Yield: 1
Supplies:
1 large piece of Styrofoam- or multiple smaller pieces to glue together
Liquid Nails Projects glue
grey tile grout
water per the instructions
Steps:
To start get a suitable sized piece of Styrofoam. If you can't find one large piece you can glue multiple pieces together with Liquid Nails Projectglue. If you decide to use something else make sure to test your adhesive on a small area before glueing to ensure it does not melt the Styrofoam.

Once your initial shape is made, you can decide on a final shape. I marked out the areas I intended to carve off with a marker.

In order to make your shape you can use a standard hot wire that is used for cutting Styrofoam. They can be bought online. I did not have this and instead used a blowtorch to heat a wire that I then used to shape the stair/ramp area. The hot wire will cut through the Styrofoam easily. If using a torch make sure to do it outside as it produces CO2. Try testing how the wire will cut on a test piece to get a feel for how you will shape your final product.

To cut out the pool/indent on the top and the cave area I used the hot wire along with a combination of scissors and a razor to cut out the large chunks.
If more shaping is needed you can use a piece of rough sandpaper or a wood working file.
I then mixed up some standard tile grout, per the instructions, and slathered it on the shaped Styrofoam. It took a couple hours for it to dry between putting it on the top and bottom, you can find quicker drying grout if you want it to dry faster.

And now it's done. The finished product took me around half a day to a day to complete, but most of the time was due to the grout drying time, quick dry grout can cut your time considerably.
Add your voice! Click below to comment. ThriftyFun is powered by your wisdom!
Published by ThriftyFun.
© 1997-2022 by Cumuli, Inc. All Rights Reserved.
https://www.thriftyfun.com/Stucco-Style-Reptile-HidePool-Deck.html