June 13, 2011
0

found this helpful
Best Answer
Hi Teresa,
I found a few other grief organizations that are recommended by the New England Organ Bank:
Alive Alone: www.alivealone.org; an organization which benefits bereaved parents whose only child or all children are deceased.
Bereaved Parents of the USA: www.bereavedparentsusa.org; an organization that offers support, compassion, and hope to bereaved parents, grandparents, and siblings.
One Bright Star: www.onebrightstart.org; offering resources and support for families who have experienced the death of a child.
For your grandchildren:
The Douggy Center for Grieving Children: www.dougy.org; 866-775-5683
an organization which provides loving support in a safe place where children, teens, and young adults and their families grieving a death can share their experiences as they move through the healing process. They have a National Center for Grieving Children and Families, too.
"When a Parent Dies" advice from Hospice: www.hospicenet.org/.../parent.html
"Helping Children Cope with Grief and Loss": www.nasponline.org/.../griefwar.pdf
Mister Rogers Websitewww.misterrogers.org See booklet, Grieving for Children, for ages 4-10.
My heart goes out to you and your family. I hope you know a lot of people are thinking about you all. :)
June 12, 2011
0

found this helpful
I'm so sorry for your loss. There is a support group called Compassionate Friends that you might look into. They are geared to people in your situation.
You might ask at your church or check with social service organizations in your area to see if there is a group where you are. My heart goes out to you, and I wish you well.
June 12, 2011
0

found this helpful
Hi Teresa, I am so sorry for your loss. My prayers are with you and your family. I looked up grief counseling on Google, and found an article which reviewed online grief groups at associatedcontent.com. They said these were the best:
www.griefnet.org
www.groww.org
www.compassionatefriends.org (Also recommended by moseley3)
P.S. Also check with your local hospital, sometimes they have grief groups.
May they offer you some help and maybe some peace. All my best.
June 13, 2011
0

found this helpful
I'm so sorry for your loss especially of a child; grief hurts whether the child is 2 or 22! Check with your local churches for a support group entitled "GriefShare" or go online and check it out griefshare.org. I have gone to the GriefShare seminar for 4 sessions completing the course each time and the healing in my mind, body and spirit is phenomenal.
My prayers are with you.
June 13, 2011
0

found this helpful
Dear Teresa, I'm very very sorry for your loss. There's no words to say to make it better or to even ease the pain. I'm only 30 years old, but I have lost a child. The loss of a child is felt deeply and no one can make it better. We have to get through it on our own; though groups do help, like was said in another post. Hospitals have good ones. Just by typing in "support groups for the loss of a child" should get you some kind of help online.
I am not over the loss of my dear Emily. Thankfully, I'm blessed with my ten year old son, Jacob. He's my angel, but Emily is always near by my heart and some days are good and some are bad. One day at a time. We'll never fully get over the loss; you never do. We learn how to deal with it everyday.
I'm not religious. I'm more spiritual, but I believe in God and I truly believe your daughter is watching over you in heaven. One day you will all be together:) I didn't mean to get all religious, its just my beliefs.
You take care, and I hope God blesses you and yours. I hope you get the help you need. Once again I'm very sorry for your loss. Don't forget, I'm here to talk to you if you like, anytime!
Always
Nichole
aka
Nicki:)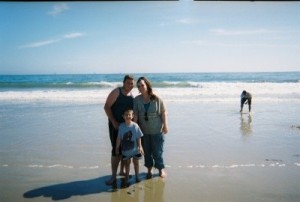 June 13, 2011
0

found this helpful
I am so sorry for your loss. You might ask your doctor if he or she knows of a group (grief) your area. Or check with your local hospital they might have grief counseling. Please let us know how you're doing. There are people hear that care. God bless you and your family.
June 13, 2011
0

found this helpful
I asked my foster mom (before she passed away at 82, what was the hardest thing she had ever gone thru and without a pause she said, "the loss of my 2l year old son just the day after his lst baby was born." She went on to tell me that if she hadn't had God in her life she couldn't have done it. It is Christ that gives you the strength to get through it and live. Yes I said live. Live for the baby and husband and most of all for you.
It will take time and time will still never take away the hurt, it just gets livable with time. God has not forgotten you and you mustn't forget that even though what you feel and see seems to say something different.
June 13, 2011
0

found this helpful
Teresa, I'm so sorry for your loss. I can't imagine. :(
Along with the other helpful ideas, I would contact your personal physician and see if they can refer you to a therapist or group counseling that is covered by your insurance. I know lots of people who have received temporary support in this way.
All my best to you and your family.
June 13, 2011
0

found this helpful
May your daughter rest in peace. I am praying for you and your daughter's husband and family. May god give all you comfort and strength during this difficult times. Try to check call some hospitals as for a social worker to see if they can suggest any support group. I can feel your pain.
July 16, 2013
1

found this helpful
I do know what you are feeling, We are 69 years old and have six children, our daughter Donna was 45 and had five children, the youngest one 6 years old. We lost her on March 10, 2013 from cancer. Up to a month before she passed away we all had hope but never got it. She put up a great fight for over a year only to loose in the end. I can't seem to have a good day anymore, my head feels like it is going to explode.
I try to remember the good times but then the bad ones get in. I am just waiting for the day when I can be a little more normal again, but instead I am just waiting to be with her. I am so thankful for my big family that we can all grieve together, I hope you have that support too. Bless you and your family.
June 23, 2018
0

found this helpful
My name is Lily I've just lost my lovely daughter to breast cancer she was only 39 I can't cope without her I've got to try for my lovely son and 5grandchildren I miss her so much it hurts what can I do
September 1, 2018
0

found this helpful
Lily, I lost my beautiful daughter, 30 yrs. old, in July 2018. I too can't cope without her. We talked/texted everyday. The void is huge and devastating.
Someone started texting their daughters phone to have conversations. I might try that.
When reality is too intense, I have panic attacks. I have clonopin to help.
I have a supportive husband and girlfriends I lean on.
September 12, 2018
0

found this helpful
Lily, I lost my beautiful daughter to breast cancer, as well. She was 33 years old when she passed in March 2017. It still feels like yesterday and I still can't believe she's gone. I cry every day and I know you miss your daughter just as much as I miss mine. I feel such emptiness, lonliness, and so much pain. I don't feel I have any support so I grieve to myself everyday. My family thinks I'm fine & have gotten over it, but they don't understand that you will never get over the loss of your child. Part of me died with her that day and I have never been the same and never will be. I have 3 other teenagers at home so I try my best to be here for them. I promised my daughter that I would be ok if she died, but I never imagined that it was possible to suffer this much. However, I never lost hope that she would beat breast cancer all the way up til the day she died. I just don't understand why she died so young with so much life left. I feel guilty for being here and she's gone. I was diagnosed with breast cancer, ad well in December 2009, but I survived it, as it was caught early, but she was already a stage iv. I remember how she was right there by my side when I went through that ordeal. I would've never believed that 4 years later, she would be diagnosed with breast cancer, as well. I went through genetic testing when I was diagnosed and tested negative for brca1 and 2 so I didn't think my daughter would be at risk. However, she tested positive for the brca1 gene do that means she inherited the gene from her father. I miss her so much and my only hope is that we will be together again one day. You will see your daughter again one day too. If you ever feel like you need someone to talk to you can email me at mtcalm223@yahoo.com . I'm so sorry for your great loss and I wish you well. It will not be easy for either of us, but we have to try to reflect on the sweet memories of them.
Glenda
September 12, 2018
0

found this helpful
I am so sorry for your loss. I just sent a very long response to one of the other ladies who recently lost her daughter. I have a very hard time coping each and every day. It's been a year and a half since I lost my beautiful daughter, but it still feels like it just happened. I sometimes experience panic attacks, as well. My doctor prescribed clonazepam which I think is a generic for clonipin, but I try not to take it too often. I was texting my daughter's cell phone for months after she died & it really did help me, but then I was so saddened when I realized someone else had her number. I can't explain how I felt to actually get a reply back from her cell phone. For me the pain is so great at times that I feel I just can't go on, but then I think of my other children that need me and I know Dionne wouldn't want me to live in a world of sadness & pain, but it's just so hard to face life every day without her knowing that she's not coming back. My only consolation is that I will see her again one day and you will see your precious daughter again, as well.
September 9, 2018
0

found this helpful
Hi I lost my son 38 at time of his death. Its been 6 yrs but still stay in bed most rhe time. Call or email anyone wanting to talk. Vadasue77@gmail.com. (513) 484 2824. If I dont answer leave message
November 26, 2018
0

found this helpful
Hello, so sorry for your loss and pain. We loss our oldest son on 11/2, he was 25. The pain has been like nothing I have ever felt. It is only the love of my other 4 children that keeps me going. I plan on attending a support grief tomorrow night. I don't know if this will help but I have to give it a shot.
January 6, 2019
0

found this helpful
My best friend lost her son in October, the same week as my son was diagnosed with terminal cancer. He is still alive, but losing ground daily and is so much pain. I know I will lose him soon, but I am still trying to get my friend. What can you Tell me about the support group? Kathy
March 21, 2019
0

found this helpful
I also lost my 43 years son on Jan/21st of this year, I SO MUCH miss his morning text and nightly calls, he called me from his girlfriend fathers house to ask for his dauthers hand and I suppose to go there for his engagement following week, next day I heard from police that he was deciced in an accident I had to go there for his body rather than engagement. I am lost, angry, devastated and cant get him at of mind every second of every day, I can feel your pain and broken heart.SO MANY WHYS???
April 7, 2019
0

found this helpful
I'm sorry for your loss. I too lost my 48 year old daughter to breast cancer on 12/05/2018. She left behind a 3 y/o son. I'm beginning to wonder if I'm having a nervous breakdown. The heartache and tears won't stop. I'm reaching out today for support and I came across your post.