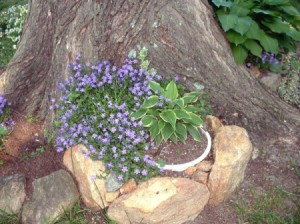 I admit; I am a stickler for proper flower names. For everyday conversation, the common name is fine. But, when you plan to buy a plant or seed, usually the common name is not enough.
A good example is the pictured flower. Its common name is 'bellflower'. Let's suppose you want to purchase this exact flower. Then the common name just won't do. And with good reason.
The bellflower has the botanical name 'Campanula'. There are over 500 species and they are quite diverse. Some are annual, some are biennial, and some are perennial. While most species are blue, some can be white, purple or pink.
So, when your little one asks, 'Mama, what is this flower'?, you would reply, 'Honey, that's a bellflower. It's pretty, isn't it?
But when a neighbor says, 'That is one beautiful flower. I would like to have the same thing in my rock garden. What is it's name?', you would reply, 'That is Campanula portenschlagiana'. Its common names are bellflower and Dalmatian flower. (And since this particular botanical name is a real tongue twister, you would also offer to write down the name).
All this is good insurance that your neighbor won't buy the first plant she sees tagged 'bellflower', only to get an annual that is gone after one season.
Campanula portenschlagiana is a perennial. It is native to the Dalmatian Mountains of Croatia, hence one of its common names.
A neighbor gave me a small pot of these flowers, the only one she had. It had been given to her. She hadn't seen it in bloom and thought it rather insignificant. I really don't think she knew what she was giving away.
For me, the plant does equally well in sun, part shade, or shade. As I write this in mid May, mine are just beginning to come into full bloom. Though in all it's glory in early summer, it is a sporadic bloomer and may bear some flowers at most any time of the year.
The plant is very easy to care for. I have seen no evidence of pests or diseases. Good soil, water, and occasional fertilizer keeps this flower coming back year after year.
This version of the bellflower does spread. With thinnings, you soon will have enough for all your needs and for sharing, as well.
Do consider this little jewel of a flower for your own beds or borders. I assure you, you won't be disappointed.