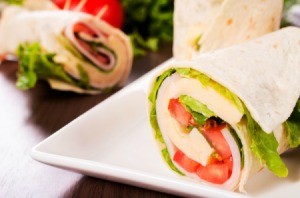 Ingredients
Cooking spray
3 (8-inch) flour tortillas
3 Tbsp. mayonnaise
1/4 pound thinly sliced roast turkey or thinly sliced roast chicken
1/2 cup grated Jalapeno Jack cheese
3 thin slices ripe tomato
4 crisp bacon strips
Directions
Heat oven to 400 degrees F. Spray baking sheet lightly with cooking spray. Lay a tortilla on the baking sheet. Spread the tortilla with 1 tablespoon mayonnaise. Arrange turkey or chicken over the mayonnaise. Sprinkle half the grated cheese over the meat. Spread another tortilla with 1 tablespoon mayonnaise and invert it over the grated cheese.
Spread the upper side of the second tortilla with remaining mayonnaise. Lay the tomato slices over the mayonnaise; arrange the bacon strips over the tomatoes. Sprinkle with remaining cheese evenly over all. Lay the remaining tortilla on top of this stack and cover with foil.
Weight the sandwich with a pot lid or an oven-proof plate or dish. Bake until the cheese has melted and the sandwich is heated through, about 15 minutes. Transfer to a cutting board and cut into 4 wedges. Transfer two wedges to each of two plates, and serve at once.
Serves: 2
Source: Recipe from tortilla package.
By Connie from Cotter, AR