My cat has a crusty eye, chin, and upper jaw. What is it? How do we get rid of it? The cat has been taken to the vet twice, given eye wash, an extended round of Prednisolone 5 MG, and two rounds of Neo Poly Dex Opth Ointment. Yet the black crusty stuff just keeps coming back. He has been treated with Neosporin, but will rub his face until it's all gone. What is this from? And what do we do to make it stop? He occasionally walks around with his eye almost closed, which is worrying us.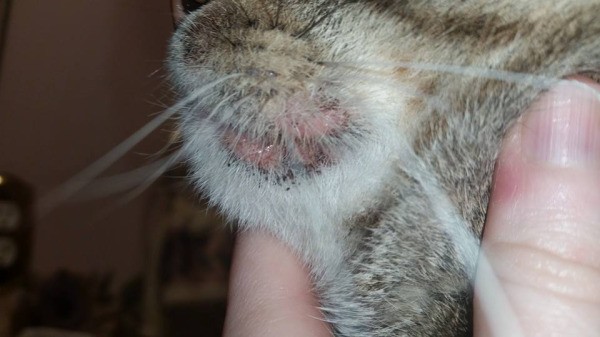 By Benson
Answers

January 8, 2015
0

found this helpful
Best Answer
Chin looks like feline acne, need to use glass or ceramic bowls. A weepy eye that is sometimes closed or "winky" May be feline herpes, once an ulcer is ruled out (special dye for eye). In stressful times (to a cat, it can be a change in furniture) it tends to get worse. Often a steroid ointment or steroids can be given but sometimes not very helpful.
The least traumatizing treatment is to give Lysine (made for cats) to try to stop the virus from activating and replicating. He can also have allergies but the steroids (prednisone) usually help with that. Go to a ophthalmology specialist, it may cost more in the beginning but they can at least give you a more definitive answer.

January 9, 2015
0

found this helpful
Best Answer
I don't think the two are related (chin/eye). I agree with the previous poster about the chin.
One of my cats similarly developed "a wink" and was found to have an eyelash that turned inward irritating the eye.
Surgery corrected it. May not be the same for your cat. Good luck - He looks sweet!

January 30, 2015
0

found this helpful
Best Answer
This was happening to my cat's chin and I took her to the vet, paid a lot of money for them to tell me to stop letting her drink from plastic cups. The cat used to drink my icewater when it was on the coffee table so I used to just give her a cup for herself so she'd leave mine alone.
Apparently this caused the dermititis. They sold me a $30 bottle of medicated shampoo and told me to give her a bath in it. I don't think that helped at all - except maybe their profit margin. But as soon as I went back to only letting her drink from the stainless steel bowls she healed right up.
Answer

this Question

When my kitten was younger she developed rodent ulcers. After bringing her to the vet and getting a prescription that didn't work, I just removed all the plastic bowls and changed her food and it went away on its own.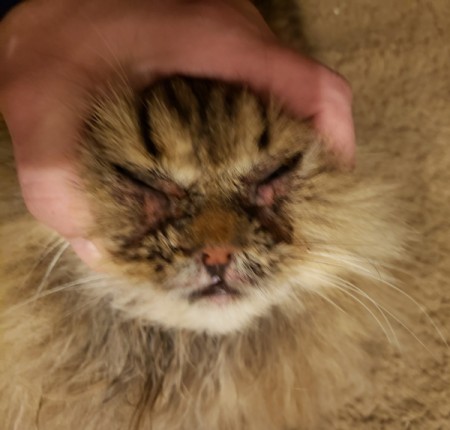 My cat is now a little over 1 year old and has developed chin acne and crusty black stuff around her eyes, where the whiskers are (everywhere on her face).
I took her to the vet and they told me to change her food again and gave her some Orbax for 14 days which made the black stuff dry up and flake off. A day after she stopped her meds she started to get black stains again. We brought her back to the vet and he prescribed her Purina HA cat food, but she started getting the same stuff all over again. She has also been licking her butthole and privates constantly.
I have done everything I can do household wise. I've changed her ceramic fountain to a stainless steel fountain, all stainless steel food bowls, prescription diet, changed her cat litter to Worlds Best, with no scent. I don't think this is an allergy to food! I also make sure I clean her cat acne on her chin daily and wash every food bowl/fountain daily.
The pic in the car is of her heading to the vet after the black "stains" started again.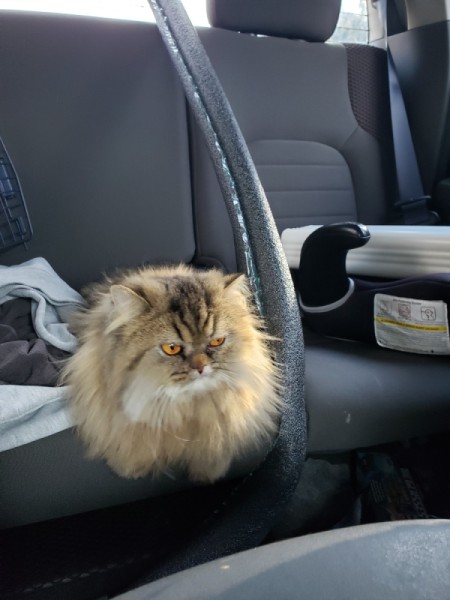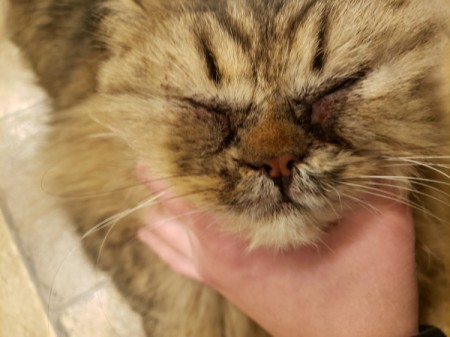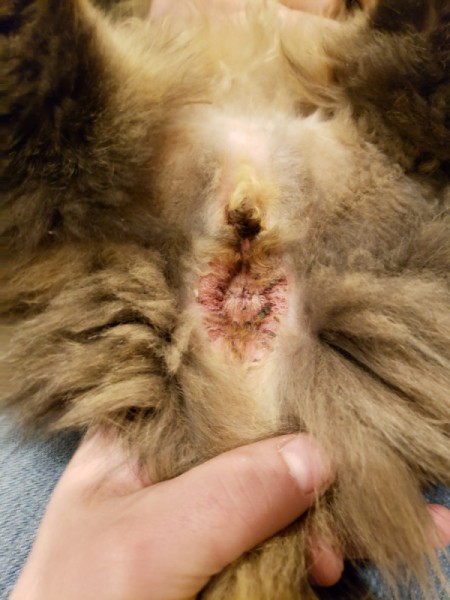 Answers

coville123
Silver Post Medal for All Time! 433 Posts
January 5, 2019
0

found this helpful
DOES THE CAT HAVE BLACK HEADS?
IS THE CAT MISSING ANY HAIR ?
COULD BE ALOPECIA.
CRUSTY SORES CAN BECOME IRRITATED,AND INFECTED.
ASK FOR ANTIBIOTICS AND BUY AN OINMENT LIKE POLY SPORIN.TRY THAT INSTEAD,IT COULD BE AN INFECTION.
TRY WASHING THE ACNE AND CATS EYES OFTEN.USE PEROXIDE ON THE ACNE.THERE IS NO CURE FOR ACNE BUT KEEPING IT UNDER CONTROL.WASH THE CAT'S EYES WITH WARM WATER AND A CLEAN COTTON BALL.

Lizzyanny
Bronze Feedback Medal for All Time! 226 Feedbacks
January 8, 2019
0

found this helpful
It sounds to me like you have more than one thing going on here. It may well have a food allergy component to it. I would also be suspicious of a yeast allergy along with the cat acne. Chewy (the web site)has several treatments for this problem that cover more than one cause.

March 9, 2019
0

found this helpful
My cat is also having this issue for months, was given antibiotics and steroids, it cleared up a little then came right back :( please let me know if you have figured out the cause?
Thanks!!!
April 28, 2019
0

found this helpful
Its likely a feline herpes flare up. Its like kennel cough for dogs. In times of stress it happens to my cat. There is a human OTC allergy pill my vet gave us tonuse. I wish I knew what it was. I know its a yellow tablet and she takes 1/2 a tablet.
Essentially their eyes get backed up and weepy. The allergy meds clear things up quick. Remove any stressors if possible and make sure theyre staying hydrated!
My kitty gets a flare up every time weve moved or expanded our family.

February 1, 2021
0

found this helpful
Did you ever figure this out? My cats eyes and chin looks EXACTLY like yours. I have also tried everything, and I have never found another case that looks similar like your cat's does.
I pray you have found some solution.

March 4, 2021
0

found this helpful
My cat had the same thing. She has been on steroids, antibiotics, food diet, and now she is taking atopica.. Still has black crust... Hundreds of dollars later still in same spot.

January 10, 2022
0

found this helpful
Guys, my cat got the same!
He was on steroids and antibiotics then got better but not fully healed then he stoped and all came back again even worse. Started with the paws then chin, lips and cheeks. Now spreading to the eyes. It's been like this for 6 months. He is going to the second biopsy because the first was inconclusive. He is wearing now the neck colar because he is scrething and open wounds on it. Last tine the vet said that it's infected as the first time but the antiobiotic didn't make effect. That first happened when I moved to a new house but at the same time I brough him to the beach few times here in Ireland so Idk what really caused this.
Sebody can help please?

March 20, 2022
0

found this helpful
I have a foster kitten with the same exact symptoms. Weve changed dishes to stainless steel, put on Hills z/d hypoallergenic diet, tried various eye gels/drops and anti itch meds with no luck. Steroid pills alleviate symptoms, but they come back when weaning off the pills. Kitten gets weepy eye build-up leading to closed eyes, scabby corners of mouth and chin, raw bum from licking at it. Im worried about long-term steroid use in a young cat. We had a blood allergy panel done which was negative. If anyone found a solution please post.
Answer

this Question