When my kitten was younger she developed rodent ulcers. After bringing her to the vet and getting a prescription that didn't work, I just removed all the plastic bowls and changed her food and it went away on its own.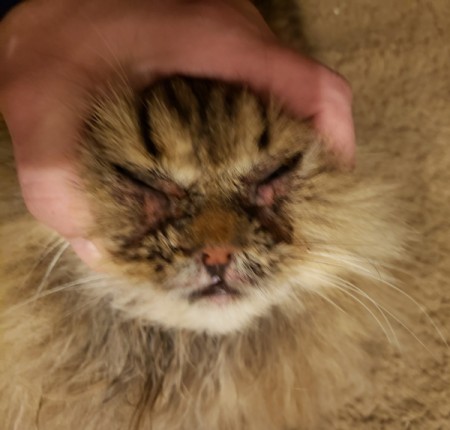 My cat is now a little over 1 year old and has developed chin acne and crusty black stuff around her eyes, where the whiskers are (everywhere on her face).
I took her to the vet and they told me to change her food again and gave her some Orbax for 14 days which made the black stuff dry up and flake off. A day after she stopped her meds she started to get black stains again. We brought her back to the vet and he prescribed her Purina HA cat food, but she started getting the same stuff all over again. She has also been licking her butthole and privates constantly.
I have done everything I can do household wise. I've changed her ceramic fountain to a stainless steel fountain, all stainless steel food bowls, prescription diet, changed her cat litter to Worlds Best, with no scent. I don't think this is an allergy to food! I also make sure I clean her cat acne on her chin daily and wash every food bowl/fountain daily.
The pic in the car is of her heading to the vet after the black "stains" started again.