I was wanting to know if anyone has ever tried the new Chop Wizard that they have been advertising on TV? It's suppose to chop up apples, onions, potatoes and so on. If anyone has tried this new product, I would like a little information on it. I was thinking of getting me one, and I wanted to know first before I spent my money. You know those things on TV can be a little tricky.
Thanks again.
Teresa from VA
Answers:
Vidalia Chop Wizard Reviews
It is the "best" kitchen tool I have purchased in a long time! I never put mine in the dishwasher. I always handwash it. (I never put my good knives in the dishwasher either.) I especially like if for onions and garlic. It saves a lot of time and does a terrific job. I haven't used it for potatoes, carrots, etc. So far, I have just used it for onions, but trust me it is worth every penny. I bought one for each of my daughters and two friends! Can you tell I am enthusiastic?
(08/31/2006)

By Tricia
Vidalia Chop Wizard Reviews
I just got my Chop Wizard a couple of weeks ago, and I love it! This week I made several salads and was able to chop the onions, celery, bell pepper, and cheese in probably about a minute's time. For another salad, I chopped strawberries and bananas in a flash! It made perfect square pieces and it was so easy to use and clean up.
I ordered mine from the TV, but I just found it in the Miles Kimball catalog, item No. 894451 for only $14.99. The Chop Wizard is over $25. I am going to order some from MK for Christmas presents. Check it out on their website. Hope you enjoy your Chop Wizard, no matter who you order it from. (09/09/2006)

By Janie living in Seoul, Korea
Vidalia Chop Wizard Reviews
It is a great product, I make oven fries with it. I only wish it was a little bigger, but can't complain. It is a great product. I ordered online from Sears and picked it up at the store, no shipping costs.
I say it is awesome and great price. (12/24/2006)

By Archie
Vidalia Chop Wizard Reviews
The fine blade is perfect for fresh salsa. The course blade did a great job on dried bread, onion, and celery for stuffing. Well worth the price. Large onions may need to be sliced into thick (1") slices. (12/27/2006)
By Kim
Vidalia Chop Wizard Reviews
I have one and it works as it says but, I find it too small to use for most things I make. It can be hard to use if your counters are high so I use it on my kitchen table and it works fine. (01/10/2007)

By Joy
Vidalia Chop Wizard Reviews
I ordered the Vidalia Chop Wizard. Wow, was I disappointed. The lady on TV uses one arm to easily slice a half of an onion or carrots or something. Well, I had to use my whole body weight to chop my half of an onion. I was making stew, and added some carrots that were sliced into thin discs. Again, had to use both arms and my whole body weight. Then came the cleaning process! I used 2 different scrub brushes and a toothbrush to try to clean out the micro-tiny nooks and crannies of the top of the device. After 20 minutes of soap, scrubbing and "pruny" hands, I ended up sending it back still dirty. I am 46 and not a weakling. I think it sucks! (01/23/2007)
By Sheryl
Vidalia Chop Wizard Reviews
I bought mine about 3 months ago, and just love the product. At first I thought it was a bit hard to push the lid down, but after some use I know how much to put in the chopper at a time. By the way I use mine at least 5 times a week and will never be without one. I've done peppers, onions, carrots olives, tomatoes, and fennel bulb. About the cleaning, I rinse it right away with my sink sprayer and and then I use the tool they give you with it, and mine cleans up just fine. I can't live without one anymore. (06/28/2007)

By Barbara
Vidalia Chop Wizard Reviews
Love it. Just don't put whole onion, tomato, or potato in at once.
Cut in half works great (07/01/2007)

By KIM
Vidalia Chop Wizard Reviews
The August 2007 issue of Good Housekeeping magazine (p. 109) gave this their highest rating of 5 stars! (07/14/2007)
By Jenny
Vidalia Chop Wizard Reviews
At first, I thought it was great, but while trying to cut an onion that was cut into a large slice one of the tabs holding the top in place cracked off. Now, I can still try and use it, but I need to really put weight on it to get it to cut through. It broke the 3rd time I used it. (11/24/2007)

By Kathy
Vidalia Chop Wizard Reviews
It is wonderful! I had mine for one year and I used it so much it broke! I am going to be buying a replacement really soon as I am completely lost without it. I made homemade salsa with it cutting the tomatoes, onion, and jalapeno peppers on it. My husband loves my salsa which is saying something since he normally doesn't like salsa! (01/05/2008)

By Julia
Vidalia Chop Wizard Reviews
I purchased one of the Vidalia Chop Wizards when they first came out and just love mine. I use it all the time. I like mine so much that I turned around and bought one for each of my 4 grown children for their kitchens. Just make sure they are the Vidalia Chop Wizard brand as there are imitations out there that don't work so well. (01/12/2008)
By Dee from WA
Vidalia Chop Wizard Reviews
I received one for Christmas. You need a bit of effort to push the chopper down on the onion, however it does a great job. Not for the weak. Only one problem, DO NOT put this on the bottom rack of the dishwasher. I made that mistake and have now ruined the container. It melted out of shape. Hope this helps! (01/25/2008)

By MIMI
Vidalia Chop Wizard Reviews
Be careful you are eating plastic! I realized it was chopping away the plastic from the little cubes. So you are not eating just the chopped vegetables! (05/19/2008)

By
Vidalia Chop Wizard Reviews
I have tried the Vidalia Chop wizard. It is easy to clean and chops onions very well. The one draw back is the plastic button hinge on the right side. This shatters afer a few chops. Both my original and the replacement I purchased had the same problem. I will not buy another until this problem is resolved (06/15/2008)

By Jeanette
Vidalia Chop Wizard Reviews
I too loved using this product till my husband tried to chop a potato. Believe it or not the whole thing exploded into about 8 pieces. Luckily it didn't hurt him. Please be careful with this product. (01/07/2009)

By Kim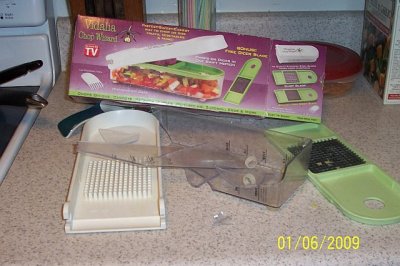 Vidalia Chop Wizard Reviews
I love my Vidalia Chop Wizard! I have had mine for over a year without any problems whatsoever! I use it more than my Magic Bullet because it cuts things evenly and without liquefying them. Perfect for salads, soups, stews, and I have even used the small blades for dicing pecan halves for the holiday recipes I use them in. I give this product 5 stars! (01/19/2009)

By Cheryl
Vidalia Chop Wizard Reviews
I love mine. Got it at a garage sale for a dollar and have used it for 3 years now. I absolutely love it and it makes chopping a lot easier! (09/09/2009)

By av8rs3
Vidalia Chop Wizard Reviews
I've loved it, yes, I have had two of them break (the hinges on the side), but each lasted a year or so, and $20 a year to not have to slice onions with a knife is a deal. One issue it has with onions is if you leave the outer, tougher layers on, it has difficulty pushing the fibrous outer layer through. Both of mine broke when I was careless and didn't make sure I took that outermost layer off (the one immediately beneath the skin). It works best if you cut vegetables into chunks, but makes beautifully uniform pieces when you do. (06/21/2010)

By Todd R.