April 22, 2022
0

found this helpful
Best Answer
The flowers have five petals, so this is not Cornus florida (Flowering dogwood).
This is from genus Prunus.
It seems to me that tree is not so big and the flowers are not as large as those of Prunus cerasifera Nigra www.alamy.com/prunus-cerasifera-nigra-blutpflaume...
so I think this is a Purpleleaf Sand Cherry / dwarf red-leaf plum (Prunus × cistena) www.arborday.org/.../TreeDetail.cfm?ItemID=816
www.thompson-morgan.com/.../tka3390TM
Prunus × cistena is a hybrid species of Prunus, the result of a cross between Prunus cerasifera (cherry plum or myrobalan plum) and Prunus pumila (sand cherry).
en.wikipedia.org/.../Prunus_%C3%97_cistena
Prunus × cistena "is a very hardy flowering landscape specimen with reddish-purple foliage"
www.arborday.org/.../TreeDetail.cfm?ItemID=816
You wrote about burgundy colored leaves.
"Purpleleaf Sandcherry has attractive burgundy foliage throughout the season."
calsmarket.com/.../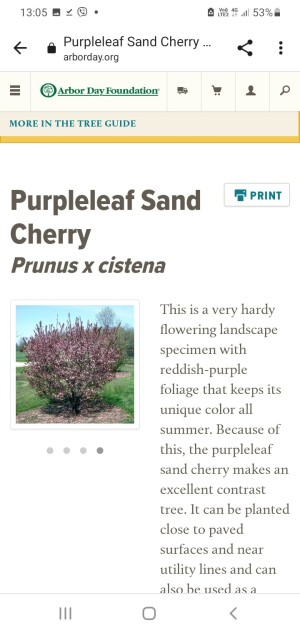 Ana
Bronze Post Medal for All Time! 140 Posts
April 21, 2022
1

found this helpful
This is Cornus Florida- better known as Flowering Dogwood (tree). These trees start with buds, flowers, and finishing with leaves. There are a few types of Dogwood trees, varying from white flowers, with green leaves, pink flowers, reddish leaves, and a few others.
-
en.wikipedia.org/.../cornus_florida

Judy
Gold Post Medal for All Time! 677 Posts
April 21, 2022
0

found this helpful
We had a Japanese maple that looked a lot like that

April 21, 2022
0

found this helpful
It is difficult to properly identify your tree/shrub without several close-up pictures and also where you are located (USDA Zone).
There are several shrubs/trees that look very similar to your tree but I think you could cut off a small/medium-size branch and take it to your local Ace or TrueValue hardware store and ask for help. I use these stores because they seem to have very knowledgeable employees who always take their time helping anyone with a problem.
It looks like these bushes really need some attention so they will be able to show off their true beauty.
You can also ask your county extension office for help as they know what types of plants are blooming in your area.
They will need several close-ups to be able to help you.

CDC
Bronze Tip Medal for All Time! 59 Tips
April 21, 2022
0

found this helpful
There are some free plant identification apps that will help, if you're interested in downloading one of them to your phone:
backgarden.org/.../
plant.id/
PlantNet.
iNaturalist.
PlantSnap.
PictureThis.
FlowerChecker.
Garden Compass.
Agrobase.
Plantix.
SmartPlant.
Leafsnap.
Plantifier.
iPflanzen

April 27, 2022
0

found this helpful
I have a Sand Cherry Bush and it looks like that's what you have.

April 30, 2022
0

found this helpful
I also made out the five petals of the flowers.
This is a purple leaf sand cherry (hybrid), because leaves of sand cherry are not dark burgundy colored. 'Leaves are simple and alternate.
The upper surface is dark green and somewhat shiny, the lower surface lighter and smooth.'
www.minnesotawildflowers.info/.../sand-cherry