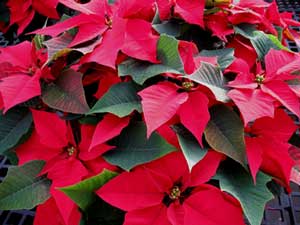 Question:
My Mom inherited a poinsettia when her Aunt passed away this summer. It's huge and in a big pot. Aunt Doris kept it on a screened porch year 'round. My Mom has had it sitting on her deck that is on the southwest side of her home. It's very lush and green.
She needs to know if and when it needs to be taken inside and any special care instructions for this winter and care tips for it in general. Thanks so much in advance!
Hardiness Zone: 7b
Sharon from Benton, AR
Answer:
Tell your mom to bring her poinsettia in when temperatures start to dip near 55ºF. Once temperatures fall below 50ºF, poinsettias are at risk for cold damage.
Your mom will need to find a sunny location indoors and one that is away from cold drafts and the hot, dry air from fireplaces and heat ducts.
Poinsettias should be watered when the surface of the soil they're growing in feels slightly dry to the touch. Water them until water begins to seep from the drainage holes in the bottom of the pot, but don't allow water to stand in the drip tray. Feed poinsettias a 1/2 strength liquid fertilizer once per month from spring until fall.
Poinsettias are photoperiodic plants (they set their buds and flowers in response to particular day length) and if left to their own devices, most varieties would prefer to bloom around Thanksgiving rather than Christmas.
To get them to bloom in time for Christmas, the plant's exposure to light needs to be carefully controlled starting in mid-September or early October, at which time plants are kept in total darkness for 13 to 14 hours every day. Although there's not enough time to force your mom's poinsettia to bloom in time for this Christmas, she can always shoot for next year if she's up for the challenge.
In the spring, poinsettias can be returned outdoors after danger of the last frost has passed. She can prune it back at that time, move it to a slightly larger pot (if necessary), and resume fertilizing.
Starting in mid-September or early October, the plants need 13 to 14 hours of total darkness alternating with 6 to 8 hours of bright light. Nighttime temperatures during this time should be between 60ºF to 70ºF. Stray lights (from streetlamps, cars, houses, etc.), or deviations from this temperature range can disrupt the bud setting process. This routine needs to be kept up for 8 to 10 weeks in order to force the plant to set buds and flower.
Ellen