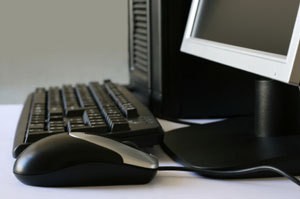 It's tough to imagine life without a computer these days. Computers have become vital for banking, school work, and personal communications. They also act as an entertainment hub allowing videos, music, and games to be played. The key to finding the right computer for you is balancing the cost of the computer against its storage capacity and speed. This article includes a number of ideas for how you can save money on computers.
Upgrading Your Current Computer's RAM
A relatively inexpensive and easy upgrade is adding memory, RAM (Random Access Memory), to your machine. Your computer puts any data it is working on and any programs it is running into RAM. If you have insufficient RAM, the computer will feel slower while it waits for more RAM space to be freed up.
The size of RAM is measured in MB (megabytes) or GB (gigabtyes) and generally comes in 512MB, 1GB and 2G sticks (1GB = 1024MB). If your computer currently only has 256MB or 512MB of RAM, adding an additional RAM stick could cut down on the amount of time you wait for tasks to complete.
The amount of RAM your computer can hold is dependent on how many RAM slots you have. Most desktop computers have 4, most laptops only have 2. With most computers, this is an upgrade that you, or a tech savvy friend can do yourself. However, if you computer is still under warranty, make sure RAM is a user installable upgrade and not something they require you have done by a certified technician. You don't want to void your warranty.
After adding RAM to your machine, you will want to keep a close eye on it. If it crashes frequently or develops other problems, you probably have bad RAM. RAM has a lifetime warranty. Even without a receipt most RAM manufacturers will perform exchanges, but you should save your receipt so you can return it easily if there are problems.
Upgrading Your Hard Drive
If you find you are running out of hard drive space, upgrading your hard drive may be in order. It's another inexpensive upgrade that can make your computer more useful, and in some cases, increase the speed of your computer.
Operating at or near the limit of your hard drive space can slow your computer down. When computers don't have enough room in RAM to store data the the processor is working on, they will write it to the hard drive. When both your RAM and your hard drive are full, your computer will struggle. The size of hard drives is currently measured in GB (gigabytes). A 200GB hard drive is going to be able to hold 4 times more than 50GB hard drive. You should consider upgrading your hard drive if you have less than a gigabyte or two available.
Hard drives also operate at different speeds. Currently, most hard drives that are sold today are 7200 RPM (Revolutions Per Minute). The more RPMs, the faster your computer can retrieve data from your hard drive.
Hard drives are pretty easy to install in desktops but you need to make sure you have a plan to get your old data onto the new drive. Most desktops have more than one hard drive slot, so you usually can just add the new hard drive.
Laptop's hard drives usually require major surgery and should be done by a professional.
Getting Repairs Done
Repairing a computer can be an expensive proposition if it's no longer under warranty. If you are tech savvy, or have a tech savvy friend or family member, there are a lot of repairs that you can do yourself. There also is a wealth of do-it-yourself information available online to guide you through the process. Some computer problems are pretty easy to diagnose.
For example:
If your computer just won't turn on (and you are sure it's not just unplugged) then you probably need a new power supply.
If your computer forgets the time and date when it is turned on then it probably needs a new motherboard battery. This is a small battery which holds certain settings between computer restarts.
If your hard drive has been specially noisy, maybe making a ticking noise, and then suddenly you are not able to boot your computer, then you have probably lost your hard drive and will need to replace it.
If your fan sounds like it is laboring and your computer is unstable then you probably need to replace a fan. Computers generate a lot of heat and if the fans aren't functioning and components aren't being cooled, the computer can struggle to run, especially in hot weather.
Before doing any repairs, make sure your computer is not still under warranty and research the problem online or at the library before getting started. Like with all electronics, you always need to make sure the computer is turned off and unplugged before attempting any repair.
Buying a Computer
If you are unable to upgrade or repair your older machine then it might be time to buy a new computer that fits your needs.
If you are only doing email, web browsing and using a home finance program, you don't need a high end computer. The low-end computers available from HP, Dell, or Apple can be found for well under $1,000 and are plenty powerful for day to day computer use. Most manufacturers also sell refurbished computers at a discount and usually the same warranty that new computers have.
Another good option is to look at used machines. I have seen nice systems at surplus stores for under $100. One key to buying a used computer is making sure it comes with an operating system. If it doesn't, you need to spend full price for the latest operating system which can cost $200 for a home edition. It's also ideal to buy a used computer that has at least a 90 day warranty.
If you are buying a new computer in order to run a particular software package then you should check the specifications of the computer against the information on the back of the software box, or on their website. Keep in mind, that this is always a minimum, you are always better off using a computer that is better than the minimum system requirements.
If you are buying a computer to play newer games or plan on doing video editing, then a medium to high-end computer will serve you best. High-end computers come with more powerful video cards and fast processors that make it easier to manipulate video and allow you play video games more smoothly.
Laptops come in the same range as desktop machines from low-end machines which are great at day to day tasks to high-end machines which are every bit as powerful as most desktop machines. Laptops generally sell for a premium over equivalent desktop machines so you should consider if you need to be able to move your computer from place to place or if a desktop machine is sufficient for your needs.
If you are a teacher or student, be sure to take advantage of education discounts that many manufacturers offer. You can save money on both software and computer systems. Often companies will sell an "Educational Version" through campus stores which is a full version of the software, but it's just cheaper to encourage teachers and students to start using their products.
Buying a Support Plan
Personally, I have found the desktops are pretty durable and usually don't require many repairs during the first few years of ownership, so I usually stick with the free support plan that all computers come with. If the machine breaks after the warranty is up, I am out of luck, but so far, I haven't needed an extended warranty and have saved a significant amount of money.
For laptops however, I always buy a 3 year support plan from the manufacturer. Nearly every laptop I have purchased has had at least one problem in the first two years that would have cost more to fix than the support plan cost.
Having said that, I never buy replacement plans from stores. I buy the warranty from the manufacturer. In my case, that has been either Apple or Dell. Electronic stores love to try to sell you additional warranties and replacement plans but they are redundant and unnecessary in my experience. They are just an up-sale for the salesperson. Although some people have had luck with them, I have heard that many people have problems when they actually try to use these replacement plans.
Back Up Your Files!
One way to save time, frustration and money is back up your important computer files regularly. If you store anything on your computer that you don't want to lose, make sure you have a backup of it. A hard drive can literally die on you at any time, and if you don't have a backup all your files could be lost. Sometimes data can be retrieved from a dead hard drive using software designed for this purpose, or by sending it to a specialist, but it quite expensive and not always successful.
One way to insure that you always have a back up is to buy an external hard drive that is roughly the size of your computer's hard drive, then back up all your files to that periodically. There are even programs you can get to do this for you automatically. If the hard drive goes out in your computer, you know you have a full backup of your files that you can fall back to.
Another approach is burn important files to CD or DVD if your computer is equipped with a CD or DVD burner. Don't forget to back up your photo album. For many people, losing their photos on their computer would be like a box of family photos going up in flames. It can be a real tragedy.
If you send your computer back for an under warranty repair, make sure to back up all the files on your machine first. If they end up replacing the hard drive as part of the repair, you will receive the computer back with nothing but a fresh version of the operating system installed.
Selling Old Equipment
We periodically sell extra equipment on eBay. It's surprising what people will buy. We recently sold a non-functioning Apple iBook for over $100 to a person that needed a screen and hard drive. The computer was useless to us because the motherboard was fried but someone else was able to use it for parts.
Before selling a computer, make sure that you wipe the hard drive, to insure that no sensitive data is sent with it. You should use a system utility to do this and select the safe erase options if available. Simply dragging your files to the trash and emptying it is not sufficient since these files can sometimes be retrieved using undelete programs.
Disposing of Old Equipment
Computers need to be properly disposed of and that can be expensive. Old or broken monitors can be expensive to dispose of as well. Call your local waste management station and as if they have an amnesty day for bringing in computers and electronics for free. Some office chains, like Staples, will also have promotions where they will recycle computer systems for cheap or sometimes even free.
Also, most manufacturers now offer an option to recycle an old machine when you buy a new one. Be sure to ask the salesperson about this plan or look for it when you check out from their online store. Usually, they will send you a box in which you place your old system and send it back to them postage paid. Be sure you transfer all your files to the new machine before you send your old one back for recycling.
What are your tips for buying and using computers? Post your ideas below or submit them to the tip contest.
Read More Comments