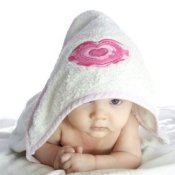 This is a great (and cheap) gift idea for kids. All you need is a towel and a washcloth. In a pinch, I have even used one of our old bath towels and wash cloths when I needed a last minute gift. The cloth and towel should match or coordinate.
Center the washcloth on the center of one of the long sides of the towel. Sew attaching it to the towel. Next, bring the loose ends of the wash cloth together and sew forming the hood.
This takes less than 5 minutes, and you only sew 2 straight lines. Great beginner sewing project. I bought a plain white towel at Wal-Mart this week for $1.20 and a matching washcloth for 75 cents.
You can then embellish your hooded towel with ribbon, rick rack, etc. I also took some scrap fabric and applied heat n bond to the back. I then took a washable marker and traced out my daughter's name. I cut out the letters, peeled off the paper backing and fused them right onto her towel. Similiar personalized hooded bath towels sell on other web sites for $20 - $40.
Beth from IA