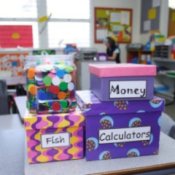 One of a teacher's biggest challenges is figuring out how to organize their classroom in order to make it more conducive to learning. Children, especially young children, need to feel stimulated and comfortable in a classroom. That can be hard when, at first glance, you're simply dealing with a big cold room with uninspiring tiles and not much storage space. So what can you do with what you have?
Classroom design is particularly important. Instead of leaving the classroom as one big room, consider having stations if you are able to. Have the desks near the front but then use the rest of the room for other stations. For instance, if you do arts and crafts in your classroom then use one area as a place for this activity. Keep the scissors, construction paper, glue, and art supplies there. Places that sell scrapbooking materials usually have large cabinets that are see-through and contain drawers. These don't take up much space and some have dividers that can keep materials separated.
For your bulletin board materials, invest in some long Christmas decoration boxes. Separate your materials by season or lesson. That way, you won't have to go through all of your boxes looking for them. Make sure you clearly mark them and leave the printed side out so that you can quickly see what you are looking for.
For your desk, stackable letter trays and a desktop sorter will help keep your materials organized and separated. The desk often becomes a dumping ground for papers so you really need something that helps you stay on top of the clutter before it threatens to take over. At the end of every day, sort through the stack on your desk and put everything where it belongs.
If you have shelves or cabinets then you're in good shape. Clear shoeboxes and clear storage containers (with or without the lids for the taller things) can keep classroom materials organized. Plus, you can take everything out at once and transport it around the classroom when you need it.
If you don't have a lot of shelves then you can always make some for cheap. Milk crates stack fairly easily and you can still stick shoeboxes in them.
Comments
Read More

Comments