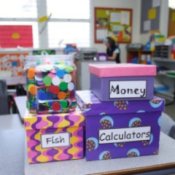 One of a teacher's biggest challenges is figuring out how to organize their classroom in order to make it more conducive to learning. Children, especially young children, need to feel stimulated and comfortable in a classroom. That can be hard when, at first glance, you're simply dealing with a big cold room with uninspiring tiles and not much storage space. So what can you do with what you have?
Classroom design is particularly important. Instead of leaving the classroom as one big room, consider having stations if you are able to. Have the desks near the front but then use the rest of the room for other stations. For instance, if you do arts and crafts in your classroom then use one area as a place for this activity.
Keep the scissors, construction paper, glue, and art supplies there. Places that sell scrapbooking materials usually have large cabinets that are see-through and contain drawers. These don't take up much space and some have dividers that can keep materials separated.
For your bulletin board materials, invest in some long Christmas decoration boxes. Separate your materials by season or lesson. That way, you won't have to go through all of your boxes looking for them. Make sure you clearly mark them and leave the printed side out so that you can quickly see what you are looking for.
For your desk, stackable letter trays and a desktop sorter will help keep your materials organized and separated. The desk often becomes a dumping ground for papers so you really need something that helps you stay on top of the clutter before it threatens to take over. At the end of every day, sort through the stack on your desk and put everything where it belongs.
If you have shelves or cabinets then you're in good shape. Clear shoeboxes and clear storage containers (with or without the lids for the taller things) can keep classroom materials organized. Plus, you can take everything out at once and transport it around the classroom when you need it.
If you don't have a lot of shelves then you can always make some for cheap. Milk crates stack fairly easily and you can still stick shoeboxes in them.
Read More Comments
My daughter wants me to build a preschool loft for her daycare. She wants stairs up the side and a market awning on one side.
Where can I look at structural blueprints, reminiscent of a corner pulpit?
Answers
June 22, 2020
0

found this helpful
Best Answer
While I am not fully clear on your question, I understand enough to offer you the following direction.
If you are going to be making structural changes to a fixed location either in a home or an office, you are going to need to contact your local community government office (usually it is a building and permits office) and find out if you need permits and and specific requirements you need to meet before you start.
They can tell you if you are going to need to hire an architect to draw up plans, have those approved, etc. You may need to have an electrician involved also if there is going to be lights or light switches related to the area.
Anything that is dealing with building and children is usually very highly regulated so I would start there and find out what you need to do by law, then start to find a good set of plans.
Post back what you learn.
June 22, 2020
0

found this helpful
Best Answer
It sounds like your daughter is trying to do a room edition to her home and create a preschool in her home. In cases like this she needs to find a good contractor that will be able to advise her if the structure of her home will be able to support the added weight and the room edition on the top of her home. There are certain support beams and foundation structure that need to be taken into consideration. Plus on top of this she needs to get a building permit to add this to her home. The building inspector will need to approve the structure for the safety of the kids before she can use this and open up. I would do a bit more checking on this before jumping into this project. There is a lot more needed before you begin that just drawing up a blueprint and start building this place for children to be taken care of in.
Answer

this Question

...