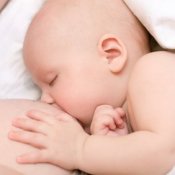 Anyone in your life just have a baby? Next time you visit, give her a red light bulb for nighttime feedings. The bulb gives just enough light for you to see and be able to read the markings on a bottle, or to change a diaper, but is not so harsh as to wake up your spouse.
I find the baby and mommy stay a little more sleepy, so the baby can fall back to sleep easier, and so can you! Nothing makes you more wide awake than bright light. The red light keeps everything calm and sleepylike.
By amy from Rochester, NY
Read More

Comments

How do you honestly know if the milk you're producing is sufficient for the baby? Just going through the process doesn't guarantee that the baby is getting enough to satisfy it? My new grandbaby acts like she's still hungry. And HEAVEN FORBID a mother-in-law to suggest WITHOUT PROOF that this may not be the best idea? I've raised three children on bottles and this is a new one on me. Please help!
New Mamaw
Answers

April 6, 2005
0

found this helpful
Hi New Mamaw,
Usually the mother's milk comes in to meet the need of the child. It may be not quite enough one day but more the next. The important thing is that the mom lets one breast empty out before changing to the next, then start on the last breast used for the last feeding, first for the next feeding.
She also needs to drink lots of water and liquids, and eat regularly. You are feeding two, literally and need to eat more than you normally would.
I breast fed 4 children and they all were healthy happy children and are now happy, healthy adults. Even if she only breast feeds for the first few weeks, the benefits far outweigh any inconvenience. The bonding between the mom and the child plus the moms immunities are passed on to the child.
If this is an ongoing problem and the child really isn't getting enough nourishment, breast milk can be supplemented with formula.
Usually it's best to just let nature take its course and all will be well.
Susan from ThriftyFun
By Cheryl from Missouri (Guest Post)
April 6, 2005
0

found this helpful
I breastfed both of my children and had the same worry. The doctor told me to count the number of wet diapers. If the baby wet at least 6-8 diapers they were getting enough to eat.
Hope this helps.
By OB RN. (Guest Post)
April 6, 2005
0

found this helpful
If the baby has 6-8 wet diapers a day - he's getting enough. If the baby is not wetting diapers, doesn't gain weight, or is losing weight, there may be something to be concerned about.
By Laura (Guest Post)
April 6, 2005
0

found this helpful
As others said the diapers are the best way to tell. Breastmilk is best for babies. Many babies also use it for comfort so if the baby seems to want to nurse more they may be looking for comfort. As long as the baby is having regular checkups and seems to be wetting regularly.
By Sharon,Ky (Guest Post)
April 6, 2005
0

found this helpful
Just wanted to say Thank you to you Ladies who share my concern.This is my FIRST granddaughter and I worry about her. She was a preemie weighing 5lbs.6oz. born a month early.For one so little she's a picture of health and I learned that at her Doctor visit she was 6lb6ozs. She's only 3 weeks old.
I searched everywhere and found a Q/Answers thing where I got some really rude feedback. One person said I hope you're not one of these KNOW_IT_ALL other-in-laws. You were all so kind. Obviously she's doing ok. God Bless you . Karleigh Brooke's "NEW MAMAW"

SL Edens
Bronze Feedback Medal for All Time! 139 Feedbacks
April 6, 2005
0

found this helpful
Well, first of all....CONGRATULATIONS!!!! These new grandbabies are more fun than.....anything!!! I just wanted to add that the baby may seem to be hungry because she wants to "suckle". My first child wanted to nurse constantly and my mother didn't believe in pacifiers...so, of course, neither did I!!! That lasted about 3 days and I sent my hubby to the store to get a pacifier and that's all the baby really wanted.
He gave the pacifier up on his own at 2 and a half months old. So, I think it's natural for babies to want to just do some sucking. Just a little different view from one that nursed 3 babies and are all healthy adults, also.

April 6, 2005
0

found this helpful
Congrats on that new grandbaby! My daughter was told to weigh the baby before and after feeding. You will be able to tell how many ounces the baby actually took in. My daughter found out she was not producing enough milk to keep baby happy, so she had to supplement the feedings with formula. Hope this helps!
By (Guest Post)
April 6, 2005
0

found this helpful
Babies also like to cluster feed when they go through a growth spurt.
Sometimes, it can be 4 feeds in 2 hours or more.
My daughter did this a couple of times. My son just nursed every 2 hours for the first 3 months.
He still eats like that! LOL.
By sandy (Guest Post)
April 7, 2005
0

found this helpful
Breast milk digests faster than formula so you most likely will need to nurse more often. No one told me this when I was a new mom and the Dr. told me only every 4 hours. Both my son and I were miserable. Someone from the LaLeshe legue told me this and when I fed him when he was hungry we both did better.
By Lynne (Guest Post)
April 7, 2005
0

found this helpful
Breastfeeding can be really tough for the first few weeks, with the sore nipples, engorgement, leaking all over the place, etc. But I hope your daughter-in-law sticks with it, because it's also incredibly rewarding. Once mother and baby get the routine down, it's so peaceful and relaxing for both of them. I'm still breastfeeding my 9-month-old daughter, and already I'm starting to feel a bit sad in anticipation of the day when she'll stop, and my nursing days will be over for good.
As for specific advice, I think the previous posters covered most of it. As Susan said, breasts are amazing things; they almost always make enough milk to meet the demands. To increase the supply, make sure to empty out one breast completely before starting on the second. My lactation specialist told me to use only one breast at each feeding, at least for the first few weeks, to help increase supply. If the baby produces at least 6-8 wet/dirty diapers, that's a good indication that she's getting enough. If you're curious as to how much exactly she's eating, the suggestion about weighing her before and after a meal is a good one. If there is a nursing-supply store in your area, ask them if they have a baby scale you can use to do this. Our local one does, and even provides a comfortable chair for you to use for nursing.
Supplementing with formula is occasionally necessary, but know that once you start supplementing with formula, the amount of breast milk produced will necessarily decline because of the reduced demand.
The point about needing to suckle is a good one too. Some babies have a very strong need to suck, as a soothing mechanism, totally separate from a need to eat. Pacifiers are good for very young babies who don't have the motor control to reliably get their thumb or fist into their mouths. If the baby just needs to suck, you'll know it as soon as you stick the pacifier in her mouth. She'll suck like crazy for 10-20 minutes, and then drop it when she's done. (You may have to hold it in her mouth for a while at first, until she figures out what it's for and how to use it...) But don't worry about the pacifier "shutting her up." if she's hungry, the pacifier won't satisfy her for long! :-)
Just FYI, the first part of the milk to come out is the watery "soup" course, which is high in proteins but low in fats. As the baby nurses longer, the amount of fat in the milk increases. Newborn babies should suckle at each breast for at least 15-20 minutes, to makes sure they get the necessary fats. Of course, as baby gets older and more efficient at nursing, the nursing times will get shorter. But for the first few months, 15-20 minutes on each breast is a good guide.
Good luck to the new family, and congratulations to you, Grandma! :-)
By Cheryl (Guest Post)
April 7, 2005
0

found this helpful
Congrats on your new grandbaby!! Since there is already great advice posted here, I just thought I might add that you and your daughter-in-law may want to check out a local La Leche League for breast feeding support. Your daughter will find support for the awesome job she is doing nourishing her baby, and you will also feel better and get support for your concerns. Hope it helps and congrats to you all!

May 23, 2005
0

found this helpful
So I read an article in a medical mag (while waiting at one of my zillion prenatal checkups) and it said that
-in the first few weeks the body is building prolactin receptors in the breasts.
-the more often the baby nurses the more receptors are created
-when an infant cluster feeds it is is kick starting the food supply for an upcoming growth spurt
-when thr breasts are left full the body slows down milk production
So a kid who seems hungry all the time is likely a good thing
Read More

Answers