A super-moist delicious chocolate cake that will make you want to keep one on the cake plate all the time. Note the use of Self-Rising Flour in this recipe
Ingredients:
1 1/2 cups self-rising flour
2/3 cup caster (fine) sugar
4 level Tbsp. cocoa
1/2 tsp. salt
1/3 cup cooked mashed potato
1/2 cup plus 2 Tbsp. butter
4 Tbsp. milk*
2 eggs
*Note: I have often substituted Bailey's Irish Creme for the milk with delightful results.
Directions:
Cream the butter and sugar with the mashed potato, then add the cocoa. Add the beaten eggs, alternately with the flour and the salt.
Finally pour in the milk, mixing well, to make a soft dough. Well grease two 8 inch cake pans and divide batter equally between them. Bake at 350 degrees F oven for 25-30 minutes.
The top will be springy to the touch when done. Cool for a few minutes, then turn out onto a wire rack. Frost with whipped cream or desired frosting.
To make this cake a truly decadent chocolate dessert, frost with fudge frosting using Bailey's Irish Creme, cocoa and 10X confectioner's sugar.
If you choose to use whipped cream, you can add the Bailey's Irish Cream to the heavy cream when you're beating it. Reduce any sugar and add no extra flavoring to the whipped cream.
Servings:
12
Time:
30 Minutes Preparation Time
30 Minutes Cooking Time
Source: My friend Linda who is from northern Ireland.
By Julia (pookarina) from Boca Raton, FL
March 12, 2009
1

found this helpful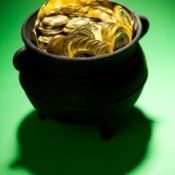 Most folks celebrate St. Patrick's Day with a traditional Corn beef and Cabbage meal. Even on sale, Corned Beef can be very expensive if you are feeding a lot of people. Also Corned Beef can be tricky to cook if you are a first time cook.
These two great recipes can replace a costly corned beef and cabbage supper for your St. Patrick's Day Dinner, or maybe you are just tired of corned beef and cabbage. This is a hearty soup with sandwich idea that may become a hit with your family. Home made soup always tastes better and is less costly than canned but you could really make this fast by using a good canned soup and just heating it up. Also the soup can be made in a crock pot. Just remember to add the milk and butter last and to let the soup cool a little so you don't curdle the milk.
Pot of Gold Potato Soup
Ingredients:

3 lbs. of Yukon Gold Potatoes Peeled and chopped
1 onion chopped
3 carrots chopped
3 stalks of celery chopped
1/2 cup of milk
1 Tbsp. butter
Enough water in Dutch oven to cover

Directions: In small fry or sauté pan, sauté the onions and carrots and celery until the onions are translucent. Put the potatoes in the pan with enough water to cover. Add onions and carrots and celery. This is a great slow cooker on the stove so turn your heat down to low and let it simmer all day. I like a thick smooth soup so I let mine go all day but if you prefer a chunky soup cook for 2 hours. Add milk and butter and serve. Luck of the Irish Sandwich Ingredients:

2 pieces of Rye bread light or dark, your preference
1 package of deli corn beef or pastrami
2 pieces of sliced deli Swiss cheese
1 small container of Coleslaw

Directions: Heat your corned beef or pastrami in the microwave until warm. Put corn beef or pastrami on the bread layer on your Swiss cheese and Coleslaw. Serve with your Pot of Gold Potato soup for a filling dinner.
Happy St. Patrick's Day to You and Yours from Me and Mine!
I found this healthier version of Dublin coddle in my local newspaper a few years ago and have made it every St. Patrick's Day since.
Total Time: 1 1/2 hours (30 minutes active)
Yield: 6 servings
Source: Foster's Daily Democrat
Ingredients:
2 Tbsp canola or vegetable oil
6 oz Canadian bacon, chopped
10 oz chicken sausages (any variety), sliced into 1" thick diagonal slices
2 large yellow onions, sliced
3 cloves garlic, chopped
2 Tbsp chopped fresh sage
2 Tbsp chopped fresh thyme
3 Tbsp chopped parsley
2 large russet potatoes, cut into thick slices
1 large sweet potato, cut into thick slices
2 carrots, cut into 1" chunks
2 apples, cut into 1" chunks
1 cup apple cider
1 cup chicken stock
salt and ground black pepper
Steps:
In a large Dutch oven over medium-high, heat the oil. Add the Canadian bacon and saute until lightly browned, 3-4 minutes. Using a slotted spoon, transfer the bacon to a small bowl.
Add the sausage to the pan and brown the slices on both sides, about 3-4 minutes per side. Transfer the sausage to the bowl of bacon. Add the onions and garlic to the pan, then saute for 7-8 minutes or until they begin to brown. Stir in the sage, thyme, and parsley.
Add the russet and sweet potatoes, carrots, apples, and reserved meat. Pour the apple cider and chicken stock over everything. Cover and set over medium-low heat. Cook until the vegetables and potatoes are very tender, about 1 to 1 1/2 hours. Season with salt and pepper.
Nutrition information per serving (values are rounded to the nearest whole number): 340 calories; 90 calories from fat (26% of total calories); 10 g fat (2 g saturated; 0 g trans fats); 35 mg cholesterol; 49 g carbohydrate; 15 g protein; 5 g fiber; 670 mg sodium.