(Guest)
Gold Post Medal for All Time! 846 Posts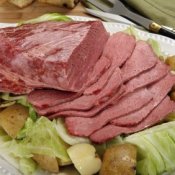 Don't forget Soda Bread served with honey and a glass of Irish cream or Irish Coffee to tipple, too. Happy St. Paddy's Day!
Ingredients:
1/2 medium onion, cut into wedges
2 medium potatoes, peeled and quartered
1/2 pound baby carrots
1 1/2 cups water
2 tsp. garlic, minced
1/2 bay leaf
1 Tbsp. sugar
1 Tbsp. cider vinegar
1/4 tsp. pepper
1-1/2 lb corned beef brisket
1/2 small head cabbage, cut into wedges
Directions:
Place the onion, potatoes and carrots in a slow cooker. Combine water, garlic, bay leaf, sugar, vinegar and pepper and pour over vegetables. Top with brisket and cabbage. Cover and cook on low for 8 to 9 hours or until meat and vegetables are tender. Remove bay leaf before serving.
By Deeli from Richland, WA
Read More

Comments

Robin
Diamond Post Medal for All Time! 5,887 Posts
In a large skillet, combine onion, salt, pepper, cabbage, and carrots. Heat to boiling; reduce heat and boil gently for 15 minutes.
Add potatoes, and corned beef. Return to boiling and simmer for 5 minutes longer or until cabbage is tender.
Read More...

janice
Bronze Request Medal for All Time! 53 Requests
I always do my corned beef in the crock pot. My question is, at what time during the cooking do i put in the potatoes and cabbage? My cabbage always turns out mushy. I usually cook on high. Thank you for your help.
jmz2005 from Illinois
Answers
By jean (Guest Post)
March 15, 2007
0

found this helpful
Cook the corned beef for 7-9 hours on low, (depending on size of your meat) until it is about an hour away from done, then put your cabbage wedges in the crockpot, and cook for another hour.
I start my meat, potatoes, and carrots all together, then put in the cabbage. Everything comes out done together, and the cabbage still has a little crunch.That's how we like it. Hope you enjoy your St. Patrick's day dinner.

March 16, 2007
0

found this helpful
Corned Beef & Cabbage
3 carrots, cut in 3" pieces
2-4 pound corned beef brisket
2-3 onions, quartered
1-2 cups water
Put all ingredients in crockpot in order listed. Cover and set to low for 10-12 hrs or. (High: 5-6 hrs) Add cabbage wedges on top, push down to moisten, after 6 hrs on low (or 3 hrs on high).
Note: Vegetables may be varied, or omitted for plain corned beef.
Cabbbage: to prepare more cabbage than crockpot will hold with large brisket, cook it separately in skillet. Remove 1 cup broth from crockpot during last hr of cooking. Pour over cabbage wedges in skillet. Cover and cook slowly for 20-30 minutes.
By the way, I put some peeled potatoes in the bottom of the crockpot plus some carrots.
I find that if I go according to the recipe from Rival, the cabbage gets over-done so I would not put it in as early as it says.
(these directions per the Rival Crock-Pot cookbooklet)

janice
Bronze Request Medal for All Time! 53 Requests
March 17, 2007
0

found this helpful
Thank You so much for the help and advice.
By cookiemom1 (Guest Post)
March 17, 2007
0

found this helpful
It's so funny that you ask because I have corned beef, red potatoes and carrots in the crockpot as I type. I put my crockpot on low and hope all is ready by about 5:00 p.m.
or so. I plan on putting the cabbage in around 3:30 or 4:00. I don't like my cabbage real soggy, either. Good luck on yours!

Holly
Silver Post Medal for All Time! 364 Posts
March 17, 2007
0

found this helpful
Put veggies in the last 45 mins. of cooking on low. If they are quite cold, then leave it on high for 15 mins.
If you have many veggies and not enough room in the pot, my suggestion is to cook the corned beef, remove it, and then immerse the veggies in the cooking liquid and cook them until done.
By Marie (Guest Post)
March 19, 2007
0

found this helpful
I have not read any of the feedback so hope this is not a repeat. I find that it works best to cook the corned beef by itself (in crockpot/oven/stove - whatever) THEN remove it and cook vegetables, I use cabbage, potatoes, carrots and onions (you can cook the onion with the corned beef if you want) - for about an hour (in oven but think it would be longer in crock pot) in liquid you cooked the meat in.

March 17, 2011
0

found this helpful
Pressure Cooker, Pressure Cooker. Meat first, veggies added later. Yumm.
Answer

this Question

What brand of canned corned beef should I use for corned beef and cabbage?
By Deana from Gaineville, FL

Answers

March 21, 2010
0

found this helpful
By far the best results I've had in cooking this dish is to use packaged corned beef (in vacuum pack plastic), NOT IN THE CAN. After using corned beef from the meat department at Aldi's, I would NEVER go back to using canned. Yeah, I know my mom always used canned (usually Libby's, I believe), but I'll NEVER go back!
Here's a picture: nfp.conagrafoods.com/.../3900008104.jpg
June 24, 2018
0

found this helpful
the cheapest one you can find! Save a Lot has 2.99 $ store brand. We are not talking filet mignon here!
Answer

this Question