Does anyone have ideas on organizing DVD disks?
By AlexisTre from Peterborough, Ontario, Canada
Answers
November 25, 2009
0

found this helpful
I purchased a large CD case which had a 3 ring binder spine so I could add pages. I had purchased a bunch of CDs through the mail that didn't have cases; they were all in paper envelopes. I organized them in the CD case and put tabs along the edge marked with what the section was. You could use Action, Comedy, Romance, etc. In my case they were TeenTitans, Superfriends, Space Ghost, Thundarr :) My CDs were the full run of cartoons for my kids.
November 28, 2009
0

found this helpful
Only very recently, we took our DVDs out of their cases and placed them in a large CD case. It freed up a ton of space in our living room. The CD case sits on the coffee table or on the shelf under the coffee table.
When we want a movie, we just get the case out and flip through the pages. I've stored the original DVD cases in a box in the basement in case at some point in time we want to give a movie to someone.
November 28, 2009
0

found this helpful
I am not sure exactly what kind of organizing you mean but I oranize mine by genre and then alphabetize each category.
November 28, 2009
0

found this helpful
I have the single DVDs stored alphabetically in a bookcase and the boxed sets with multiple DVDs on a separate shelf along with two printed copies of the 200 plus DVDs that we have. I keep one printed copy taped on the inside door of the bookcase and the other loose so that relatives and other visitors do not have to stand and read the list taped on the door.
January 19, 2010
0

found this helpful
With over 700 DVD's in our collection I had to organize ours! I have mine on shelves alphabetically. Plus I keep a file on the computer that I update every time we buy one. Once we've bought a few since the last print-out, I print out a new list, one for me and one for my husband. I print them on 3x5 cards, front and back and keep them in a small plastic zip bag.
I also have another list on the computer which has them arranged by genre, then alphabetically.
January 20, 2010
0

found this helpful
I purchased a leather case at WalMart that holds over 200 for $19.95. They previously were in their cases and on a shelf collection dust. Best thing I ever did when I bought that case. Easy to flip through to find the one I'm looking for and the case takes up very little room. I did keep the cases in case I may want to sell or trade one some time. They are stored in boxes out of the way in a storage area.
July 11, 2017
0

found this helpful
what program did you use to arrange them by genre and alphabetally? Im actually wanting to arrange my collection by genre and number. Cant wait to hear from you thank you
Answer

this Question

...
How do you all organize your DVDs? How do you convince your kids to put them back in their cases instead of stacking them up near the TV? And, how long to you keep DVDs? If they haven't been watched in a long time, do you just eBay them?
Thanks.
John from Kent, WA

Answers:
Organizing DVDs
I had luck using the age old method of bribery. I used a couple blank DVD cases "available at Walmart, etc." I had the kids put them in the hole left by the one they were using, every time they brought the blank back to me they got a treat, cheap toy, etc. Even my 4 year old got the hang of it quickly, of course checking to make sure the real DVD has been returned is a good idea, at first. I now only check randomly when it is convenient for me. (04/04/2006)

By Serena
Organizing DVDs
I organize my DVDs alphabetically by title. The kids (2 teens) love it because they're able to find the movies when they want them. My husband built a shelf out of plywood. Each shelf is 4 feet wide and 6 inches deep. One sheet of plywood made a floor to ceiling shelf. I love organizing so I keep a typed list on the computer of all the movies. Once a year I make the kids look through the movies and pull the ones they no longer want. I offer those to friends and relatives first, then the public library or Goodwill. (04/04/2006)
By Cheryl from MO
Organizing DVDs
When you have too many or are tired of them, trade with neighbors, give them to your local library, age appropriate boys/girls clubs or senior centers. Call and ask if they are needed first. Share. (04/04/2006)

By Vi Johnson
Organizing DVDs
This was my pet peeve. I like to have the DVD's out and alphabetized. This is so you can find the DVD's easily, but also so I notice if there are any missing. I have two elementary aged kids, and two teenage sisters, and one additional child, my husband. There were always DVDs missing, thrown about, or in the wrong cases. I finally moved them out of the living room, and into my (locked) closet. After about a month, all five of them appreciated the use of my DVDs. (05/01/2006)
By Annie
Organizing DVDs
We bought one of those binders that holds CDs/DVDs and gave away the cases to people (some use them for used ones or their home DVDs). So we have 100 DVDs in a 3 inch width of space on the bottom shelf. I don't let the 4 year old normally handle them, but he is good to remind us to put them back. When you don't have a case, it is easier to be cautious. When we borrow out or need to carry them, we use the paper sleeves from the DVDs computer ones. (05/01/2006)

By Kelly
Organizing DVDs
We don't normally sell them on eBay, but we buy from clearance "classic" racks. We only buy a new movie if it is "a must have". We also trade with a friend of ours who has almost 1000. (05/01/2006)

By Kelly
Organizing DVDs
I actually bought media storage from IKEA for $3.99 ea. They are beige canvas DVD, VHS, and CD holders that zip with a little plastic window on them. I have four for my DVDs with the Alpha category on the front. The kids love the challenge of putting the DVD in the right case and often times we'll have mini-contests to see who can organize them exactly in alpha order in record time.
I'll post the link and image for reference. I also bought a five disc DVD player for about $120 and that avoids having movies stacked up near the TV and the empty cases are stacked instead and put away all at once when we're tired of watching any of those five.

ikea.com (05/17/2006)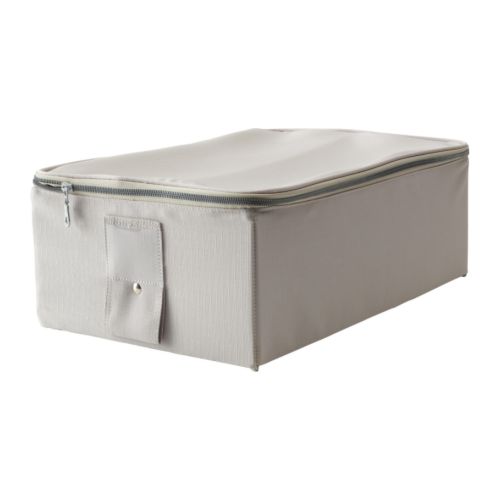 Organizing DVDs
I put them in a photo album. I first get rid of the hard case, insert the paper portion that interests me, and then slide the DVD in on top of that. All the DVDs are kept in one notebook this way. (07/23/2009)

Organizing DVDs
I use an Excel spreadsheet. My son has around 150 so it took awhile to set it up, but it's been well worth the effort. After typing them in Excel I sorted them in alphabetic order then went back and numbered all of them. I taped the numbers on them so that when they are standing up on the bookshelf I can see the numbers. The print out has the corresponding number.
When buying another one the number gets added to the end. It won't be in alphabetical order, but I can find it by it's number. We look at the list to see what we want to watch, then since they are in order on the shelf we go to that number. Simple and very easy to find. I got this idea from someone else on line. (08/11/2009)

By Betty