This is Maya, Bonni and Ginger. Maya 12 weeks old today, August 26, 2010; Ginger will be 3 years old on October 14, 2010; Bonni (not in picture) was 4 years old on June 8, 2010.
Maya is a Great Dane puppy - coloring: reverse brindle, black with subtle cream stripes (29.4 lbs this morning). Ginger is a miniature, long-haired, chocolate dapple dachshund (8.5 lbs) and Bonni is a silver dapple, black and tan dapple dachshund (12 lbs). They all love to play together or alone. Maya loves to play fetch; all three like to play "find the hidden treat."
Advise for those with puppies that are teething: frozen or cold baby carrots are great for puppies and adult dogs to chew on. I've found frozen carrots especially soothing for teething puppies over the year. Another good tip is take an old, clean facecloth - wet it, wringing out excess water, put it in the freezer until frozen. Give it to the pup to chew on. My Mom used to do that for my baby brother and sisters when they were teething; I figured it would work for puppies, too. It does.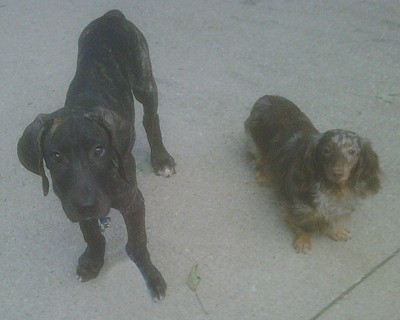 By MaryAnn