Browse
Featured
Recent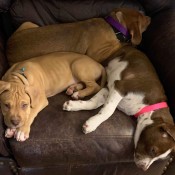 Best Friends: Ace, Spade, and BabyThe stories behind these puppies are bitter sweet. The older puppies had a really rough life before we rescued them. They were on a hillside in the middle of nowhere. Their mom left them when they were about 4 weeks old. The owners fed them table scraps if they fed them at all.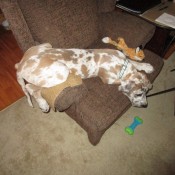 Zeus (Great Dane)Thru a breeder in July 2020. He is four months old. Zeus does not know how to get up in a chair yet. I caught him with his rear end not quite getting into the chair.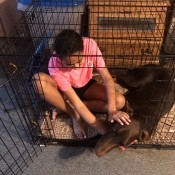 Kylie and Kaiser (Doberman)My granddaughter petting our dog before going to bed. Our Doberman sleeps in his crate at night because I don't like to leave him outside and if he is loose in the house he will wonder all night long, so before going to bed my granddaughter likes to get in his crate to pet him.


Questions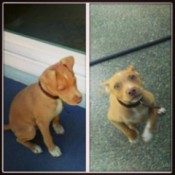 What Kind of Pitbull Do I Have?I adopted this 2 month old Pitbull Mix yesterday, the previous owner said he was Corgi and Miniature Pitbull, but that just doesn't seem right to me.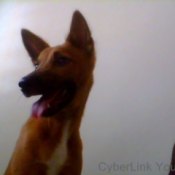 What Breed is My Dog?Here is Ricky who is 4 months old. I can't tell what breed he is.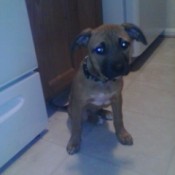 What Breed is My Puppy?I have a new puppy and I'm not sure what she is. The people I got her from said German Shepard and Pit Bull, but I'm not sure.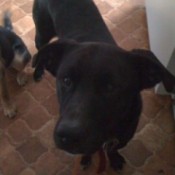 What Breed is My Dog?Can anyone tell me what my black lab is mixed with? People have told me Pit Bull or Doberman. If anyone could help me out that would be great! Thanks.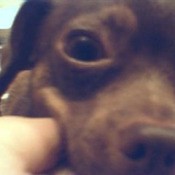 Is My Dog A Chihuahua/Dachshund Mix?Can someone tell me what breed my puppy is? My mom thinks she's a Chihuahua/Dachshund mix. But something about her makes me think my mom is wrong.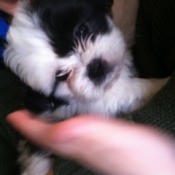 What Breed is My Dog?What breed do you think my baby is? I was told shih tzu.


Published by ThriftyFun.
© 1997-2020 by Cumuli, Inc. All Rights Reserved.
https://www.thriftyfun.com/tf/Photos/Pets/Dogs/index.html