Bug is a 5 year old half Boston/half Pug, that's why he's a Bug. My husband bought him for me when he was just a tiny puppy.
He loves to play with his green ball! Bug is the sweetest guy around. He loves everybody, and if he thinks anybody is hurting me (even though they're playing) he brings them a toy to distract them.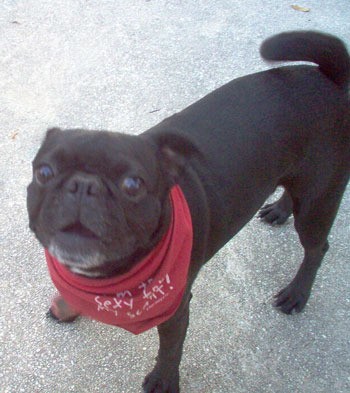 He's the reason my online name is Bugpugmom!
By Bugpugmom from FL
Answers:
Bug (Boston Terrier/Pug)
What a little sweet cutie! He's adorable - thanks for sharing! (04/24/2006)

By Sara C
Bug (Boston Terrier/Pug)
Bug is so sweet! I have a Boston but I want a Pug, too. I just hope I can take the stereophonic snoring! (04/24/2006)

By Kendy
Bug (Boston Terrier/Pug)
Hi, I have a little girl Bug about 13 weeks old. She is so much fun. Smart, funny, cute, playful.I look forward to coming home from work just to see her.
I want to train her; so far she will sit, down, high five, and come. How do I teach her to stay? (05/04/2006)
By Susan M.
Bug (Boston Terrier/Pug)
How is the mix, Pug/Boston with cats? My friend owns a Pug and he is just brutal to the kitties. He does not hurt them, just constantly bothers them. He is just relentless! (05/05/2006)

By Jason.
Bug (Boston Terrier/Pug)
I have two Bugs and two Bostons (and two other dogs too). Come join the yahoo group for bugs! There are over 200 members and growing. Also, we have a web site for those who don't want to join www.thebugmug.com
check us out! (05/17/2006)

I have the most amazing bug website
check out Fidel's site
www.fidelthesmell.com/
it has an area of submission. come and submit your Bug terrier. I truly believe that this is one of the worlds greatest dogs, and I want the world to know it. (05/19/2006)

By Fidel
Bug (Boston Terrier/Pug)
I have a Bug - 2.5 years old. He is absolutely hilarious and the best dog you could imagine. He is a champ at fetch and has learned all kinds of tricks; a smart little guy. Very well disciplined. He is about 25 lbs though. We are looking for a little brother/sister for him, but we would like to find a puppy who is much smaller - about 10 lbs or lighter. If anyone knows where we could find one, please let me know - ideally, we'd like one within the next few weeks. Thanks.
almascots876 (at) hotmail.com (05/30/2006)

By Ryan
Bug (Boston Terrier/Pug)
I have this same dog, same age and everything! His name is Harley and he is the best dog I have ever owned in my life! I love this breed! (07/09/2007)

By Judy
Bug (Boston Terrier/Pug)
Don't you love em'!? I have a Bug too. Elvis is his name and what a sweet thing he is. We saw him at 6 weeks: a friend received as a gift. Couldn't keep him due to relationship breakup. So I inherited Elvis at 5 months. He's a little over a year now. Hope we see more of this breed. Very loving dogs! (09/04/2007)

By D.Cav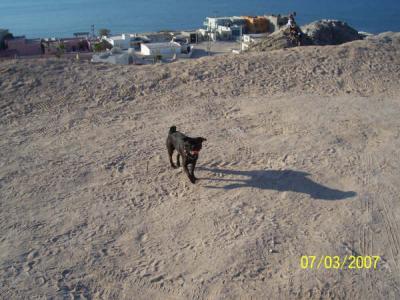 Bug (Boston Terrier/Pug)
My Bug Layla can speak on command. I find her to be the smartest dog I' ve ever seen or owned. She has a great personality, great with kids, never growls or snaps. I ended up finding her at a rescue shelter in a town called Barkhamsted, Connecticut. The shelter owner had a massive male Pug, and a female Boston, and Layla was the last of the litter. I'm am so fortunate to have found her because she is the best animal ever! (09/19/2007)

By Chris E
Bug (Boston Terrier/Pug)
I have one and she is the cutest thing ever! You can check her and her brother out on their blog!!www.murphynorma.blogspot.com feel free to comment on there and let us know what you think! (11/14/2007)

By Mel
Bug (Boston Terrier/Pug)
Everyone who meets our Bugsy says "I want a Bug." He is the sweetest little love bug. Great with all people. Great with big dogs and small dogs. And loves to be fashionable! (01/11/2008)

By Bugsy's Mom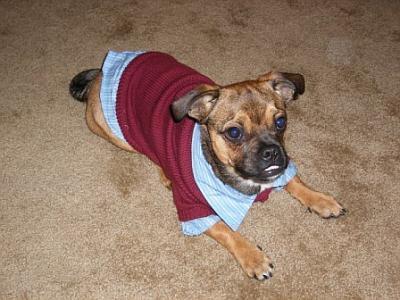 Bug (Boston Terrier/Pug)
I have a 2.5 yr old Bug named Bruce. He is the best dog in the world! He is so smart! Have had him since he was 8 weeks. He can do every trick you teach him. He is a guard dog definitely. He thinks he is a big dog, I'm sure! He weighs about 20 lbs and is the most loving dog I've ever seen. He is all about being on your lap or into everything your doing. He loves all other dogs. Everyone needs a Bug puppy! (02/24/2008)

By cosmogerl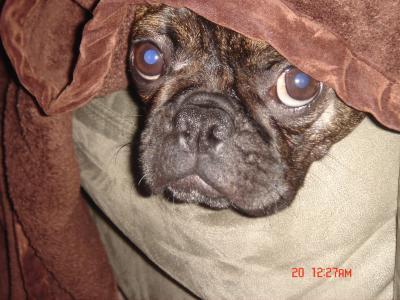 Bug (Boston Terrier/Pug)
My Bug is so smart. She just follows everything my minniejack does. (05/22/2008)

By christina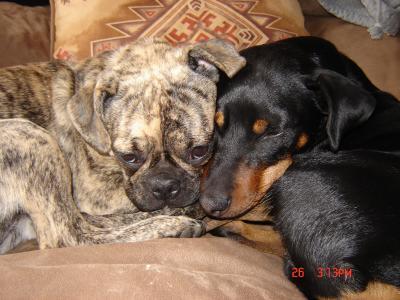 Bug (Boston Terrier/Pug)
(06/05/2008)

By Nikki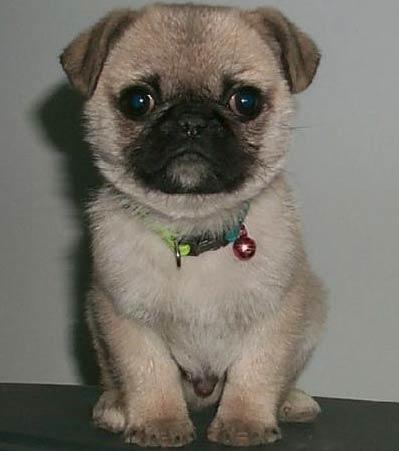 Bug (Boston Terrier/Pug)
Best dog ever, my partner, my little Spring. I love him so much, he';s part of who I am.
Meet Meo..! (07/14/2008)

By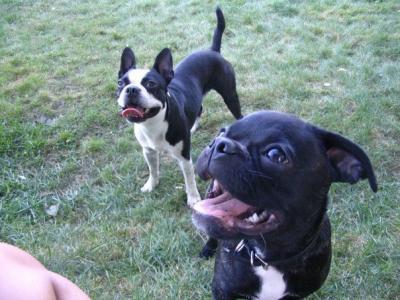 Bug (Boston Terrier/Pug)
This is Lady. She's about a year and a 1/2 old. She's the best puppy ever. Bugs have such great personalities. (07/22/2008)

By Michelle.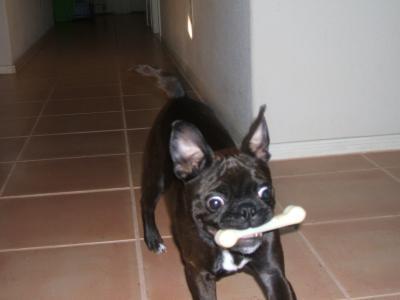 Bug (Boston Terrier/Pug)
We got Remus in June of 07 and we thought he was looking a little lonely. So in Jan of 08 we got Riley.
The pic below is Remus. (08/13/2008)

By Cheyenne Xavier Murdock Wayne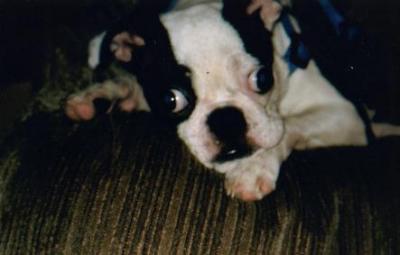 Bug (Boston Terrier/Pug)
Here's a pic of Riley. Remus and Riley are both brothers, but from different litters. (08/13/2008)

By Cheyenne Xavier Murdock Wayne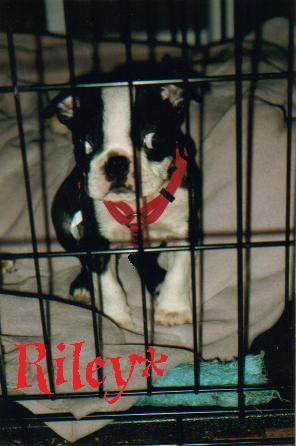 Bug (Boston Terrier/Pug)
I adopted a Bug named Bugsy in March, he is almost 3 now and is amazing! He is great with kids, barely pays attention to them but is incredibly hyper. I wasn't sure what to do with him when we first got him. We thought our Boxer was hyper, not even close! He is my little buddy and I recommend them to anyone who is on the fence. (10/22/2008)

By Jess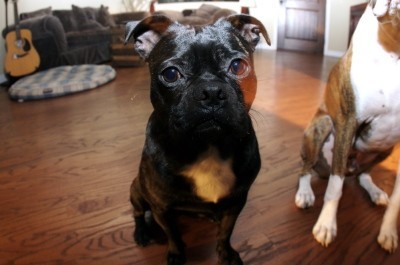 Bug (Boston Terrier/Pug)
Here is our sweet, playful Bug, Guido. He is the greatest dog I have ever owned. (11/18/2008)

By Robin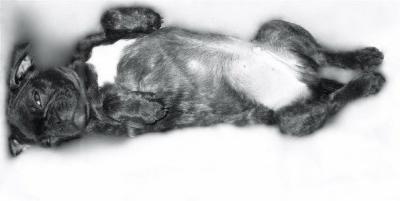 Bug (Boston Terrier/Pug)
This is our "little monkey", Stella. She is a 7 month old Bug. My husband and I are basically obsessed with her. She is the most loving, cuddly and hilarious little doggie!
I found her at a local pet shop, that sells rescue cats and dogs. I think Bugs are something that finds you. After reading a lot of these posts, it seems to be a trend to accidentally find one. I hope that all of you (who are seeking) get your fantastic friend :0)
(11/28/2008)

By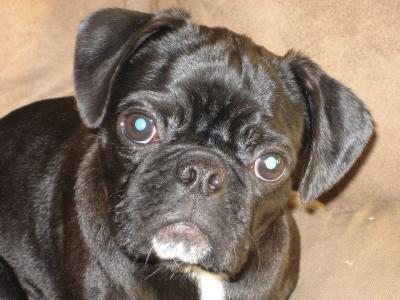 Bug (Boston Terrier/Pug)
I have had my Bug for almost 2 years now. His name is Bugzy! I cannot express the friendship and love that this little dog has brought to my whole family!. He is extremely obedient, and quite smart. He has learned how to speak, jump, spin, stay, and sit with little to no training. Bugzy listens when he is asked to so fetch a toy or to sit in his bed, and his sweet little face smiles truly makes different expressions. All around- I couldn't have found a better match for my household and life.
(01/07/2009)

By Lisa :)
Bug (Boston Terrier/Pug)
I love my little Ike. I had to give him a "strong" name because when he was a pup he was such a whimp. He is definitely a one person dog, and i think we are both a little too obsessed with each other. At home he sleeps like a champ, and outside he plays catch like the best of them. Often times, when people see him they wonder what kind of dog he is.

He is very skiddish with people though, even people he has seen more than once. If he gets scared his hair will spike and he will bark to ward off people he doesn't feel comfortable with. Does anyone know how to overcome this? The vet said something definitely happened before i got him to create this type of response (01/20/2009)

By Angie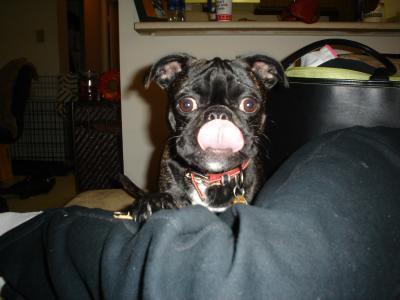 Bug (Boston Terrier/Pug)
Angie, my little Lucy was the same way and I know for a fact she was not treated unkindly a single day of her life because I knew her (and her parents, both natural and human) since the day she was born. She would eventually warm up to people but the next time they came she was back to the stranger danger idea.
My little Penny barks and acts like she would like to eat you but if you hold your hand down (most people don't) she'll lick you and squirm all over.
I'd say just as much people contact as possible will be the best help. (01/20/2009)

By Judi
Bug (Boston Terrier/Pug)
We absolutely love our Bugs! Dante is almost 5 and Nikka is about 2. Its funny because they are so much alike, but so different at the same time.

Our dogs are also a little skiddish around certain people, but I think it's just the nature of the dogs (I know nothing happened to create the response). I have many friends with Bostons and they say the same thing. Overall, I recommend anyone get a Bug b/c they are smart, lovey, kid-friendly, and definitely loyal. (01/30/2009)

By Ashley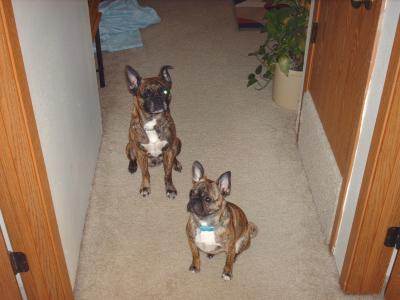 Bug (Boston Terrier/Pug)
We got Bugsy when he was 6 weeks old, he was tiny. Bugsy is super hyper, loves to play, and he thinks he is an alpha dog no matter the size of the dog around. We love him, bugs is awesome! (02/12/2009)

By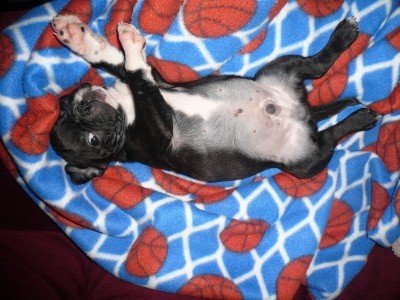 Bug (Boston Terrier/Pug)
I know this new Boston Farm in Northern Kentucky. My Bodhi (Pug Mix) oversaw a job there and drove past it every day. My own precious Bug still sits vigil over me as she has done for four years, since I became chronically ill. She's my worry wart, and the mama dog to my twin Bostons (one I am keeping for my infirm grandmother). They make a lovely little "pack"! (06/28/2009)

By Amy Crowley