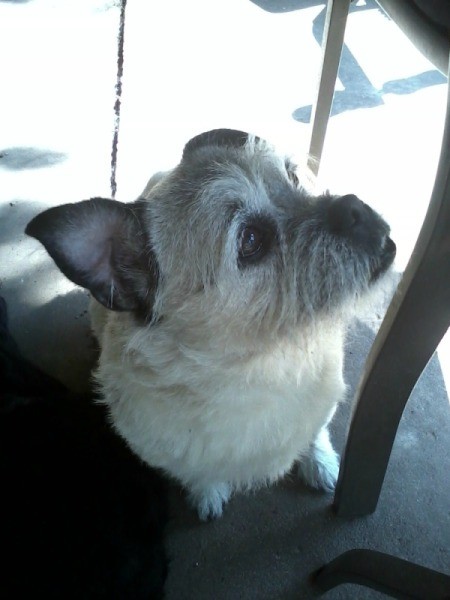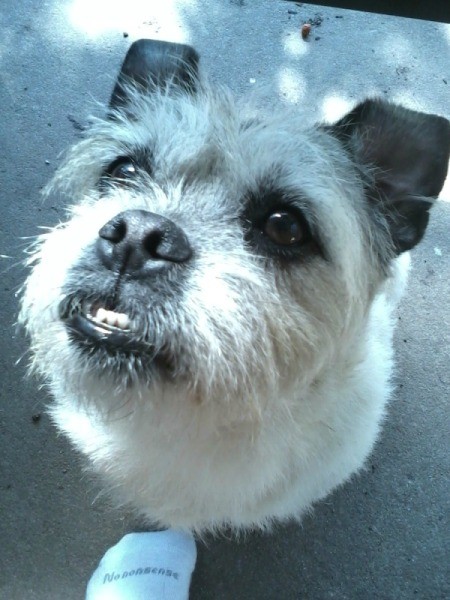 Your Pet's Age
Wednesday is 5 yrs old.
Your Pet's Breed
Pug/Wheaten Terrier
How and when did you get your pet?
I found Wednesday in a ditch as a puppy. She was there with some local dogs when I went shopping, and she was there, by herself, two hours later when I came home. I stopped and called to her, and she promptly ran to me. She was about 6 weeks old. I made sure that she was not a new dog to any of the neighbors, and upon discovering she was not, I took her home. She was, and is, the most precious little creature in the world. All dogs are special and unique, and deserve loving, caring homes where their unconditional love can be shared with people who truly love them.
We live in the country, and unfortunately many people abandon dogs and puppies out on country roads. I would like to believe this is caused by ignorance and not cruelty, but I'm sure it's a combination of the two. On the ignorant side, perhaps people believe that a dog can survive in the wild, but this is rarely if ever true. Cruelty is it's own subject and needs no explanation from me.
Wednesday has been a blessing beyond words to my family and friends, she is kind and funny and loyal, and everyone adores her. I thank the fool who left her for me, and I thank God for allowing me to find her, and entrusting her care to me. I can't imagine anyone loving her more than I do.
What does your pet like to do for fun?
Wednesday loves to chase squirrels up trees (for hours), and loves to chase balls, though she has a 3/4" underbite that makes it a challenge! She's also a very "talkative" dog, but the funniest thing about her "barking" is that it isn't a bark at all- it's literally a "cock-a-doodle-dooooo", and the funniest thing you've ever heard in your life!
Do you have anything else to share about your pet?
But one of my very favorite things about Wednesday is her complete love of kittens. Her love and kindness towards them is amazing to see. We rescue and find good homes for these abandoned animals, and occasionally kittens come along. Wednesday is thrilled when this happens. I will set up a temporary place for the kitten in a spare bathroom and once it is settled I will let Wednesday in to visit. Invariably she is excited and the kitten a bit wary, but Wednesday will lay down wagging her tail and patiently wait for the kitten to become use to her. Within 20 mins, they are the best of buddies and running up and down hall like they've known each other forever. Nothing warms my heart more, and if I had one wish for the world, it would be that people could learn the kindness and "humanity" of one special, precious, innocent dog.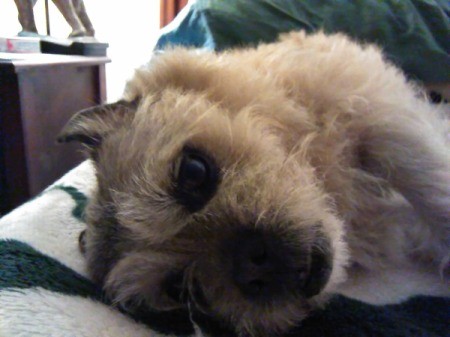 Add your voice! Click below to comment. ThriftyFun is powered by your wisdom!
July 14, 2016
0

found this helpful
Wednesday is a very cute little girl. Rescued animals are the best.
July 15, 2016
0

found this helpful
Thank you so very much! Wednesday really is so precious (but of course, I'm partial!) I'd be proud for her to have a sweet friend like you. Thank you for taking the time to compliment her, if she could she'd give you a big old hug and kiss! Thank you for your kind thoughts, we appreciate you! Take care & God Bless, Sincerely, Ivey & Wednesday the "Ditch-Dog" LOL!!
Add your voice! Click below to comment. ThriftyFun is powered by your wisdom!