Springer Spaniel Mix Photos
Photos
Share on ThriftyFunCheck out these photos. Click at right to share your own photo in this guide.
Bobby is a 16 year old Border Collie/Springer Spaniel mix. At a trip to the flea market, we saw a few 8-week-old puppies in the back of someone's pickup truck. We bought him for $15.
He loves to wade and swat at anything that moves in the water. He also enjoys laying out in the snow for hours at a time. Bobby has been the perfect dog. Never had any bad habits and always wanting to please. He'll be 16 April 1st, 2009, and is in great health! We love him to bits.
By Peggy G from Yulan, NY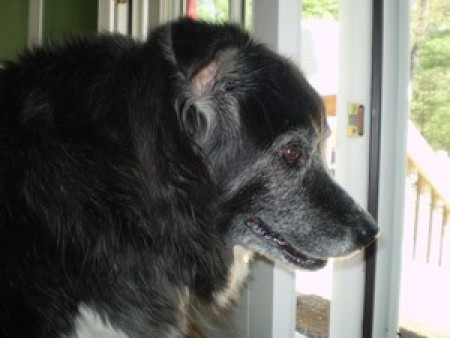 May 26, 2010
10

found this helpful
Baldrick is a 7 year old Springer Mix I got from the Northshore Animal League in May 2003. He likes to chase his orange ball and "redecorate." He's the sweetest dog on Earth.
By Maryellen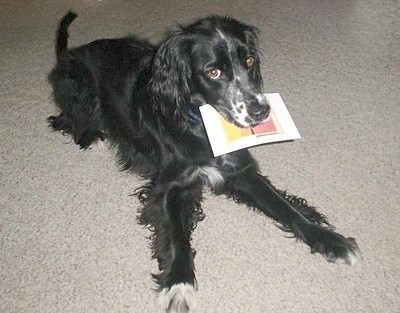 LittleBit was about 12 and a half years old. LittleBit was a mix of English Springer Spaniel and American Eskimo. My husband got her from a work friend. She came in a box with a towel, and once we took her out, she never went back in the box. Littlebit chewed a lot, but she also played with puppies. She was a really good dog who never bit anyone. She played with puppies that weren't her own. She was a very good girl.
One time, and my husband never saw it, Littlebit, being half English Springer Spaniel and half American Eskimo jumped so high, that if she had moved about 2 inches, would have landed on top of our dining table.
That is a photo of her with 2 toy Fox Terriers on her back, before she passed away.
By Carol from South Bend, IN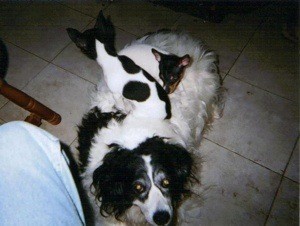 Cody is 10 months old. His dad is a Beagle and Mom is a Springer Spaniel. We got Cody from a classmate of our daughter's.

Cody loves to chew up any and all stuffed animals he can find. He is a big chewer. I have been watching a friend's 6 month old and he has decided he is going to care for this baby himself. If he can get in the same room with the sleeping baby, he lays as close to him as he can. When I feed the baby, Cody stands on a chair to watch to be sure I am doing it right.
By Brenda from Williamsburg, MI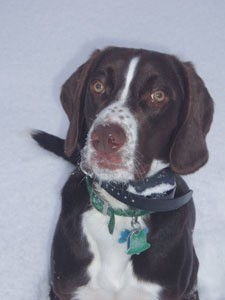 November 18, 2005
0

found this helpful
Her full name is Dixie Chicken. Her name came from the song. Dixie is 5 years old and a springer spaniel mixed with something else. My husband got her from a friend 5 years ago. She loves to play with the kids. As you can see from the pic she loves dress up and having her picture taken.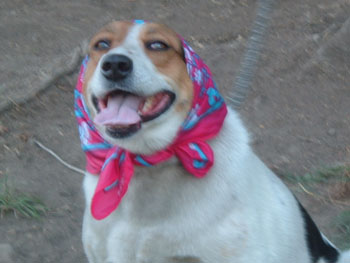 By luv2craft from Normalville, PA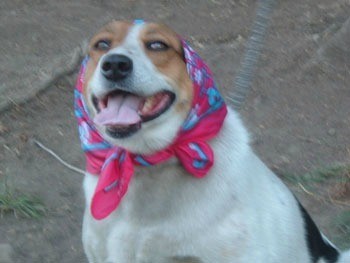 April 3, 2008
0

found this helpful
Nana is 7 years old and is a Blood Hound and Springer Spaniel mix. I got her in March 2001 as a puppy.

She likes to pounce through snow, and stick her nose where is doesn't belong. She is also very social and always needs to be where the excitement is!

She is always loving and playful, makes me smile whenever I have a bad or long day. She is always ready to go and has no problem letting you know what she wants.

By Darci from Littleton, CO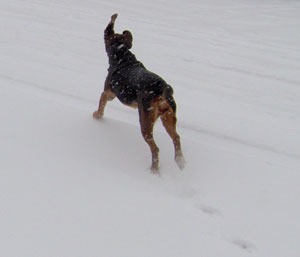 Related Content