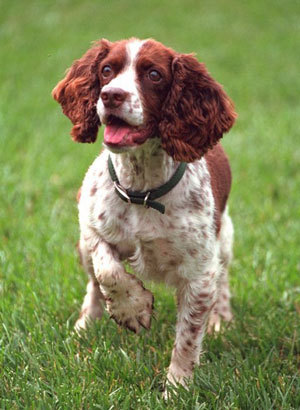 Breed Description:
The English Springer Spaniel dog breed is one of the tallest of the spaniels. Its strong, compact build lends itself to great endurance in the field, and its loving and affectionate personality makes it a good companion for families with children. This breed has been divided into working and show strains, with the working strain being somewhat shorter and stockier in stature.
Group: Sporting group
Purpose of Breed: Flushing out game
Country of Origin: England
Average Size: Range from 18-21 inches and 40-55 pounds depending on the sex.
Color(s): Typically black, blue or liver and white.
Coat Type: Straight or partly wavy coats that are water resistant, but not thick.
Grooming: Caring for the Springer Spaniel's coat requires frequent brushing to remove dirt and dead hair. This breed requires standard care for pads and nails. Ears and eyes should be cleaned and examined regularly for problems.
Exercise Needs: This breed is robust and active and needs plenty of daily exercise to maintain its mental and physical health. Daily walks are a must and a house with a fenced yard is ideal.
Temperament: The energetic and friendly breed is highly intelligent, quick to learn and easy to please. English Springer Spaniels enjoy the company of family. They make patient and affectionate companions for children. Because they are somewhat reserved with strangers, they also make good watch dogs. In the field, this breed is steady, strong and built for endurance.
Common Ailments: Susceptible to epilepsy, ear infections and eye abnormalities.
Life Expectancy: Averages 10-14 years.
Trivia: The name Springer Spaniel is derived from the breed's ability to "spring" (flush) out game from the ground.
More Information: English Springer Spaniel Field Trial Association, Inc.